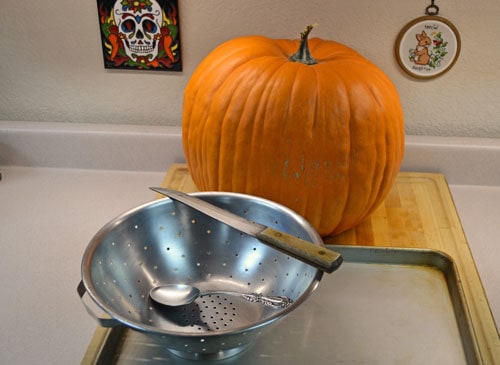 Newsletter: November 22, 2014
All About Pumpkin, Healthy Pets & What is Terroir?
---
All About Pumpkin
Pumpkin is very popular this time of year, so we've brought some great recipes to showcase the flavors of home-grown, slow-roasted pumpkin – way beyond simple pumpkin pie! We start with showing you just how to make Roasted Pumpkin Puree so that you've got a supply of pumpkin puree to show off with. Now pumpkin pancakes, muffins and breads are easy to do all year long.
Next we show you 3 Great Heirlooom Pumpkin Recipes – Pumpkin Soup with Chipotle, Warm Pumpkin Salsa and Pumpkin Soup with Sage. The soups make a great meal in themselves, or an impressive start to Thanksgiving or Christmas dinner. The pumpkin salsa was originally made to top flan – a Mexican baked custard dessert – but is great on pies or ice cream to set the flavors off.
If you really want to impress the family on Thanksgiving (or Christmas), make our Pumpkin-Orange Cheesecake! Sure, the perfectly brined and roasted turkey will be high on the list, but when this centerpiece dessert hits their tongues and the flavors of orange, pumpkin, caramel and toasted nuts carry them away – you'll be the hero of the day! It's surprisingly easy to make ahead of time, but we won't tell.
Lastly, we share a soul-warming Thanksgiving Turkey and Pumpkin Soup that will wrap the flavors up into a rich, hearty and extremely satisfying soup that will ensure there are no unwanted leftovers afterwards.
---
Healthy Pets
Pets are much a part of our families as our gardens and plants. What better way to enjoy both than to grow herbs and fresh greens for our pets! It is easy to do and they love the fresh flavors you grow for them.
Our Healthy Cat Collection is perfect for your feline friends and can easily be grown indoors in pots during the winter season. The Active Dog Collection adds vital fresh herbs to daily meals grown easily in your garden or indoors.
My grandmother had her favorite pets – her chickens! Our Backyard Chickens Collection grows many of the grains and fresh greens chickens love, boosting their health and egg production. This is perfect to order along with planning on which chicks you are adding to your coop this spring.
Do you have no pets but love to watch wildlife? Our Gardening for Birds Collection will bring the birds closer to watch and enjoy.
All our seed collections are specially discounted at a better price than buying the seed packets and book individually. Happy growing!
---
What is Terroir?
So what, exactly, is "Terroir" and why have we chosen this name for our seed company?
This question is asked quite often in various forms. We are introducing a different way of looking at our relationship with the soil, our gardens and our food. "Terroir" means "soil" in its most literal and basic translation from French.
As with most things French, there is much more to the meaning. The wine community knows terroir as the "taste of place" where the grapes were grown. This is also very accurate for our home gardens, as each and every one have their own special "terroir" that cannot be matched anywhere else. Close perhaps, but not exactly the same!
We want to share two resources that will help you understand our concept of "terroir" much better. First is Gary Nabhan's poem Terroir-ist's Manifesto for Eating. The second is from the Lexicon of Sustainability. There is a short video describing and defining terroir, along with an exploration of what it means to growers and chefs all across the world.
Thanksgiving is the perfect time to celebrate your terroir – the tastes, textures and flavors of your garden's produce, the locally raised foods from your Farmer's Market and foods that are unique to your area.
We strongly encourage you to spend some time this weekend and early next week exploring some of these concepts and bring them back to your table where you give thanks!
P.S. – Don't forget
…to send in your reviews for a chance to win one of 2 – $25 Gift Certificates this month. Each review gives you an entry in the drawing, with a limit of 10 reviews. The next drawing will be on November 30, with the winner announced in the following Newsletter. The Gift Certificate can be used for anything we offer and is good for a year from the date of the drawing.
To submit a review, just go to our website and click on the variety or item you want to review. Click on the "Review This Item" and give us the details. Your name and state will be published on the review, but your email will not. If you would rather send us an email with the number of reviews, that is just fine.
Good luck and let us hear from you!
---
From the soil to the seed to the food you eat – we'll help you grow your best garden!
"We believe in a world of healthy soil, seed, food and people. Everyone has a fundamental need for vibrant food and health, which are closely linked.
We work to achieve this by challenging and changing conventional gardening thinking, providing successful and unique methods and techniques while inspiring the power of choice and action for the individual."
Stephen and Cindy Scott
Terroir Seeds | Underwood Gardens
Unsubscribe or update your email preferences
This email sent by Stephen at Terroir Seeds at P O Box 4995 Chino Valley, AZ 86323.
https://underwoodgardens.com/wp-content/uploads/2009/12/DSC_0147.jpg
365
500
Stephen Scott
https://underwoodgardens.com/wp-content/uploads/2018/07/TerroirSeedsNEWWebLogo3-300x69.jpg
Stephen Scott
2014-11-22 14:16:56
2020-03-07 12:10:51
Newsletter: November 22, 2014