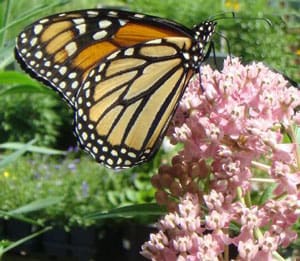 Newsletter: November 8, 2014
Butterfly Milkweed, Brussels Sprouts & Gardening for Birds
Butterfly Milkweed
We have another species of milkweed to help the Monarch butterflies! The Butterfly milkweed is very attractive and a hit in both the garden and as a landscape showcase, where it shows off the vibrant deep yellow to orange flowers dripping with butterflies in the late spring to early summer.
Add this to your pollinator garden to draw in many different butterflies, bees and beneficial insects. It's best to plant a variety of milkweed and pollinator attracting flowers that provide food for a diverse ecology of pollinators. You will not only be helping them, but they will visit your garden and the key to great production is excellent pollination, thus growing flowers in or around your garden will reap abundant harvests.
Plant now for early spring germination!
Brussels Sprouts
Brussels sprouts are abundant this time of year because they are a cool season crop and have just been harvested. We have two new recipes showcasing these tiny cabbages in completely unexpected but thoroughly delicious ways. The first recipe – Classic Pan-Roasted Brussels Sprouts – is rustic, simple and hugely satisfying. I've used this recipe to re-introduce others to an entirely different Brussels sprout than they remember. The second recipe – Roasted Brussels Sprouts with Maple-Dijon Dressing – is a more sophisticated approach that combines the roasting with a delicious twist – a Maple-Dijon dressing that really sets these humble brassicas apart!
Try these recipes with fresh from your garden or Farmer's Market Brussels sprouts, then add them to your wish list and grow some in your garden next year.
---
Gardening for Birds
Whether you are a gardener, a birder or know someone who is, we have a fantastic new 'tweetable' seed collection that will bring in the birds flocking to your garden! The heart of this new Gardening for Birds collection is the book "Gardening to Attract Birds" which walks you through the ideal garden plan, choosing the flowers and plants to attract birds and other pollinators to your yard. From there we have hand-picked a mix of annuals and perennials that will give a great start to your birding adventure.
This makes a highly attractive, extremely thoughtful gift for anyone who knows the joys of gardening or watching birds.
P.S. – Don't forget
…to send in your reviews for a chance to win one of 2 – $25 Gift Certificates this month. Each review gives you an entry in the drawing, with a limit of 10 reviews. The first drawing will be on November 15 and the second will be on November 30, with the winner announced in the following Newsletter. The Gift Certificate can be used for anything we offer and is good for a year from the date of the drawing.
To submit a review, just go to our website and click on the variety or item you want to review. Click on the "Review This Item" and give us the details. Your name and state will be published on the review, but your email will not. If you would rather send us an email with the number of reviews, that is just fine.
Good luck and let us hear from you!
---
From the soil to the seed to the food you eat – we'll help you grow your best garden!
"We believe in a world of healthy soil, seed, food and people. Everyone has a fundamental need for vibrant food and health, which are closely linked.
We work to achieve this by challenging and changing conventional gardening thinking, providing successful and unique methods and techniques while inspiring the power of choice and action for the individual."
Stephen and Cindy Scott
Terroir Seeds | Underwood Gardens
This email sent by Stephen at Terroir Seeds at P O Box 4995 Chino Valley, AZ 86323.
https://underwoodgardens.com/wp-content/uploads/2012/07/MonarchButterflyWeb.jpg
261
300
Stephen Scott
https://underwoodgardens.com/wp-content/uploads/2018/07/TerroirSeedsNEWWebLogo3-300x69.jpg
Stephen Scott
2014-11-08 14:13:04
2020-03-07 12:10:24
Newsletter: November 8, 2014