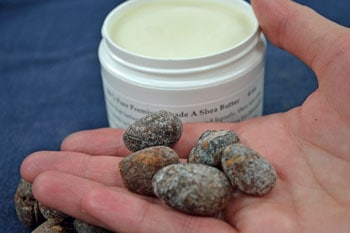 Newsletter: October 10, 2015
100% Pure Shea Butter
Fall is the start of our prime Shea butter shipping season!
This year our promotion is a little different due to supply challenges. You see, the finest, highest quality Shea butter is currently produced in Burkina Faso in Western Africa.
Our supplier works very closely with several small villages that still hand harvest and process the Shea nuts into the healing and moisturizing cream treasured by the Queen of Sheba. In this way, he is able to pay a premium to the women who produce this in the traditional way – by hand – without any chemicals or excessive heat that destroys the healing properties while keeping the highest quality, texture and consistency intact.
This year there has been a long period of civil unrest, resulting in a recent coup, preventing the transport of the Shea butter to waiting cargo ships. As a result, we have a limited quantity of our famous 100% pure Shea butter this season. The stocks our supplier has is all that is available until another shipment can be made, which may not happen until next year.
With this in mind, if you order two of the same kind you will receive a 5% discount, and 10% off with three or more of the same kind.
As a special "Thank You", with every order of 100% pure Shea Butter we will include a free packet of seed.
Learn what makes our Shea butter so much superior to what you usually find in the stores in Shea Butter – Healing and Moisturizing Miracle.
Good Compost Making Chart
If you've been wondering how to make your compost better and needed some proven, useful information – this card will be really helpful!
Adding rich, well-aged and nutrient rich compost is one of the essential parts of keeping a thriving, biologically active garden healthy and productive year after year. The old saying of "If you're growing a garden, you're making compost" is very true, but is challenging for many less experienced gardeners.
We've found this Good Compost Making laminated card to be invaluable – simple, easy to understand and portable but packed with useful information. Made from a stiff card stock that is laminated to keep it safe from moisture so it's ready to go into the garden with you.
Fall Gardening Tip
As fall is in the air and nighttime temperatures drop, make sure to frost-proof your garden irrigation or drip system by turning them off at night or completely disconnecting and draining them, depending on how cold it is getting and if your garden is done for the season.
A little bit of proactivity now will save lots of time and equipment replacement later!
---
From the soil to the seed to the food you eat – we'll help you grow your best garden!
"We believe in a world of healthy soil, seed, food and people. Everyone has a fundamental need for vibrant food and health, which are closely linked.
We work to achieve this by challenging and changing conventional gardening thinking, providing successful and unique methods and techniques while inspiring the power of choice and action for the individual."
Stephen and Cindy Scott
Terroir Seeds | Underwood Gardens
https://underwoodgardens.com/wp-content/uploads/2012/09/DSC_0025.jpg
233
350
Stephen Scott
https://underwoodgardens.com/wp-content/uploads/2018/07/TerroirSeedsNEWWebLogo3-300x69.jpg
Stephen Scott
2015-10-10 13:02:59
2020-03-07 12:54:11
Newsletter: October 10, 2015