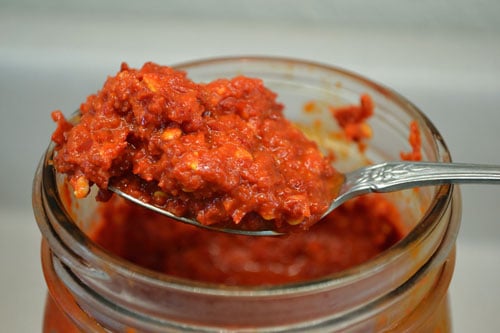 Newsletter: October 11, 2014
Kitchen Herbs, School Gardens
& Chile Paste
Fresh Kitchen Herbs
Did you know we carry over 20 different seed collections?
We hand select these special collections of seeds and the booklet or recipes included with each one. Seed collections are great for beginners or for the experienced gardener wanting to try something new. They make great gifts to encourage your family and friends to garden. One of our most popular is the Kitchen Herb Collection.
Included in this specially priced collection is the book "Grow 15 Herbs for The Kitchen" by Sheryl L. Felty along with these herbs: Common Sage, Creeping Thyme, Dukat Dill, Garlic Chives, Giant of Italy Parsley, Marseilles Basil, Romanesco Fennel and True Greek Oregano.
Herbs are the "Seven Wonders of the World" in the kitchen. The best chefs – and great home chefs – use fresh herbs to enhance the flavors of the other ingredients in their dishes. Herbs are simple and easy to grow. Any space—from your garden to the kitchen window sill—works great.
Fall is the perfect time to give this collection a start in your kitchen window, enjoy fresh herbs all winter long and then move the planters outside next spring!
---
School Gardens and Fundraising
We are very pleased to be part of the new Slow Food USA and Chipotle partnership on the National School Garden Program! Slow Food and Chipotle are working with established organizations such as the Edible Schoolyard Project, FoodCorps, and the National Farm to School Network, along with a number of local partners to increase and improve school gardens across the country. Our School Fundraising program is helping fund school gardens.
Schools and organizations are constantly on the lookout for new and better ways to raise money. The best school fundraising programs have both an activity and a teaching component. Grow With Us – A Seed Fundraising Program from Terroir Seeds will benefit your school, your students and your local gardeners. Our program is for any school program needing to raise funds, including school gardens!
Please share this program with schools, teachers, parents and educators; we want to work with as many schools as possible all over the country. This is a great time to get involved with this program and have students spread seeds in their community and gardens.
---
Fermented Chile Paste
What do you think about when you hear the words "Fermented Chile Paste"? Sri Ra Cha, that amazingly popular sauce in a squeeze bottle, or another of the condiments that many have in their fridges? If so, you're in for a real treat today!
We've just put up the recipe for a different type of homemade chile paste that uses fermentation, but is so very easy and quick that you can have a couple of batches with completely different flavors finished by the end of the week, instead of the end of the month. Do you like a little sweet and tangy with your (moderate) heat, while the rest of the family likes some garlic and salt to accompany their fiery brimstone? No problem! Make a batch for yourself and one for the fire-breathers in less than 30 minutes.
Just click the photo or link above to get started.
P.S. – Don't forget we are giving away a free sample bar of our organic handmade soap with every order of

10

0% pure Shea butter

!
---
From the soil to the seed to the food you eat – we'll help you grow your best garden!
"We believe in a world of healthy soil, seed, food and people. Everyone has a fundamental need for vibrant food and health, which are closely linked.
We work to achieve this by challenging and changing conventional gardening thinking, providing successful and unique methods and techniques while inspiring the power of choice and action for the individual."
Stephen and Cindy Scott
Terroir Seeds | Underwood Gardens
This email sent by Stephen at Terroir Seeds at P O Box 4995 Chino Valley, AZ 86323.
https://underwoodgardens.com/wp-content/uploads/2014/10/DSC_0257.jpg
333
500
Stephen Scott
https://underwoodgardens.com/wp-content/uploads/2018/07/TerroirSeedsNEWWebLogo3-300x69.jpg
Stephen Scott
2014-10-11 12:52:39
2020-03-07 12:05:47
Newsletter: October 11, 2014