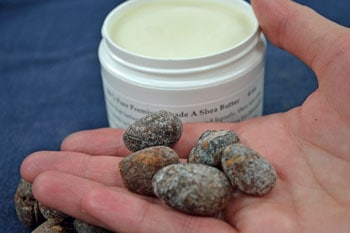 Newsletter: October 2011 Update
Mid – October 2011 Edition
Hello Subscriber!
Welcome to Terroir Seeds Updates for October. We are sending out two emails this month to catch all of the new subscribers, and talk to the folks we met last month. We've finally been able to get everyone that signed up at The National Heirloom Expo into our system, and wanted to say Hello. That, and there are some new things that we couldn't wait to get out to you!
If you are just joining us, or getting this Newsletter for the first time, our early October Newsletter covered news from our travels in California last month, as well as the presentation we did at the Expo, and an article on heirloom vs hybrid seed production.
We continue to be busy writing descriptions for new additions to the 2012 Heirloom Seeds catalog and website for the new seed season. Look for all the exciting new varieties we will be offering for 2012 in the next couple of months. We have some amazing and very unique seeds headed your way!
---
Sprouting Seeds and Supplies
After several requests from many customers over the past couple of years, we now are able to offer high quality sprouts! There were a couple of major issues we had to get past in order to offer sprouting seeds. Our normal seed growers are just not set up to grow sprouting seeds, as the seed volume needed is much greater than with gardening. We had to find a source that we trust; sprouts really must be the highest quality possible, as there is no "dilution factor" in getting rid of traces of chemicals on sprouting seeds- there is no soil, water and time to reduce any residues. All of our sprouting seeds are Certified Organic by the USDA.
Sprouts are nutritional powerhouses- packed with minerals, protein, amino acids and the enzymes needed to digest them. All of this is available in 4-6 days for smaller sprouts or 7-8 days for larger, leafier, greener sprouts. Best of all, they need no soil or sunshine, will grow in any climate at any time of the year and contains more nutrients per calorie than any other type of food.
Please visit our newest department- Sprouting Seeds and Supplies– to see what we've put together to start you in sprouting adventures. This is just a start, so please let us know what you are interested in as far as sprout varieties, quantities and other supplies. The 4oz packets will give 3-4 "crops" of sprouts so you can see for yourself how tasty, crunchy and easy they are. This is the perfect time of year to get started, as the garden winds down and colder weather sets in. Now you don't have to lose out on the fresh flavors and nutrition that only comes from freshly grown produce!
---
Terroir Seeds Newsletter Archives
The newer Newsletter archives are up on our Newsletter signup page. The older archives are there as well, so now you have access to the information we have sent out all the way back to July of 2009.
Enjoy and let us know your questions or if you want to see more on a specific subject! Talk to us at 888-878-5247 or send us an email.
---
Sale and Clearance Items
Occasionally we put things on sale on the website, and have seen that folks don't always find them. Now there is a separate department where everything on sale or clearance is easy to see- Sale and Clearance Items.
A common way to make a sale look more enticing at 40-60% off is the price is first raised 100% and then put on "sale" to look good. Another tactic is to have a loss leader item that draws attention and is sold at a loss to attract more sales on other items. Some industries have product that sells for 200-300% markup, and they can afford to mark 40% or more off the retail price and still make a profit.
We don't subscribe to such shenanigans. You won't find huge discounts in our sales, as the normal prices reflect an honest wage for us while working to keep the price realistic for you as well. When we put something on sale, it truly will save you some money. For example, the Shea Butter that is currently on sale is in a plain white BPA free plastic jar with screw-on lid, the same as used in the salon profession. There is no eye-catching jar with screen printed label that adds $2.00 to the wholesale cost of the product. You want the Shea Butter to be high quality, the jar is secondary.
Check back when you can, as things will change in the Sale and Clearance Item department!
---
Our 100% Pure Shea Butter is Still on Sale
Our once-a-year sale on Shea Butter is in full swing! It's a good thing that we tripled our normal order, otherwise we would be out already. Save 10% off our famous 100% Pure Shea Butter through October 31.
All of our customers rave about it after they try it, and some have been buying our Shea Butter for several years now. Customers will buy several at a time to save on shipping and freeze the extra ones till needed. Skin gets very dry in the Fall and Winter, now it is the perfect time to try our 100% Shea Butter. We do this sale only once a year, in the Fall when temperatures cool off, to protect the Shea Butter in shipping. Last year we sold out and had to order more, so this year we have a shipment on it's way!
There are very few 100% pure Shea Butters on the market, at any price. Most are quite expensive, as Shea is imported from Africa after being minimally processed there. Many Shea Butters are lesser grades, or are blended with other, less expensive ingredients such as petroleum oils. Pure Shea Butter not only moisturizes, but heals as well. It is fantastic to drop a teaspoon in a hot bath to moisturize your entire body while you soak, rub a small amount into your feet at bedtime or in the morning to soothe your feet, or use as a moisturizing after-shave that lasts all day, as well as healing and moisturizing over-worked hands. We are offering our Original 100% Shea Butter, Shea Butter with Lavender or "Happy Feet" Shea Butter in this sale.
We work with a small company that only produces Shea Butters on contract, usually for high end Day Spas, nail salons and massage therapists. He rejects almost 90% of the Shea offered to him, accepting only the highest graded quality from select areas in Africa. These Shea producing areas have the highest oil content which gives the best moisturizing and healing properties to the finished product. This is a semi solid that needs to be warmed in your hands to melt, then applied to the dry areas and worked in well. Only a tiny amount is needed. Most of our customers find that a 4oz. container will last through the cold months.
---
Our customers are friends that we have not yet met, as you share our interest and passion for growing incredibly delicious foods, preserving heirloom seed traditions and biological diversity for the future through our own home gardens. Sharing this is possibly the most important work, as it helps all of us make a definite, positive impact in our lives and in those that we share.
Thanks for your time this edition, we hope you have enjoyed it. Please let us know your thoughts and suggestions, as we are always working to improve.
Stephen and Cindy Scott
Terroir Seeds | Underwood Gardens
https://underwoodgardens.com/wp-content/uploads/2012/09/DSC_0025.jpg
233
350
Stephen Scott
https://underwoodgardens.com/wp-content/uploads/2018/07/TerroirSeedsNEWWebLogo3-300x69.jpg
Stephen Scott
2011-10-07 18:49:54
2018-04-19 11:27:04
Newsletter: October 2011 Update