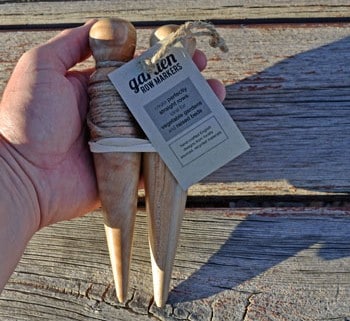 Newsletter: October 25, 2014
Garden Row Marker, Terra Madre,
Shea Butter & Gardening Questions
Garden Row Marker
You liked the Garden DIbber so much when we introduced it, we wanted to share another handmade tool from this small company in Washington state.
The Garden Row Marker is just slightly larger, but still fits perfectly in the hand and is hand-turned of reclaimed and recycled hardwoods with jute string to help lay out perfectly straight rows for planning or planting your next garden. After sanding and sealing with tung oil, they are waxed and ready for you!
Another deceptively simple but incredibly useful tool, these row markers will help with any size of garden, but are especially useful in visual planning and planting of a more intensively managed one, where effective use of space is crucial. They have a welcoming warmth in the hand, and help jump-start the creative gardening juices!
These are excellent tools for the quietly serious gardener who really appreciates hand-made quality in today's age of mass-produced, throw-away culture, but is still conscious of price. With very minimal care, these can easily be passed down to new generations of gardeners.
They will also make a clear statement to the gardener in your life that receives these as gifts!
---
Terra Madre from Our View
This weekend – October 25 – 26 – is the midway point of Slow Food's Terra Madre food conference in Turin, Italy.
We were fortunate to have been selected as US delegates in 2012 to this international gathering of food artisans and producers from over 130 countries around the world. The conference is 5 days long, is open to the public and attracts over 250,000 visitors.
As far as we know, we are the first seed company to be chosen as delegates.
We were asked to write about our experiences as Slow Food USA delegates to the 2012 Terra Madre conference in Turin, Italy as information and details for the 2014 delegates. Here's our story – Terra Madre from Our Point of View!
---
100% Pure Shea Butter
Kristi recently said this about our Shea butter – "This Shea butter is awesome. I keep it on hand at all times. I use it mainly for post tattoo healing and it's the best at that!" We have heard from a number of customers who have used it to heal surgery incisions or wounds with excellent results, but have never thought that it would help with healing tattoos!
Learn what makes our Shea butter so much superior to what you usually find in the stores in Shea Butter – Healing and Moisturizing Miracle.
With every jar of 100% pure Shea Butter ordered, we will include a free 1 oz sample bar of our fabulous long-lasting soap, handmade with all organic ingredients. Everyone who has picked up a bar at a conference or Farmer's Market has loved it, and after trying it, they order more.
---
Gardening Questions Answered
Here's the latest questions –
"Are our seeds Non-GMO?"
Great question! Short answer is "Yes, of course they are!"
Long answer is: We love it that more and more people are beginning to ask questions of their food and seed suppliers.
We are not, do not and will not have anything to do with any bio-engineering or genetic manipulation of our food supply. Underwood Gardens was one of the first signers of the Safe Seed Pledge, and you can read more about our company history here for Underwood Gardens and Terroir Seeds.
Please read some of our articles and videos on our blog category Non-GMO food. We do a lot of education on GMO issues and the chemicals used to support them. I did a 2 part radio show on The Easy Organic Gardener about glyphosate (Roundup) and GMOs. Scroll down to see my talks on 2/24/13 and 3/3/13. Here is a presentation I did for our local non-GMO group that has proven to be very popular on the internet.
As you can see, we not only won't have anything to do with GMOs but are actively educating on what their effects are and how to avoid and minimize their impact on our lives!
"Why have the worms left my garden?"
Earthworms are the canary in the coal mine – they are great indicators of the health and fertility of the soil. They will arrive when the soil is right for them. If you add them and the soil is not ready, they will die or leave. To improve your soil, read our compost articles and invite them back!
---
From the soil to the seed to the food you eat – we'll help you grow your best garden!
"We believe in a world of healthy soil, seed, food and people. Everyone has a fundamental need for vibrant food and health, which are closely linked.
We work to achieve this by challenging and changing conventional gardening thinking, providing successful and unique methods and techniques while inspiring the power of choice and action for the individual."
Stephen and Cindy Scott
Terroir Seeds | Underwood Gardens
This email sent by Stephen at Terroir Seeds at P O Box 4995 Chino Valley, AZ 86323.
https://underwoodgardens.com/wp-content/uploads/2014/10/Garden-Row-Marker21.jpg
350
350
Stephen Scott
https://underwoodgardens.com/wp-content/uploads/2018/07/TerroirSeedsNEWWebLogo3-300x69.jpg
Stephen Scott
2014-10-25 14:06:38
2020-03-07 12:10:02
Newsletter: October 25, 2014