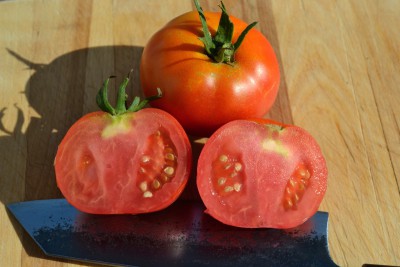 Newsletter: September 12, 2015
September Garden Vegetables
September in northern Arizona means the garden seems to find another gear as the energy-sapping heat begins dropping off and we harvest some of the most amazing colors and flavors of vegetables.
We've taken some glamor shots of our trial garden's bounty and wanted to share them with you, along with tips on how we've enjoyed preparing them in different dishes.
Don't worry that you might not be able to plant and enjoy these this season, you can pick them up now or add them to your Wishlist for next season.
Seeds are good for more than one year, so buying them a few months before planting will not have any impact on their germination next season. Just store them in a cool and dry place, then you can plant and experience all of these colors and flavors for yourself, straight from your garden!
Butterfly Party
Last weekend we started planning next season's Butterfly Party for all of the beautiful butterflies, especially the Monarch, since it needs some extra love right now.
Lots of you joined us in getting both nectar and host plants going, but if you missed the first part you can read it here to get up to speed.
So – how can it be a great social party without some pies to delight everyone? Even better are handmade pies!
In staging the perfect butterfly party and keeping your garden at the top of the butterfly's social index list, some "fresh baked" Sunflower or Coneflower pies would be just the thing to make sure your party really stands out!
These seed pies have a flower seed filling in a recycled paper crust handmade by folks at the Ohio Valley Goodwill.
Simply pop a Seed Pie in the warm earth, add water and bake in the sun until the flowers are mature; the butterflies will flock to the nectar and birds will dine on the seeds as they ripen. The Coneflower seed pies will be more attractive to butterflies and bees, while the Sunflower seed pies will bring in the bumblebees and smaller butterflies.
We'll keep your garden on the "must visit" list, ahead of everyone else who is only planting milkweed and no nectar, thinking that will be enough to bring in the winged jewels!
You garden will be the place to be and be seen for all of the butterflies and hummingbirds next season!
Old Time Green Chile Stew
I grew up eating this green chile stew, or as we simply called it – green chile.
Mention green chile in most places in the Southwest, and people will understand that you are talking about a bowl of stew, made with green chiles, herbs, seasonings and usually pork.
We would make a huge batch of it each fall, roasting, peeling, seeding and chopping upwards of 50 pounds of the Hatch New Mexican green chiles on the first day. The next day we would make the recipe in huge kettles on the stove to serve at Thanksgiving, Christmas and celebrations at the end of the year. We froze what we didn't eat for later.
We learned the foundation of this recipe from an old family friend from a small town in the state of Chihuahua in Northern Mexico. This recipe will give you highly tasty, mild green chile. You can spice it up with hotter green chiles, or with some varieties of hot red chiles as you like.
We want to share this old recipe with you so you can enjoy the depth of flavors and deep satisfaction it gives on a cool fall evening.
---
From the soil to the seed to the food you eat – we'll help you grow your best garden!
"We believe in a world of healthy soil, seed, food and people. Everyone has a fundamental need for vibrant food and health, which are closely linked.
We work to achieve this by challenging and changing conventional gardening thinking, providing successful and unique methods and techniques while inspiring the power of choice and action for the individual."
Stephen and Cindy Scott
Terroir Seeds | Underwood Gardens
https://underwoodgardens.com/wp-content/uploads/2015/10/Box-Car-Willie-Sliced.jpg
267
400
Stephen Scott
https://underwoodgardens.com/wp-content/uploads/2018/07/TerroirSeedsNEWWebLogo3-300x69.jpg
Stephen Scott
2015-09-12 12:49:53
2020-03-07 12:49:03
Newsletter: September 12, 2015