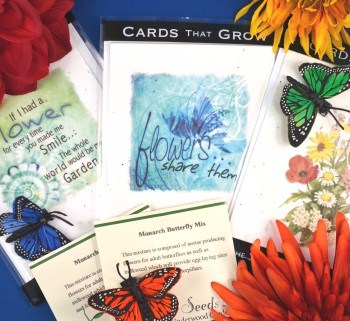 Newsletter: September 19, 2015
Trouble reading this email? View the online version!
Butterfly Party Invitation, Cool Season Vegetables & Sicilian Tomato Sauce
Butterfly Garden Party Invitation
Last time we talked about making your garden the place to be and be seen for the Monarch crowd at the height of their social season with both milkweed as host plants and lots of nectar flowers to keep the conversations lively, everyone energized and feeling great for their migrations.
Then we realized something.
What's better than a rocking garden party that has everyone fluttering and flocking to it?
A full-on block party – full of gardens that are a butterfly's dream, along with flowers to bring in hummingbirds, bees and many other pollinators!
If one garden will draw the high society of the butterflies, imagine what several gardens in a block or an area would do. Can you just see all of the colors shimmering from flower to flower?
So – just how can this be done?
By inviting your friends and neighbors, of course. Let's do something new, shall we?
What if they were to receive a really cool invitation card of handmade paper filled with native wildflower seeds, printed with beautiful custom-designed artistic work?
When they open it, they find a seed packet of Monarch Butterfly Mix inside with planting instructions on the back and ready to plant. Your handwritten encouragement tops it all off and gets them started.
The Butterfly Garden Party Invitation includes a second packet of Monarch Butterfly Mix so that you can show them how in your garden or add to their starter garden, to make things even easier.
Now you can start creating the ultimate butterfly garden block party with these invitations! Get all of your Garden Party Supplies here!
P.S. – Butterflies – especially Monarchs, gardens and parties have been a thread of conversation in the past couple of Newsletters. If you've missed out, don't worry, you can catch up here and here!
Cool Season Vegetables
Have you finished planting your Fall vegetable garden?
If not, don't worry! You still have enough time to enjoy plenty of fresh, delicious greens and things before the frosts hit. For most of the country there are a couple of months before those first frosts arrive; with some forethought and preparation you can extend the growing season by several weeks.
A different approach is to grow some fall vegetables inside in containers or planters. The weather isn't an issue and there is a lot longer "growing season" available!
If you need some help in getting started, read "How to Plan and Plant for Fall and Winter Gardening" and you'll be ready. Afterwards you'll know your expected first frost date, have the timing down for when to plant and have a list of favorite veggies to get started with!
Some folks just want a really simple, easy to do starter kit – we've got a few to choose from.
Our Gourmet Lettuce Starter Pack was hand-picked just for you – 6 fast growing lettuces with a hand seeder to make planting those tiny seeds easier, all in one pack so you can have fresh salads as the weather cools off. Our Cool Season Greens collection has vegetables that are easy to plant, fast growing and very tasty for those that love kale, Swiss chard, spinach and salad greens.
If you live where the summers are hot and the winters mild, here is a printable planting calendar just for you! It's based on conditions in Maricopa County, AZ where Phoenix is located, so applies directly if you live in a similar climate like Las Vegas, Palm Springs, Tucson, south Florida, etc.
See the complete Fall and Winter vegetable selection here!
Sicilian Eggplant and Tomato Sauce
This fresh Sicilian eggplant and tomato sauce is wonderful and surprising with its richness and depth of flavors.
The tomatoes and eggplant have both their fresh and roasted flavors overlaying each other, combined with the different types of tomatoes we used in this recipe that contribute a variety of flavors that keep people coming back for more!
This is the perfect dinner dish to make as a group in the kitchen, as the pan-roasting takes a little bit of time but doesn't need a lot of constant attention.
A group of friends can easily share the prep work and keep the dish cooking while enjoying a glass of wine and sharing stories, then combining and finishing the dish and sitting down to some serious enjoyment at the finish.
---
From the soil to the seed to the food you eat – we'll help you grow your best garden!
"We believe in a world of healthy soil, seed, food and people. Everyone has a fundamental need for vibrant food and health, which are closely linked.
We work to achieve this by challenging and changing conventional gardening thinking, providing successful and unique methods and techniques while inspiring the power of choice and action for the individual."
Stephen and Cindy Scott
Terroir Seeds | Underwood Gardens
https://underwoodgardens.com/wp-content/uploads/2015/10/Butterfly-Garden-Party.jpg
350
350
Stephen Scott
https://underwoodgardens.com/wp-content/uploads/2018/07/TerroirSeedsNEWWebLogo3-300x69.jpg
Stephen Scott
2015-09-19 12:53:31
2020-03-07 12:54:10
Newsletter: September 19, 2015