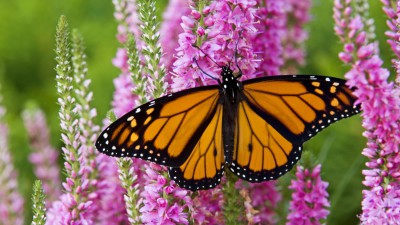 Newsletter: September 5, 2015
Plant Now for Butterflies Next Year
If you want flocks of gorgeous Monarch butterflies in your garden next spring and summer, the time to plan the party and send the invitations out is now – not next spring.
You see, butterflies are busy and their social schedules book up months in advance, not to mention that they are choosy about where they show up. Not just any party will do!
To stage the perfect party, you absolutely need a couple of things – lots of both nectar and host plants. One without the other just won't do as you'll lose their interest quickly and they'll fly off.
That's why planting only milkweed isn't enough.
Sure, they'll use the milkweed to lay their eggs on but what will they eat to keep their strength up?
That's where the nectar flowers come in and you become the "host with the most"; word gets out and before you know it, all of the butterflies (not just the Monarchs) are stopping by to visit!
Your garden is the place to be, and be seen!
For your very own Monarch party planning kit, see our complete Monarch Butterfly Flower Mix with everything you need to get this party started right!
(If you are a generous type, add in our Hummingbird & Butterfly Mix to bring in all sorts of classy, jeweled birds and butterflies.)
Back to School –
Seed Fundraiser and Little Sprouts
"Grow With Us" Seed Fundraiser
Fall marks the beginning of a new school year. Did you know your children, grandchildren, nieces or nephews can have a school fundraiser with a purpose?
Our Grow with Us Seed Fundraising Program provides school and youth groups with the opportunity to raise funds with heirloom seed sales.
Why Seeds?
They are the perfect representation of great potential; the same potential that each and every student has. Seeds are a great way for schools, clubs and organizations to raise needed funds. Our easy-to-use program gets family, neighbors and friends excited about gardening. What better way to encourage the future generation than with seeds?
Help us spread the word out about our seed fundraising program by sharing the link with family, friends and schools. They can start planning their fundraiser now for the holidays or spring.
Little Sprouts – Gardening With Children
"Gardening teaches children about the miracles to be found in nature. What could be more magical than a seed sprouting?" says Sharon Lovejoy, author of "Roots, Shoots, Buckets and Boots" gardening book for kids.
Gardens offer endless opportunities for developing a deeply rooted sense of wonder in children that often last their whole lives. We invite you to celebrate your garden with a child and our "Little Sprouts" seed collections, and remember that your child's wonder will spring from the deep roots of the seeds you planted in the fertile soil of imagination during your time together.
The special seed collections that we've created perfectly complement the activities detailed in Sharon Lovejoy's children's gardening book, "Roots, Shoots, Buckets & Boots: Activities To Do In The Garden". The "Little Sprouts" department offers every single activity in the book as a seed collection designed to engage, entertain and inspire your young gardener.
A Terroir-ist's Manifesto for
Eating in Place
Are you a "terroir-ist"?
Like the term it's derived from, a "terroir-ist" is grounded in the soil and place and flavors from where they live and eat. Rather than being elitist and exclusive, they are inclusive and curious to find out more about the region where they live, how things grow and flourish and the flavors that result.
Many of you know why our company is named "Terroir Seeds" – because everything starts with the health and fertility of the soil – but we also fully claim the title of "terroir-ist" and this explains our motto of "From the soil to the seed to the food you eat".
Trying to define and explain these sometimes tricky phrases and definitions is difficult, but we're sharing a short article that really does justice to these concepts. A Terroir-ist's Manifesto for Eating in Place is written by our good friend Dr. Gary Nabhan, an ethnobotanist, conservation biologist and writer.
Enjoy one of the best written descriptions of what we are about and why we do what we do, both as a company and as individuals!
---
From the soil to the seed to the food you eat – we'll help you grow your best garden!
"We believe in a world of healthy soil, seed, food and people. Everyone has a fundamental need for vibrant food and health, which are closely linked.
We work to achieve this by challenging and changing conventional gardening thinking, providing successful and unique methods and techniques while inspiring the power of choice and action for the individual."
Stephen and Cindy Scott
Terroir Seeds | Underwood Gardens
https://underwoodgardens.com/wp-content/uploads/2015/10/Monarch-Butterfly-Flower-Mix.jpg
225
400
Stephen Scott
https://underwoodgardens.com/wp-content/uploads/2018/07/TerroirSeedsNEWWebLogo3-300x69.jpg
Stephen Scott
2015-09-05 12:46:35
2020-03-07 12:49:03
Newsletter: September 5, 2015