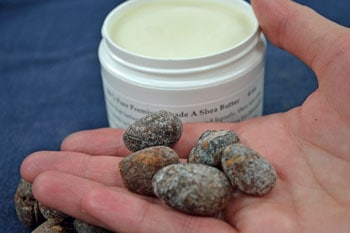 October 2013 Edition
"Everything that slows us down and forces patience, everything that sets us back into the slow cycles of nature, is a help. Gardening is an instrument of grace."
~ May Sarton
In This Issue-
Annual Shea Butter Sale
Now Offering Organic Teas
New Organic Soaps
Our First Intern, Ellen
Oaxacan Chicken in Poblano Sauce
Hello Friend!
We welcome you to Fall and our October Newsletter! For many, including ourselves, this is a favorite time of year when the temperatures are cooler, the pace seems to slow down just a bit allowing that few minutes to admire the gorgeous sunrise or sunset with all of those impossible colors shining through the richness of the air. The heat of the summer has faded into memory with the cold of winter not yet felt, so this balance of crisp mornings offset by the warm, golden colored afternoons is a joy to live in.
Our garden is almost finished due to some earlier than usual temperature drops, so we'll be buttoning it up for the winter with a dusting of charcoal and mineral powder, followed by a thick layer of aged compost and wood chips to keep the moisture in over the winter. We will give it a good drink of milk and molasses solution to keep the microbes well fed as they go into the colder weather.
Our heartfelt thanks go out to all of you who support us in our endeavors to bring quality heirloom seeds, soil and gardening education and great recipes to you! Without you, we would just be talking to ourselves more than usual and getting the wrong kind of attention for it, so thank you so very much for being part of our community! If you like what we are doing, we ask you to share us with your friends, neighbors and family that might be interested in learning about us. Word of mouth is how we've grown over these past 5 years, and how we will continue to grow. The referral of a friend means much more both to us and to the friend, as there is a trust and relationship that has been built.
If you are looking for some good deals, then look at our Sale and Clearance Department. This is where we put all of our sale items, as well as those being discontinued. All of them are first quality, not returns or damaged items.
The 2014 Heirloom Seeds catalog is in progress, with a sneak peek at some of the new heirloom vegetables to be seen in our "New for 2014" department. There are a few varieties in there now, and more will be added as the seed arrives and is packed. Watch the website for the new varieties in each department and get a jump-start to your garden planning for next year!
---
Annual Shea Butter Sale
It is that time of year again! Our annual sale on Shea Butter, now in its fourth year! Save 10% off our famous 100% Pure Shea Butter through November 15. We do this sale only once a year, in the Fall when temperatures cool off, to protect the Shea butter from melting in shipping.
All of our customers rave about it after they try it, and some have been buying our Shea butter for years now. Customers will buy several at a time to save on shipping and freeze the extra ones till needed. Skin gets very dry in the Fall and Winter, now is the perfect time to try our 100% Shea butter.
Read more about 100% pure Shea butter's powerful qualities in our article Shea Butter – Healing and Moisturizing Miracle. It is common for us to hear that our Shea butter has helped heal surgical scars faster with less scar tissue, clear up eczema, smooth rough elbows as well as soothing and healing cracked and calloused feet.
There are very few 100% pure Shea butters on the market, at any price. Most are quite expensive, as Shea is imported from Africa after being prepared by hand in small villages there. It is very labor intensive – estimated to take 20 to 30 hours to produce one kilogram of handcrafted Shea butter.
Many available Shea butters are lesser grades or are blended with other, less expensive ingredients such as petroleum oils. Pure Shea butter not only moisturizes but heals as well. It is fantastic to drop a teaspoon in a hot bath to moisturize your entire body while you soak, or rub a small amount into your feet at bedtime or morning to soothe your feet, or as a moisturizing after-shave that lasts all day, as well as healing and moisturizing over-worked hands. We are offering our Original 100% Shea Butter, Shea Butter with Lavender or "Happy Feet" Shea Butter in this sale.
Our supplier is a small company that only produces Shea butters on contract, usually for high end Day Spas, nail salons and massage therapists. He rejects almost 90% of the Shea offered to him, accepting only the highest graded quality from select areas in Africa. These Shea producing areas have the highest oil content which gives the best moisturizing and healing properties to the finished product.
This is a semi solid that needs to be warmed in your hands to melt, then applied to the dry areas and worked in well. Only a tiny amount is needed. Most of our customers find that a 4oz. container will last through the cold months.
---
Now Offering Organic Teas
We are very pleased to offer you something that we have enjoyed for several years now, and have brought to you through the combination of customer requests and our continued positive experiences. Rishi Teas only offers the highest quality Fair Trade Certified and Organic loose leaf teas, fresh each season and direct from tea gardens around the world. They work directly with families of skilled artisans who have been making traditional teas and herbs for generations, allowing them to produce rare and exclusive teas that offer an unmatched level of freshness. When you open your first sealed pouch of Rishi Tea, you will understand as the fragrance rises to greet you!
We are happy to work with, help support and introduce you to this small, dedicated company that has as one of its core goals a revitalizing cup of tea. Our Organic tea offerings include a few traditional handcrafted teas along with some new herbal blendings that should excite your palate.
---
New Organic Soaps
Another item we are introducing came from repeated customer requests for an effective, gentle to the skin Organic soap that lasts a good while and gives a good amount of lather. This is exactly what we've been looking for ourselves for quite some time! We added to the list that the soap had to be affordable, as we've tried (and enjoyed) a number of fine soaps that were very nice but ultimately just too expensive for continued, everyday use. This defeats the purpose of a great soap.
After much searching we have found a small company that has partnered with us to make what we feel is the best, longest lasting, best lathering, highest quality soaps. They started as a couple who are making soap because they were unhappy with the quality of other soaps and wanted to make something better – more natural for their skin and more environmentally friendly. From there they created an all-natural soap with basic organic ingredients.
Only the most natural ingredients are used. All of the fragrances are pure essential oils (plant extracts); the bar colors are herbs; and all preservatives are plant extracts. There are no synthetic fragrances, colors, or preservatives in any of our soaps. From the unscented/sensitive skin soap that is only pure soap, to the Lavender, Lemongrass, Oatmeal Spice and Peppermint Leaf soaps that have a clean, fresh, natural scent with generous lather that leaves your skin clean without feeling dry or coated with residue, you'll enjoy these Organic soaps!
---
Our New Intern, Ellen
We are very pleased to introduce a new addition to our Terroir Seeds family! Ellen is our very first intern and has some great small scale farming and agricultural experience to share with us. She is interested in learning more about the seed part of agriculture and wants to be a farmer after finishing her degree. Ellen will be learning the day to day operation of a family run heirloom seed company as well as researching and writing articles on the history of different seeds.
Please join us in welcoming Ellen and enjoy her first article she wrote introducing herself!
---
Oaxacan Chicken in Poblano Sauce
We made one of our favorite dishes this past weekend, and realized that we hadn't shared it with our readers, so here it is! Oaxacan Chicken in Poblano Sauce, or Pechugas in Salsa de Poblano Gratinadas is well worth giving a try, and has been a hit with many other families we've shared it with.
This Mexican poblano chicken dish from the Oaxacan region is another one of our family's favorite dishes, partially because it is easy to make, is absolutely delicious and makes fantastic leftovers for lunch the next day or so. The flavors combine the mild richness of the roasted poblano chiles with the smooth creaminess of the cream and cheese in typical Oaxacan style. Add into this the smoky, roasted and seasoned chicken and you've got a memorable dish! We usually serve this on a bed of Mexican rice with a salad on the side. It never fails to impress our guests, with most asking for the recipe or for a second serving.
---
We believe in a world of healthy soil, seed, food and people. Everyone has a fundamental need for vibrant food and health, which are closely linked.
We work to achieve this by challenging and changing conventional gardening thinking, providing successful and unique methods and techniques while inspiring the power of choice and action for the individual.
Our customers are friends that we have not yet met, as you share our interest and passion for growing incredibly delicious foods, preserving heirloom seed traditions and biological diversity for the future through our own home gardens. Sharing this is possibly the most important work, as it helps all of us make a definite, positive impact in our lives and in those that we share.
Thanks for your time this edition, we hope you have enjoyed it! Please let us know your thoughts and suggestions, as we are always working to improve.
Stephen and Cindy Scott
Terroir Seeds | Underwood Gardens
https://underwoodgardens.com/wp-content/uploads/2012/09/DSC_0025.jpg
233
350
Stephen Scott
https://underwoodgardens.com/wp-content/uploads/2018/07/TerroirSeedsNEWWebLogo3-300x69.jpg
Stephen Scott
2013-10-08 08:05:56
2020-03-07 12:03:30
Newsletter: October 2013