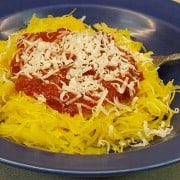 Print Recipe
Steamed Spaghetti Squash with Pasta Sauce
Steaming the spaghetti squash whole keeps more of its delicate flavors intact and makes less work for you! Adding some salt after shredding the squash keeps it from being too mild and becoming lost in the pasta sauce.
3 - 4

pound

spaghetti squash

whole

3 - 4

cloves

roasted garlic

optional

Olive oil and balsamic vinegar to taste

optional

Freshly grated Parmesan

Pecorino, Asiago or other hard grating cheese (optional)

Salt and freshly ground black pepper to taste
Place whole squash in a covered steamer basket.

Cook for 25 minutes or until a knife easily cuts through flesh. Often the rind will pop right around the 25 minute mark.

Remove steamer basket and rinse under running cold water until squash is just cool enough to handle, but not cold.

Slice squash in half, remove seeds and smaller pulp in center cavity, and then remove rind.

Shred flesh into long strands with fork or fingers.

Add salt to taste to bring flavor of squash up.

Serve hot with pasta or pesto sauce, add diced garlic cloves, olive oil and balsamic vinegar and/or grated cheese if desired.