Print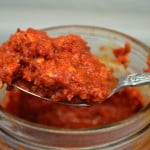 Homemade Fermented Chile Paste
A very quick and unusual fermentation that uses yogurt to start the fermentation. Absolutely delicious, the chiles heat is greatly moderated by the fermenting process, adding complexity and a great depth of flavor.
1/4

cup

organic whole milk yogurt

you want as many live cultures as possible!

1 - 3

Tbsp

natural salt

such as Redmond RealSalt or Himalayan salt

2 - 3

cloves

garlic

or for more garlic flavor - use the whole head

2 - 3

quarts

fresh chiles

any type you prefer

1/2

gallon

canning jar for the fermentation

1

quart

jar for storage

-OPTIONAL INGREDIENTS-

1 - 2

oz

piece of ginger

Fresh lemongrass stalks - chopped - use the bottom parts that are more tender

1 - 2

Tsp

Organic sugar

1 - 2

Tbsp

Thai or Vietnamese fish sauce
Make sure the fermentation jar is extremely clean - wash with very hot soapy water and rinse very well.

Wash, de-stem the chiles, removing seeds and veins if you want. Remove any bad spots. The seeds and veins contain the capsaicin, or heat. Milder chiles won't add much heat, but hotter ones will. I usually remove the seeds and stems from the really hot chiles for a better flavor that more people can enjoy.

Peel garlic cloves.

Add chiles, garlic and ginger or lemongrass pieces to food processor. Pulse until finely chopped into a paste. Use your judgement as to how fine of a paste to form. Stop and scrape the bowl down to make sure everything is chopped well. If the mixture gets thick and won't move in the bowl, add 1/4 cup water to make it looser.

Add salt - if processor is full, add 3 Tbsp, if over half full, add 2 Tbsp and if half full, add 1 Tbsp.

Add yogurt and pulse again to mix in.

Transfer the paste to the 1/2 gallon jar for fermenting. Replace the screw lid loosely, to keep insects out but allow pressure build up to vent.

Place the jar where you can observe it daily while it ferments, but not in the refrigerator yet.

Daily, remove the lid, stir, smell and taste the mixture. You will see some bubbles and possibly some mold forming. White mold is good - do not be worried with white mold! Any other color is cause for concern - usually due to jar not being extremely clean or chiles not thoroughly washed. Stir any white mold into mixture.

Store in refrigerator to slow down fermentation and enjoy!
When the flavors are to your liking, it is done. If left alone, the fermentation will continue for a month or more, so don't feel you have to wait on it.
Make sure that you have at least one full inch of headspace between the top of the chile paste and the lid, otherwise it can bubble over and make a mess.