How to Plan for Fall and Winter Gardening
Fall and Winter Gardening- Plan in the Summer for Cool Season Harvests
Fall and Winter gardening starts in the heat of summer, when most gardeners want to wait before planning or planting anything.
Plan for a spectacular cool season garden delivering delicious, crispy vegetables when the weather is hot.

Plant as the weather starts cooling down, but with plenty of time before the first frost.
Fall and Winter gardening is somewhat counter-intuitive for many gardeners. The traditional "Plant in Spring, harvest in Fall" approach limits how much food can be grown.
Most home gardens in North America can grow vegetables for 3 seasons a year, or up to 8 or 9 months in your current garden. With a little more structure, growing year-round is possible and realistic.
Don't believe me?
Eliot Coleman is perhaps the best known spokesman for year-round vegetable production. He has been successful in growing almost year round on his small acreage in Maine since the late 1970s. After discovering the best systems for his farm, he routinely out-produces farms 3 times larger.
If this is possible in Maine, a state not known for its long growing seasons, can it be possible in your garden?
Absolutely!
Plant Fall and Winter crops 8-10 weeks before the first frost. This gives the seedlings a head start before cool weather arrives.
Plan for Success
Dave's Garden has a great first and last frost dates guide by ZIP code. Click the link, enter your ZIP code, click "Go" and you'll see a chart that starts like this, but with your data:

The detailed data shows 3 charts based on historical data from the weather stations near your ZIP code. Choose the one closest to you, even if it isn't right in your neighborhood.
For this article, we are using our home data from Chino Valley, AZ.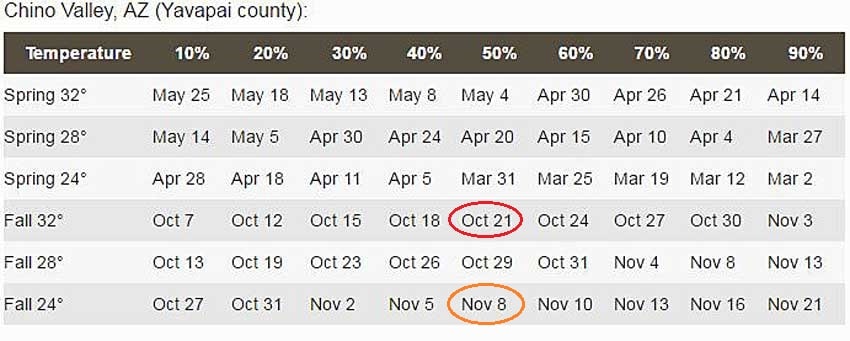 The red circle shows our first expected frost date, based on historical temperature data. This is the intersection of the Fall 32°F line and 50% column, meaning this is when we should expect a mild frost.
32°F is a mild frost, with 28°F being a medium frost and 24°F a killing frost.
Our first expected frost is October 21, with the killing frost November 8. Find your first frost date exactly the same way – the 50% chance of a Fall 32° night.
There is a lot of information packed into these dates, so here's how to have a better garden using these details.
A successful Fall planting comes from knowing a few details and working to the ideal dates on a calendar. You need to know the expected first frost date and the number of days to maturity for what you want to grow.
The following formula will give you the perfect time to plant –
Fall Direct Sowing Formula
Average days to maturity (harvest time frame) + 2 weeks for Fall weather factor = number of days to count backwards from first frost date for good garden production.
The average days to maturity can be found on the seed packet or the description page of our website. The Fall weather factor accounts for slower growth in cooler weather and shorter days.
Direct sowing example –
our 50% chance of frost to 32°F is Oct 21
the Bull's Blood Beet is a 55 day beet
we add 2 weeks for the Fall weather factor
This adds up to 69 days – 55 days for the beet + 14 days Fall weather factor = 69 days, or 10 weeks. From Oct 21 we count backward 10 weeks which is the week of August 12.
Fall Transplanting Formula
For even more production, transplant leafy crops like kale, lettuce, cabbage, spinach and such. These seedlings only need to be three or four inches tall, unlike tomatoes and peppers in the spring garden.
Use the direct sowing formula, but add 10 – 14 days for growing the seeds to transplanting stage. For transplanting, the formula looks like this –
Transplant stage (10 – 14 days) + average days to maturity (harvest time frame) + 2 weeks for Fall weather factor = number of days to count backwards from first frost date for good garden production.
Transplanting example –
our 50% chance of frost to 32°F is Oct 21
the Spinach Beet-Greens is a 60 day Swiss chard
we add 2 weeks for the Fall weather factor
add 10 – 14 days for transplant stage
This adds up to 84 days – 60 days for the Swiss chard + 10 days for transplant stage + 14 days Fall weather factor = 84 days, or 12 weeks. From Oct 21 we count backward 12 weeks which is the week of July 29.
Many fall crops do well when started inside then transplanted into the garden. You transplant the seedling as soon as it is three inches tall.
Plant them a little deeper than normal, so they don't dry out as fast once transplanted in the garden. A thick layer of straw mulch will help get them off to a great start, helping to keep needed moisture. Remember, these are transplanted in the heat of the Summer so they need different protection than in the early Spring.
Here's Why it Works
This approach gives us a couple of hedge factors, as the 32°F date is at 50% – meaning a medium chance of a lighter frost, which will usually give us a week or more past that.
We don't count on it, but will use it if given the extra time. This is where the Garden Journal comes in handy, as you can record the frost dates for use in the coming years. Another hedge factor comes into play when planting fast-maturing varieties- this gives you an extra edge in time over slower maturing ones. For example – a smaller 40 day carrot vs a larger 60 day one.
These examples assume the garden is finished when the frost hits. You can extend the season with row covers, low tunnels or other frost protection, sometimes several weeks!
What to Plant
Now that you know when to plant, what should you plant?
The obvious answer is to start with what you like to eat and go from there. The list of what will do well in the Fall garden is pretty extensive- many familiar and some not so much.
Kale, beets, carrots, Swiss chard, leeks, spinach, lettuces and onions are pretty easy. Maché, radish, mustard greens, kohlrabi, parsley, radicchio, sorrel, turnips and cress are not so familiar to most gardeners, yet are both delicious and nutritious.
How to Get Started Planting
How do you integrate this into your existing garden?
That's the easy part!
Space opens up as you harvest, making room for the Fall and Winter planting. Start with rows of fast-growing vegetables such as lettuces, carrots, beets, radishes. Start small and go from there. See what works, what you like and adjust the size as needed.
You now have the tools to grow the tastiest vegetables and greens from your own Fall and Winter garden! Most varieties that do well for Fall gardening gain flavor as the weather turns cool. Many become sweeter while others gain richness in flavors. You will only find these flavors in your own home garden!
https://underwoodgardens.com/wp-content/uploads/2011/07/Cool-Season-Vegetables.jpg
478
850
Stephen Scott
https://underwoodgardens.com/wp-content/uploads/2018/07/TerroirSeedsNEWWebLogo3-300x69.jpg
Stephen Scott
2011-07-13 13:59:43
2018-06-04 11:42:49
How to Plan for Fall and Winter Gardening