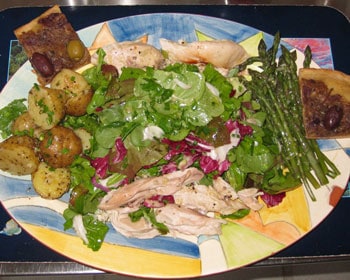 Radicchio di Treviso Salad
Fresh, seasonal salads are an excellent starter for great meals and showcases for creativity, and here we have the famous red radicchio from Treviso partnering nicely with pine nuts and alici, the smallest, most delicate members of the sardine family.
Radicchio di Treviso Salad
2 1/4 Lbs Radicchio di Treviso
1/2 to 3/4 unpacked cup, shredded tender root portions of radicchio plants (can substitute celery root)
3 Tbs olive oil
8 – 10 Alici, chopped fine (see note)
1-2 Tsp Balsamic vinegar
1/2 cup pine nuts
Freshly ground sea salt and black pepper to taste
Note: Alici are the smallest and most delicate of the sardine family. They are traditionally pickled fresh with a mild onion, then chopped fine and used in antipasto dishes. As a substitute, use half the amount of sardines in salt that have been rinsed and soaked a couple of times to remove the overly strong salt flavor.
Clean, wash and shred the radicchio root.
Wash the radicchio, shake out the moisture, and shred the leaves to uniform size.
Combine the ingredients in a bowl, mix thoroughly and serve.
Recipe Tip! This traditional antipasto goes extremely well with a moderate white wine.
Makes 3 to 4 servings
https://underwoodgardens.com/wp-content/uploads/2012/11/Radicchio-di-Trevisio1.jpg
280
350
Stephen Scott
https://underwoodgardens.com/wp-content/uploads/2018/07/TerroirSeedsNEWWebLogo3-300x69.jpg
Stephen Scott
2012-11-17 11:00:05
2015-09-21 12:26:32
Radicchio di Treviso Salad