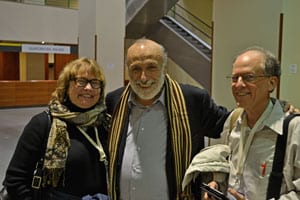 Terra Madre from Our View
We were asked to write about our experiences as Slow Food USA delegates to the 2012 Terra Madre conference in Turin, Italy as information and details for the 2014 delegates. Here's our story!
Terra Madre for the First Time
The Terra Madre gathering was something Cindy and I had heard of several times during our decade long Slow Food membership, most often at Slow Food events in Flagstaff or Phoenix, AZ. Our formal introduction was a presentation by a college student who attended the 2010 event with her family who are farmers from Oregon. The photos and descriptions were sensual and alluring, drawing us into a different world where food is revered and the producers and chefs are celebrated. The young woman was at a loss for words a number of times during the slide presentation and we attributed it to nervousness or lack of public speaking experience. Later on, we would come to realize that there really are no words to describe the entire experience; only bits and pieces, thoughts, ideas, flavors, aromas and sights. Even two years later it is difficult to capture many of the sights, sounds, flavors and aromas with words.
Once our applications were in, we fervently hoped that we would be chosen as the experiences would be a keystone in our lives, both personally and professionally. You see, we are not only serious foodies, but have an heirloom garden seed business named Terroir Seeds that focuses on why the quality of the soil influences the resulting flavors from the garden so much. We felt that attending Terra Madre, meeting the growers, producers and chefs along with the sights, textures, tastes and scents would better our understanding of food and why its origins are important.
When the email arrived announcing our selection as Delegates, we began reviewing the events, conference topics and taste workshops along with the International Congress schedule. We had been selected as Congress delegates as well as Terra Madre ones, so had an extra schedule of meetings and presentations from 130 countries around the world. The sheer number of things to do, see and taste was overwhelming! Fortunately, we were able to attend a "Pre-Terra Madre" event hosted by Slow Food Phoenix with other new delegates along with experienced attendees that gave us some very valuable and useful information that made our trip more enjoyable.
Probably the single most important tip was that we would be on "Italian time" and not to worry. Things might not seem to be progressing like they would in America, but it would all turn out well in the end. They were right, we did get where we were supposed to be even though there were thousands of people from all around the world speaking many different languages. The logistics must have been a nightmare, but everyone was polite and friendly.
The other great tip was to expect the first day to be very long, exciting and exhausting. We landed in Milan mid-morning and didn't get to our hotel until after midnight, after a trans-Atlantic flight starting in Phoenix, AZ at 7AM the previous morning. Our schedule didn't allow us to arrive a day earlier, but if you can it will help to have a full night's sleep before starting the marathon that is Terra Madre!
Another tip that is not immediately obvious, but will prove to be invaluable as time goes on is to take lots and lots of high-quality photos. Documenting the experiences will revive memories that fade shockingly fast. Looking at a single photo, I can still vividly remember the Provolone cheese being opened up early on the second morning. The indescribably delicious and powerful aroma, along with the complex and lasting flavors were an eye-opening experience, showing us that we hadn't tasted anything close to this in the US.
When we landed at the airport in Milan, we were with a large group from the USA, along with people from several European, African and Asian countries. The bus ride to Turin was spent getting to know others, finding out what they did for work as well as what things they were doing in their area that related to Slow Food. It was a real eye opener to see how many creative, passionate and dedicated people there were in every conceivable situation all over the world working to make food more accessible, better and healthier for everyone. We felt like we were re-discovering a tribe we belonged to but hadn't known we had lost. It was a homecoming of sorts, a place the heart knew well but the eye hadn't yet seen.
After checking in at the Oval Olympic Arena, also known as the Oval Lingotto, we stashed our luggage and wandered over to Eataly for cappuccino and snacks. It was a great introduction to the event, as it seemed to be a Slow Food superstore! Every area in Italy and from other regions of the world was represented, with signs and cards explaining where the food was from and why they were special. We had been advised to eat often the first day and get a cappuccino whenever we started to feel a bit tired. Italian cappuccinos are much smaller than we are used to, so they were the perfect pick-me-up during the entire event.
Once we had fueled up, we wandered back through the Lingotto Fiere as the booths were finishing set-up. The event is held in part of the repurposed Fiat factory, and is huge. The stroll through the vast building really wet our appetite for the next few days! Several of us made notes on specific booths and stages we wanted to come back to visit. Even after spending most of 3 days in there, we missed seeing a lot. The sheer size is vast, much bigger than the entire Las Vegas convention center or other convention centers we've visited, and they are filled with food!
The opening ceremonies were held at the Palasport Olimpico – also known as the Palaisozaki after the Japanese architect Arata Isozaki – where we were bussed and re-deposited our luggage at a baggage claim area. As the arena started to fill up, we talked to more people and snacked on fresh made sandwiches and more cappuccino. The opening ceremony was impressive with a warm welcome from the officials from Turin, along with an incredible flag procession from each country attending. Afterwards, we walked to our group of buses for the ride to the hotel.
The next 4 days were a whirlwind of food tasting, cooking demonstrations, learning the history of a regionally famous food and bumping into all sorts of people, like Alice Waters, Vandana Shiva and the ever-delightful Carlo Petrini. We were continually impressed with how friendly, helpful and engaging the artisans were, eager to share their knowledge and experience of their particular food, along with delicious samples. It was great to spend a little time at a booth, talking with the family that produced the food and learning more about their lives and how much work or experience went into each taste we had.
They were equally interested about our lives in America, with most being fascinated when we said we were from Arizona. Many Italians want to see the Grand Canyon, and a surprising number had been there or in other parts of the southwest. They always wanted to compare food notes, what we ate, what we raised or grew and what we considered to be our "traditional" foods. That was difficult, as the USA is truly the melting pot! They were fascinated at the variety of foods we ate on a regular basis and were impressed that we didn't live off of McDonalds or other fast foods. Yes, American commercialism at its best!
On the other hand, we received a valuable lesson in viewpoint when we were at the La Vazza booth sampling regional coffees paired with a traditional treat. The young woman guiding us through the selections was a student at UniSG – the University of Gastronomic Sciences that is part of Slow Food in Italy. When we remarked on how wonderful it is to have an event like Terra Madre celebrating traditional foodways, she commented that what we were seeing was indeed special, but everyday Italians were much more like Americans in the respect of wanting convenience and "progress" in their food choices, so traditional ways were declining. We were surprised, mainly because of the image of Italy as a bastion of traditional, honored food systems and regions. During our conversation, we learned that there was a very strong movement in Italy to continue the local and regional foods that had become more sustained and successful. Part of this was due to the influence of Slow Food in Italy!
In talking to the growers or vendors about their foods, taste and flavor were always one of the first things to be mentioned or demonstrated. Those were the primary concern, with everything else being secondary. What a refreshing change for us, where we are used to flavor being heavily advertised but rarely well represented! When we would talk about wanting to bring seeds back and introduce those varieties to the American public, the very first comment – always – was, "It won't taste the same!" They were right, of course, but we were looking to introduce flavors and different varieties of traditional vegetables that are unknown here. After some discussion, several growers understood what we were trying to do, but always came back to the flavor being different. They were happy to see that we were trying to spread the word about the uniqueness of their foods, however.
With all of the centuries of traditional food production, some with defined methods dating back 300 to 400 years in an unbroken line, there were definitely creative twists and experimentation represented. Several craft breweries were showcasing their approach to small batch, handmade beer with unusual herbs and spices, all of which were completely different than what craft brewing is in America, but completely delicious. One family of cheese makers from southern Italy stand out in our memory, as the son was telling us that he had been in the international banking business but had returned to making cheese after the economic downturn. He showed us several of the traditional aged cheeses his family had been making for over 100 years. Then, with a bit of awkwardness, he introduced us to his own creative twists – aging cheese in the local winery's grape must, or crushed grapes, for a completely different approach and beautiful flavor for his goat cheeses. He said that the local area thought him crazy at first, but were starting to come around after several years of tasting his new cheeses.
If one story can sum up our experiences at Terra Madre, it would be this: during the International Congress presentations, just before lunch, a young Palestinian woman spoke about the hardships and challenges her community faced in finding land and enough water to grow fresh food for their villages CSA or community supported agriculture program. As she started speaking, the entire room grew quiet and charged with anticipation, waiting to hear what she had to say. Their village was split by the dividing walls, and her talk was charged with emotion and passion. Despite the incredible challenges, she talked about the successes they had gained, growing more and more food to feed themselves and gain a measure of self-respect and resiliency. We broke for lunch after her presentation.

Soon after the break a young Israeli man got up to speak, and the room once again became silent and charged with anticipation. After he introduced himself, he stated that not all Israelis supported the current program, nor were all antagonistic against the Palestinian situation. He then described his village's challenges in obtaining enough land and clean water to grow fresh, healthy food for his community, which was also close to the dividing wall. After a couple of years, they were able to grow more and more food, gaining some independence from the food trucks that so many were living off of.
Both young people exemplified what we saw time and time again at Terra Madre – individuals in all kinds of situations and conditions all around the world working diligently day to day to make a positive difference where they lived, no matter the beginning challenges. It really gave us hope that what Slow Food stands for – good, clean and fair food – is a powerful, positive change in itself.
While we may not agree on many things – religion, politics, race, nationality and economics – we can agree on the foundational importance of food and our need to eat and eat well. Maybe, just maybe, food is that place where we can meet, eat and begin to find more common ground to agree on.
https://underwoodgardens.com/wp-content/uploads/2014/10/Diane-Carlo-Scott2.jpg
200
300
Stephen Scott
https://underwoodgardens.com/wp-content/uploads/2018/07/TerroirSeedsNEWWebLogo3-300x69.jpg
Stephen Scott
2014-10-22 11:53:14
2017-01-10 10:22:24
Terra Madre from Our View