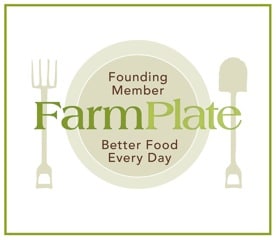 FarmPlate – Better Food Every Day
FarmPlate – Technology Connecting Producers with Eaters Everywhere
The burgeoning local food movement has a powerful new ally in FarmPlate to connect more people to those around them that are producing, promoting and distributing locally grown food. It can be very hard to find out who is in your neck of the woods, or in the next town that is part of local food. Communication is difficult, as there is no real central channel yet. There are a few resources that are devoted to showing us where the local "foodies" are, and this is one such resource that is making great strides in connecting the producers with the eaters of local ingredients.
"FarmPlate is a revolutionary online community that connects farmers, fishermen, foragers, food artisans, restaurants, markets, distributors and foodies everywhere. Our searchable directory of 40,000+ business listings across the country, networking tools and reviews make it fun and easy to find and enjoy real foods near you."
Using the top search toolbar, you can find a specific ingredient or foodsource near you, no matter where you are. I especially like to enter my zip code and click the red "Go!" button. It shows everything starting with what is closest to your zip code and works out from there. This is a great way to explore a new area, or if you are traveling and don't know what is available locally – this is your ticket!
They showcase farmers, artisans, restaurants, markets and foods, so there is no loss for variety to choose from. Their blog is very informative and has a series of Young Farmer stories of, you guessed it, young farmers making their mark in today's local food world. Take a look for yourself and see what is local to you.
https://underwoodgardens.com/wp-content/uploads/2012/07/FarmPlate_badge_4.png1.jpg
240
276
Stephen Scott
https://underwoodgardens.com/wp-content/uploads/2018/07/TerroirSeedsNEWWebLogo3-300x69.jpg
Stephen Scott
2012-07-13 20:19:22
2015-10-31 11:55:38
FarmPlate – Better Food Every Day