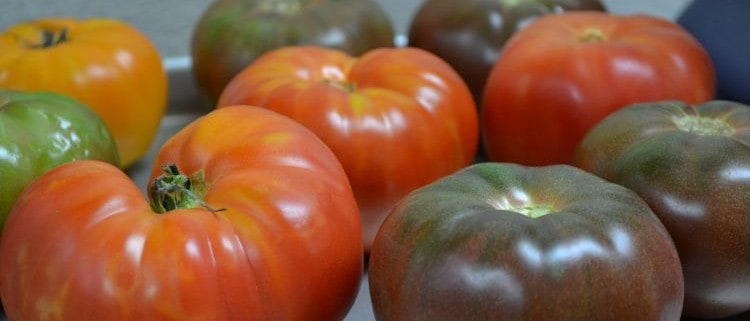 Bountiful Baskets- A Hidden Treasure
Fresh Veggies (and Fruit) For Less Than $1/Lb In 2011?
Is that even possible? Is it legal? How can I get in on that deal?
These are some of the questions that were going through our minds when we read about Bountiful Baskets Co-op in an article by Molly Beverly, the chef at Prescott College. The approach is very unique, being "This is a grass roots, all volunteer, no contracts, no catch co-operative."
The offering is open from noon on Mondays MST to Tuesday 10PM MST. You select the basket of the week, which is about 50% mixed veggies and fruit, then choose if you want one of the special weekly packs. Then you pay the $3.00 First Time Basket fee, with a $1.50 transaction fee to cover the costs of the website and credit card fees. From there Sally and Tanya- the ladies responsible for making this incredible operation work- spring into action, buying the produce and getting the transportation arranged in time for everything to show up at your local pick up location by 7AM that Saturday. You have a 20 minute window to pick up your basket, so make sure to be on time. They are extremely efficient, with our local pick up having about 100 baskets that fly out in less than 20 minutes. There was a short wait time the first week, as we arrived about 10 minutes early, but they were open early the second week, with us being in and out in less than 10 minutes. That included picking up a total of 3 baskets (for family and a friend) and 10 Lbs of Organic Heirloom Tomatoes! Try for that time at your local grocery store!
The weekly basket is $15.00 and is aimed at providing you with about $50.00 worth of grocery store quality produce. There is often the option to upgrade to all organic for $10.00 extra. Any special weekly packs are priced separately, but carry the same great deal as the baskets. Our first week we had a hard time trying to keep up with the extra fruit and vegetables, and finished most, but not all of it before the next Saturday. You don't have to get a basket every week, and some couples are on an every other week schedule as they don't eat all of it in one week.
Our first week we got the weekly basket, an Italian pack and a box of Asparagus. The basket had a great selection of crisp, fresh greens and fruit. All of it was a much better quality and flavor than we have been seeing in the grocery store at better prices. The Italian pack had several fresh herbs- generous quantities of Rosemary, Thyme, Basil, Oregano, Flat Leaf Parsley as well as garlic, a couple of onions, baby portabello and regular mushrooms- all for $7.50. 15 pounds of fresh, crisp, young and tasty Asparagus for $22.00 is a screaming deal! We shared the bunches of Asparagus with friends and family, enjoyed it in frittatas, pickled it, sauteed it in butter, and still had some left over at the end of the week.
For our second go round, we chose the basket and split a 10 Lb case of Organic Heirloom Tomatoes from Mexico. Living in Arizona, that isn't too bad, considering the time of year. The quality and amount of absolutely fresh veggies and fruit was amazing, from the crisp leaf lettuce, spinach, bananas, another bundle of young Asparagus, carrots, apples, fresh ripe Mangoes, vine tomatoes, celery, sweet potatoes, zucchini and a ripe cantaloupe. The heirloom tomatoes were ripe and ready for use, which is impressive. The second week's basket weighed in at 21Lbs, for a cost of 71.4 cents a pound for fresh, crisp, ripe and tasty produce. I believe our first week's basket was 20 Lbs. Please show me a better deal on fresh food!
Bountiful Baskets is in 10 states helping over 70,000 families get higher quality food at great prices each week through a unique business model. Just in Arizona there are about 80 locations. There is a volunteer coordinator at each location who is the driving force. Everyone is a volunteer, no one gets paid. This is a co-operative effort to source better food at better prices for all who participate.
In order to get started, go to Bountiful Baskets, and register for a free account. Do this before you want to get your order in, to save time and find out where your local pick up is at. Then from noon MST each Monday to 10 PM MST each Tuesday, log in and see what is on offer for the week. Make your choice, pay your money and show up at the pickup location at the proper time to get you basket of goodies. It is best to bring a basket to carry all of it in- trust me, you'll need it! Take your treasure home and amaze your friends and family at the fresh taste and flavors you found with Bountiful Baskets.
This is just one of several similar programs around the country that give you other options to the usual grocery store stroll. Your local Farmer's Market is one, but is usually seasonal, and isn't a supermarket. Azure Standard is another well established program that not only delivers fresh, organic produce at less than conventional grocery store prices, but also acts as a supermarket, selling dishwasher detergent, parchment baking sheets and apple sauce along with organic avocados and apples.
There are probably several others that we are just not aware of, but the point is that there are plenty of options to eating fresh, tasty food at better prices than what you are used to seeing in the grocery store. It does take a little planning, but if you are saving 50-75% on your weekly food bill, isn't it worth a bit of your time? With fuel prices and food prices headed only upwards, finding ways to save on your food without eating junk is becoming increasingly important. Planting a garden will pay you about 10 times the cost of the seeds you plant. If you spend $100 on seeds, the average garden will save (or pay) you about $1000 in the cost of the same quality fresh produce from your grocery store and taste better. Using one of these afore-mentioned co-operatives for the weekly veggies is yet another way to save money and increase the quality of your food, especially on things that don't grow well in your garden.
Eating much better for much less is something that most people will be very interested in!
https://underwoodgardens.com/wp-content/uploads/2011/03/Bountiful-Baskets1.jpg
500
750
Stephen Scott
https://underwoodgardens.com/wp-content/uploads/2018/07/TerroirSeedsNEWWebLogo3-300x69.jpg
Stephen Scott
2011-03-30 18:51:12
2015-09-27 17:51:53
Bountiful Baskets- A Hidden Treasure