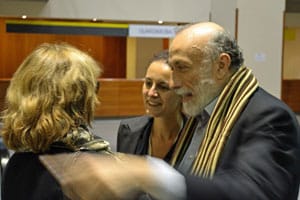 Carlo Petrini's Speech to Slow Food USA Delegates
The co-founder of Slow Food International, Carlo Petrini took the stage after the opening ceremonies at the Slow Food USA delegate meeting during the 2012 Slow Food Terra Madre and Salone del Gusto conference in Turin, Italy this past October. He gave his remarks to about 230 delegates from all across the USA who are working daily on the core tenants of "Good, clean and fair" food for everyone. It was impressive to see the amount of passion, dedication, talent and genius gathered together in that room, all for the sake of one of our most important yet overlooked foundations of life; food.
Carlo seemed to be impressed as well, with comments like "What you've done in America is extraordinary, not just for the USA but for the rest of the world. A Slow Revolution toward respecting food, a deeper appreciation of food that serves as an example for the entire world." He went on to say that we've helped "Achieve the most important thing that Slow Food needs to achieve – given back a holistic sense of food." We've started to show that food is not and never can be a commodity, merchandise, just a price point.
Its story is important – the memory, the people and its history. By reducing food and everything about it to its commodity values of productivity and profit, we are approaching a brink. That brink is the loss of diversity, not only of the varieties of foods that have nourished us for thousands of years, but the loss of human and cultural diversity as well. Those different types of diversities have enabled us to withstand and overcome many different challenges over the millennia, adapting and growing stronger in the process. Without all of those diversities, we are all weakened and more vulnerable to changes, whether expected or unexpected, human or natural caused.
Carlo closed by saying that the people of Slow Food have the holistic vision of the path back to the healthy diversity that will make our food and our communities whole again. Slow Food delegates practice that vision daily, working to strengthen our food connection everywhere we are, every day. Watch the video and see Carlo's thoughts for yourself!
https://underwoodgardens.com/wp-content/uploads/2012/11/Carlo-Petrini.jpg
200
300
Stephen Scott
https://underwoodgardens.com/wp-content/uploads/2018/07/TerroirSeedsNEWWebLogo3-300x69.jpg
Stephen Scott
2012-11-14 21:17:28
2016-01-03 11:52:34
Carlo Petrini's Speech to Slow Food USA Delegates