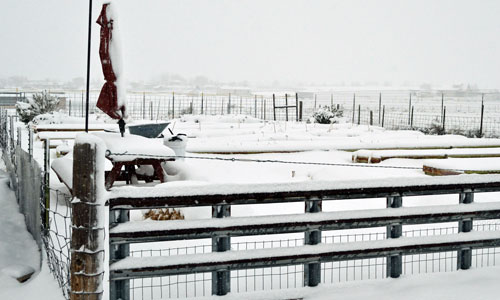 Don't Plant Your Garden Too Early…
…and here's some reasons why!
This was actually the second snow of this weekend, the first came in Friday night and was melted off by mid-morning Saturday. We got a second snowstorm Saturday afternoon that left the garden like this Sunday morning- April 10! Our normal direct sowing date is just under a month away- about May 7 or so.
By this afternoon the garden had returned to looking normal…
I just couldn't pass this up, much too charismatic! I love how the snow/frost has crystallized on the surface, making it look almost furry.
1920's Sears and Roebuck Craftsman style house, across our back horse pen. Moved here a few years ago from just a couple miles down the road when the alfalfa farm was sold for development. Originally built by a Russian immigrant family. Dad spent 11 years making the bricks to build the house, by hand, each and every day. Tastefully refinished with a nice wrap around porch and the original oak hardwood floors brought back to life.
Never has sold, was finished just before the market blew up. I love the feeling this has.
Hope you enjoyed some beautiful sights this weekend!
https://underwoodgardens.com/wp-content/uploads/2011/04/SpringSnow.jpg
300
500
Stephen Scott
https://underwoodgardens.com/wp-content/uploads/2018/07/TerroirSeedsNEWWebLogo3-300x69.jpg
Stephen Scott
2011-04-10 19:21:08
2015-09-27 17:50:03
Don't Plant Your Garden Too Early…