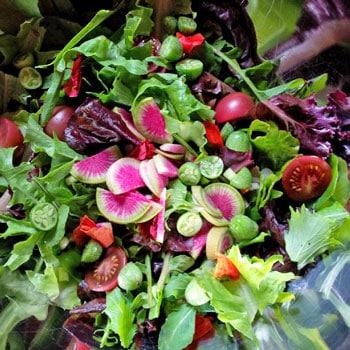 Heirloom Gardens From Seeds
Many of us have gotten used to eating the few select varieties of fruits and vegetables that are available in the grocery store. The grocery store produce is pretty, but it doesn't taste like much.
Incredible, exceptional taste is the single biggest reason so many people are turning to heirloom vegetables. Once you experience the sheer depth of the flavor that any heirloom variety has compared to the supermarket one, you will always want more. You will find heirloom produce to be more flavorful as well as much higher in nutrients. You can eat a salad with no dressing because all the greens and veggies just taste so good. Many heirloom vegetables have been saved and selected for decades and sometimes even centuries because they are have the best flavor and production in home and small market gardens. Flavor is once again the biggest concern for small growers, as they don't ship their produce farther than the local Farmers Market.
Recent studies have shown that the newer hybrid varieties that are developed to optimize production don't have as much nutrition as their heirloom counterparts. So now, not only do the supermarket veggies have less taste, but they don't nourish us as well. Heirlooms tend to be hardier so it is easier to grow organically without all the chemicals that the popular commercial produce has. So it is also cheaper in the long run to grow plants from heirloom seeds. Heirlooms tend to ripen at different rates, which spreads the production out, unlike hybrids that have been specifically developed to ripen all at once. This means that you have a longer season to enjoy the produce, instead of getting hammered with all of the crop at once.
Another benefit of heirlooms is they don't have all of the development costs and research associated with hybrids, so the seeds themselves are usually less expensive. Some seed companies try to counter this cost basis by selling seed packets at a smaller charge, but you wind up getting a lot fewer seed- sometimes as few as 10-15! You can save seeds from heirlooms, replant them and they will adapt to your specific garden climate, becoming even more flavorful, nutritious and productive. This is a huge benefit, one that ties directly to how we have fed ourselves for the past 12,000- 15,000 years. Seeds saved from hybrids won't grow the same plant, and genetically modified seeds either won't regrow at all or you will face serious lawsuits for saving and replanting their seeds. Heirloom seeds offer many advantages over hybrid and genetically modified seeds.
https://underwoodgardens.com/wp-content/uploads/2014/09/Julies-Garden-Salad1.jpg
350
350
Stephen Scott
https://underwoodgardens.com/wp-content/uploads/2018/07/TerroirSeedsNEWWebLogo3-300x69.jpg
Stephen Scott
2009-11-24 11:02:10
2016-01-03 12:18:19
Heirloom Gardens From Seeds