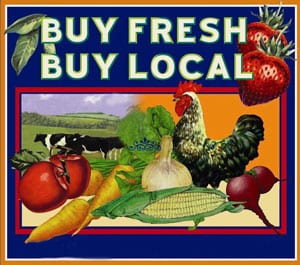 Local Food Movement Feeds Commercial Customers
The Local Food Movement Gets A New Prescription
The local food economy is entering a completely new chapter with such seemingly unlikely partners as St. Joseph Mercy Hospital of Ann Arbor, Michigan. Leading edge, innovative hospitals such as St. Joseph's are working to incorporate more local, sustainably grown produce into their menus and food systems. Things quickly become complicated due to the sheer amount of food that is prepared and the time needed for prepping. For instance the soup du jour for 600 people is 65 gallons. The ingredients needed in one just day's vegetable soup would require hours of prepping and chopping, but is supplied by the current food distribution system already pre-washed, sliced, diced or cubed and ready for the cooking process. As an example, the green beans sourced from a local grower – 200 pounds of them – required 8 hours of washing, snipping, stringing and slicing to prep for that day's evening meal. Even though the food was sustainable, the processing wasn't as the kitchen isn't equipped to handle that amount of prep work on a continuous, daily basis.
There is a tremendous enthusiasm and pressure from consumers of all sizes for more local food. These consumers aren't just the mom and dad at the farmer's market on Saturday, but are increasingly including the large scale commercial consumers such as hospitals, universities and large businesses that are looking to satisfy their customers and employees desire for better tasting, more healthy, local food. This is a good, or possibly great thing, if it can be handled to benefit everyone in the equation. One of the biggest challenges for local food economies is that the commercial consumers have been set up to take advantage of the industrial food distributors efficiency and convenience. They are the keystones as to why and how large distributors reign supreme in this market. Everything shows up prepped and ready to use – something that isn't even thought of in the local food model. Granted, there can be some improvements in the commercial consumers kitchens, as most of them do not have any facilities set up for any prepping whatsoever. This can be remedied, but takes dollars, forethought, planning, construction and time to accomplish.
Farmer's markets are an important piece of building the local food system, but they are still such a small part of the entire US food production – less than 1 percent for the just over 7,000 markets across the country- that significant growth and positive impacts for the legion of local growers can be realized by connecting small and mid-sized local farms with these institutional, commercial consumers in their local communities. Even very small changes in the purchasing patterns of these consumers can have major changes in the local food system, as an average sized hospital's food budget can easily top $4 million annually. Just 1% of that is $40,000 that would stay in the local food system, making a huge positive impact. A more realistic figure of 2 – 3% purchasing change means $80,000 – $120,000 going into the local grower's systems. What benefits and opportunities can you see $80,000 having on your local farmer's market and local food network?
There are a couple of workable solutions to the questions of efficient local food distribution to make life easier for these larger customers. One is a regional food distribution hub, which some models have proven successful and others have failed in different regions of the country. Another is a co-operative system that partners with a smaller, regional food distribution system that is already in place, effectively adding a "local, sustainable food" section to it's inventory of supplies and services. There are still others that bear examining and evaluating to see if they would work for a particular need or application.
There are a growing number of institutions just like St. Joseph's who are responding to their customer's desires and needs by putting their not inconsiderable moral, ethical and financial weight behind new local food initiatives. The market is there, it just needs some evaluating, adjustments and planning to make it happen, with hugely beneficial results for both the growers who can create the relationships and supply the needs as well as the institutional consumers that can broadcast the triumphs of inter-weaving local, healthy, sustainable food into their menus.
https://underwoodgardens.com/wp-content/uploads/2012/10/Buy_LocalWeb.jpg
265
300
Stephen Scott
https://underwoodgardens.com/wp-content/uploads/2018/07/TerroirSeedsNEWWebLogo3-300x69.jpg
Stephen Scott
2012-10-19 07:13:36
2016-01-03 12:17:05
Local Food Movement Feeds Commercial Customers