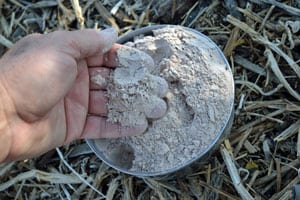 Mineral Restoration of Your Garden Soil Part II
Why You and Your Garden Soil Need Minerals
There are many ways to introduce needed minerals into your garden. One method starts with a soil test and adds or amends several different items or mixtures to get the pH level and major nutrients like N, P and K in appropriate ratios. Another is using multi animal manure compost worked into the soil. Both of these are good beginnings, but do not address the needed trace elements that are limiting factors when not present. They not only increase the garden's yield, but also plant and soil health. This in turn increases our health, as these trace elements are also limiting factors in our health when not present in sufficient amounts.
For instance, Boron increases calcium uptake, promotes flowering and pollen production and is essential for strong plant growth. It also activates Silicon, which carries all of the other nutrients. Copper is a plant immune system regulator, controls mold and fungi, is an important chain in photosynthesis and helps increase the plant's stalk strength. Manganese helps with nitrogen utilization, is a key factor in pollinization and aids in the utilization of energy from the cells for the plant. Zinc improves phosphorus utilization, helps regulate the plant's growth including leaf size, corn ear size, hastens maturity and contributes to increased weight of fruits and vegetables.
As can be seen, these trace elements play a very important role in the overall production of healthy plants, fruits and vegetables. Properly mineralized soils offer not only better nutrition and health for the plant but pest and disease resistance as well. In corn, once enough copper is in the soil and taken up by the plant, grasshoppers won't come into the fields, so insect pressure and damage are greatly reduced. Weed pressures decrease, as weeds have been shown by recent research to be indicator species for soil problems. Specific weeds will show up where specific minerals or trace elements are missing from the soils. Tissue tests of the weeds in relation to soil tests taken at the weed roots shows this. Improvements to the soil will cause weeds to "move" to areas of problem soils. Jay L. Mc Caman has published "Weeds and Why They Grow", a look at over 800 different weed species and the soils that they grow in. As an example, burdock grows in soils with very high levels of iron and sulfate, very low levels of calcium and manganese. Mineralize the soil, lose the weed!
Insects are another indicator species, preying on weak, diseased and malnourished plants. They prefer lower brix, or plant sugar levels. Vibrant, healthy plants have a higher brix level than stressed or diseased ones. Experience shows that improved soils will decrease insect pressure, as brix levels increase, insects move on. In fact, several studies and practical observations have shown that as soil improvement occurs, insects move out followed by weeds. Then the insects start eating the weeds, as they have lower brix levels than your garden!
Combining these benefits with charcoal accelerates the process in a positive direction. Charcoal acts as a nutrient and trace element sponge, allows the soil food web to build much more organic carbon, living biomass & glomalins (soil glue) in addition to building soil infrastructure. The old adage of "Feed the Soil Not the Plants" becomes; "Feed, Clothe and House the Soil, utilities included!"
We have chosen AZOMITE because it is easy to apply, safe to use and extremely effective. It is also completely organic or natural, meaning there are no man-made ingredients. It is simply powdered Utah volcanic rock dust that has about 70 minerals and trace elements, nothing more. The recommended application for gardens is 1 pound to 25 square feet of garden. It can also be sprinkled around established plants or trees and watered in. For "charging" charcoal in the compost pile, I recommend 1 cup per 2 pounds of crushed charcoal, mixed into the compost for 6 months prior to application to the garden. Once again, we have no connection whatsoever with AZOMITE, they don't even know we are talking about them.
Several studies with several vegetable plants show taller plants, larger diameter branches/stems, larger leaves with earlier fruiting, more prolific production of fruit, longer production and earlier first fruits with mineralized soils. Nutritional analysis of vegetables show higher levels of minerals and trace elements, showing that the soil minerals are more bio-available. More nutrition for plant = more nutrition in veggies = more nutrition for us. Better production in the garden means more veggies, which greatly increases the value of the garden and the value of its produce, especially in today's market with much higher prices with lower quality produce available. Makes it much easier to grow your own food.
Better soil; bigger, healthier plants and vegetables; earlier, larger yields and better taste, nutrition and health for you- all from a few simple ingredients and preparation of your garden soil. This is the wonder of biological and sustainable agriculture, no matter the size of the "field". As one farmer put it, "It's not hard, it's just different." It's a different way to look at gardening, but once some understanding is reached, knowledge and experience gained, it's much more rewarding on many levels to work with the soil and plants this way, instead of trying to force them to work how we think they should, or want them to. Another benefit to this approach is that the applications last a long time- in the case of charcoal, at least 100-300 years, and the AZOMITE can last 3-5 years in hungry soil, longer in a more balanced one.
As always, please send in your comments and questions!
Next up will be a discussion of compost and the many approaches to building the best compost yet!
https://underwoodgardens.com/wp-content/uploads/2013/12/Azomite-Elemite1Web.jpg
200
300
Stephen Scott
https://underwoodgardens.com/wp-content/uploads/2018/07/TerroirSeedsNEWWebLogo3-300x69.jpg
Stephen Scott
2011-03-03 13:57:07
2018-10-24 18:20:05
Mineral Restoration of Your Garden Soil Part II