Best Homemade Fish Emulsion
Fish Emulsion Feeds Your Plants
Fish emulsion has been a go-to product for the organic and natural home gardener for years now, as it has proven its effectiveness in feeding the soil and plants with biologically available nutrients while increasing soil and microbe health. The main drawback to commercial fish emulsion is the cost and the smell. While we can't do anything to help you with the fishy smell, we can help you make your own fish emulsion that will not only save you a lot of money in product and shipping costs, but just might make a better product than you can buy! This homemade fish emulsion will almost always supply more nutrients than commercially available, but also supplies much more beneficial bacteria from the brewing process. In order to ship, commercial emulsions have little to no active bacteria, because they make containers swell as they continue to grow!
All fish emulsions are good organic nitrogen sources, but they also supply phosphorus, potassium, amino acids, proteins and trace elements or micro-nutrients that are really needed to provide deep nutrition to your soil community and plants. One of the benefits of fish emulsion is that they provide a slower release of nutrients into the soil without over-feeding all at once. It is usually applied as a soil drench, but some gardeners swear by using it as a foliar fertilizer as well.
Adding seaweed or kelp to the brewing process adds about 60 trace elements and natural growth hormones to the mix, really boosting the effectiveness of the fish emulsion. The seaweed or kelp transforms the emulsion into a complete biological fertilizer. Beneficial soil fungi love seaweed. Dried seaweed is available at most oriental grocery stores. The amount you need to add will depend entirely on your soil needs. If you are just getting started in improving your soil, add up to a cup of dried seaweed or 2 – 3 cups fresh. If your soil is doing pretty good then add about 1/4 to 1/2 cup of dried seaweed and up to 1 – 2 cups fresh.
Making Your Own Fish Emulsion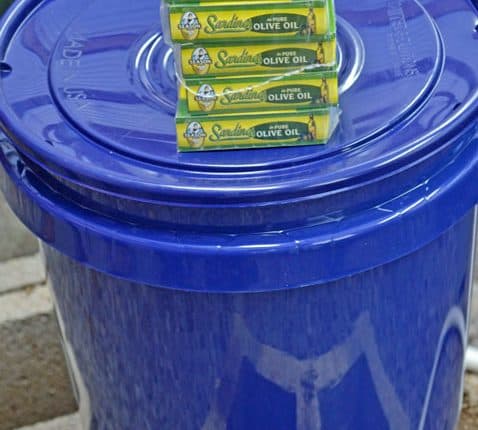 To make your own, obtain a dedicated 5 gallon bucket for this project. Trust me; you won't want to use it for anything else once you're done! Buy 10 cans of herring type fish such as sardines, mackerel or anchovies. Sourcing these from a dollar store or scratch and dent store makes perfect sense, as you don't care about the can and aren't going to eat them.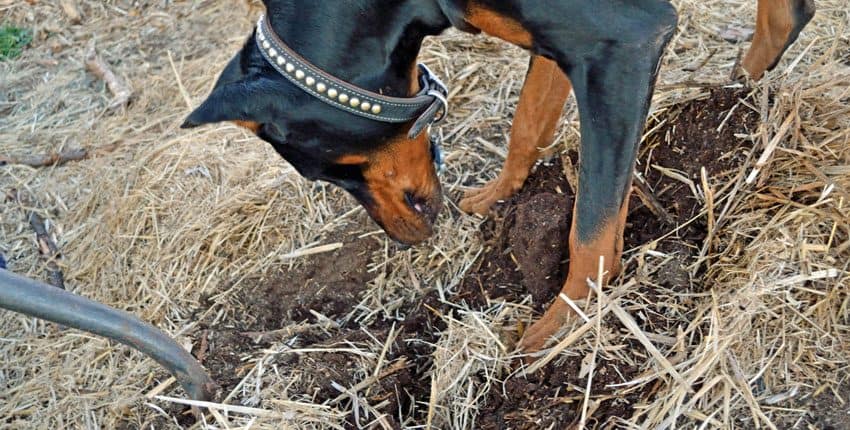 Rich, well-aged compost is a key ingredient to great fish emulsion, as it has lots of active microbes and other biological life which will help kick-start the fermentation of the fish. A good compost hunting dog is not required, but really helps. We've found the Doberman breed to be very helpful in finding just the right compost! Dalmatians do a pretty good job as well.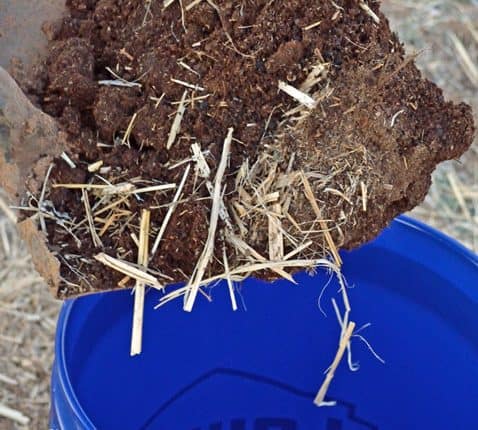 Fill the bucket half full of well-aged compost, aged sawdust or leaves, or a combination of all three. You are looking for the dark brown, crumbly compost that smells like rich earth.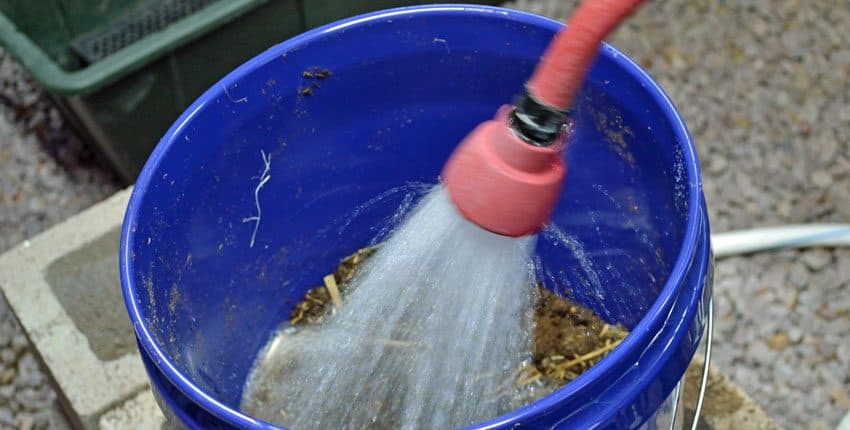 Add water to about 2 inches from the top…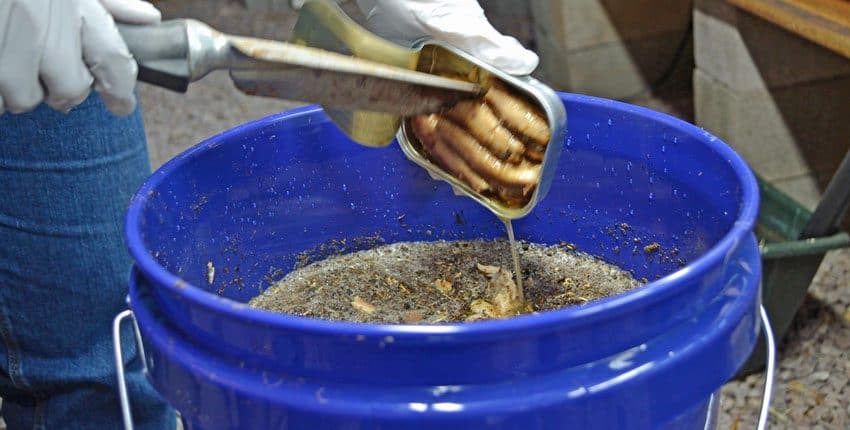 add in the cans of fish, rinsing the cans with the water to make sure you get every last drop of the "good stuff". The juices or oils in the can will breed beneficial microbes and supply extra proteins.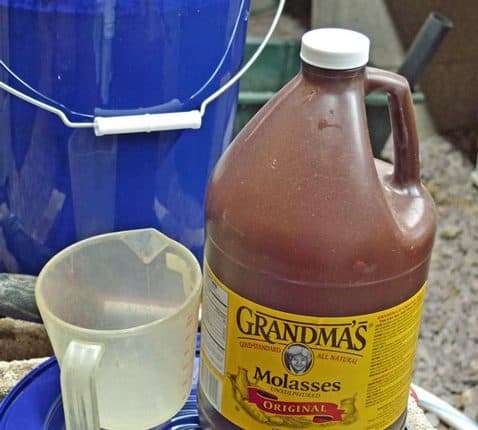 To supercharge the brew, add 1/4 to 1/2 cup of blackstrap molasses to provide sugars and minerals to the fermenting process. The sugars also help control odors. Next, add the chopped or powdered seaweed to the mix. If you need extra sulfur and magnesium, add 1 Tbs Epsom salts.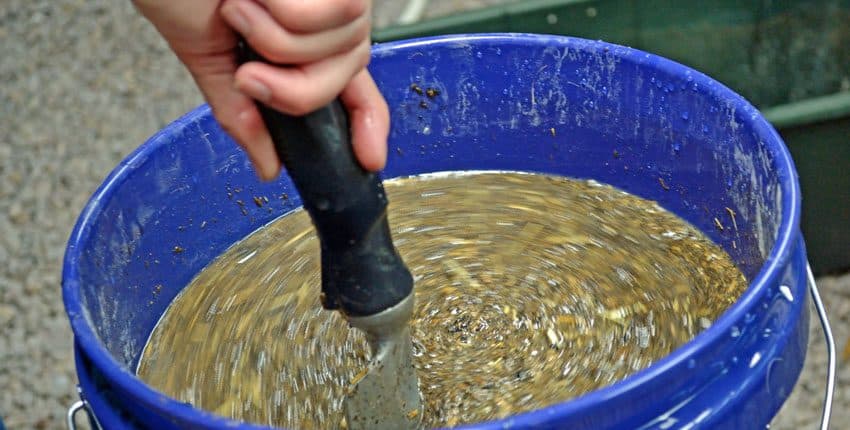 Stir well and cover with a lid to control the odor, but not tightly as it will build pressure as it brews.
Be Careful!
NOTE – Make sure that flies do not get into the bucket or you will have a marvelous breeding ground for maggots! One solution is to drill several holes in the lid for the bucket and glue screen mesh on the inside of the lid, allowing air flow but keeping those pesky flies out. Remember, you are brewing the most delicious aromas the flies have ever smelled!
Let it Ferment
Let it brew for at least 2 weeks, a month is better. Give the contents a good stir every couple of days.
Once it has brewed for a month, it is ready for use!
There are a lot of ways to use this brew, so be creative. Some folks will strain off the solids, put them in the compost pile and use the liquid as a concentrated "tea" to be diluted with water. Others keep everything together and stir the mix well before taking what they need. What you have is a supply of bio-available nutrients in a soluble form.
Use as a Soil Drench and Foliar Fertilizer
For a soil drench, use 2 – 3 Tbs per gallon of water and apply to the roots on a monthly basis during the growing season. 1 Tbs per gallon of water makes a good foliar fertilizer. Just make sure to apply it by misting during the cooler parts of the day, not drenching the leaves in the heat. Half a cup per gallon will give your compost pile a kick start.
This brew will keep for at least a year, but you might want to make fresh each season. If you need less than 5 gallons, halve or quarter the recipe. It will smell, so store it where the odor won't knock you out. I don't trust the "deodorized" fish emulsions, as to remove the odor, some component of the fish product was removed either physically or chemically and is no longer available as a nutrient.
https://underwoodgardens.com/wp-content/uploads/2012/09/Adding-Sardines.jpg
478
850
Stephen Scott
https://underwoodgardens.com/wp-content/uploads/2018/07/TerroirSeedsNEWWebLogo3-300x69.jpg
Stephen Scott
2012-09-26 17:34:32
2016-04-22 17:40:42
Best Homemade Fish Emulsion