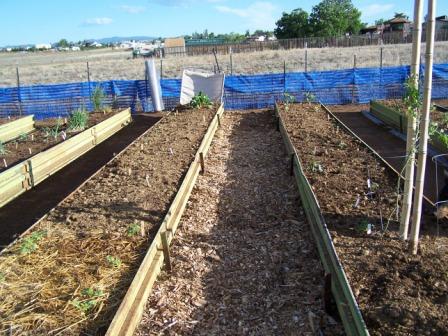 Raised Garden Beds at Underwood Gardens
We are finishing up our raised bed garden, and wanted to show you what we have been working on. The raised beds will be both production garden for our family, and a test garden for the seed business. Our garden is 35 x 70 feet; smaller than some, larger than others. There are several projects that we are working on that we will keep you up to date on with the blog, so check back often!
Today is an overview of the gardens, our climate and challenges that we face, as well as an introduction of some of the projects that we are working on.
We are at 5000 feet elevation, with 4 full seasons, and are located between Phoenix and Flagstaff, so we avoid the temperature extremes of both places. Our temperatures range from 110 to 20 degrees F. We are in a high desert environment with about 12 inches of rain annually. The soil here is good, but needs organic matter worked into it to be productive. Arizona has a lot of microclimates, as does most areas of the US that have hills and elevation changes, so this presents unique challenges to growing depending on where you live.
Some of our challenges include the wind, heat and dry climate. These combine to dry out a garden severely unless measures are taken. Wind protection, drip irrigation and lots of mulch are some of the things we do to keep moisture where we need it. Even with our challenges, we can grow a ton of food, and so can you!
Let's take a look-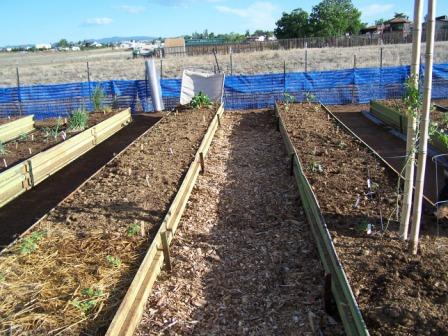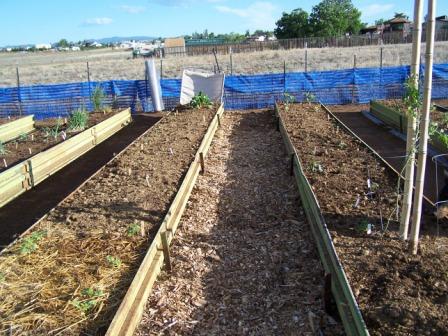 This South facing shot shows the raised beds, the blue wind break on the fence and the wood chips in the walkway. Over the fence in the background is the native grassland. There is weed cloth under the wood chips; this gives a good walking surface that keeps the weeds out! We are moving worms into each bed to help build soil and keep the beds aerated and healthy.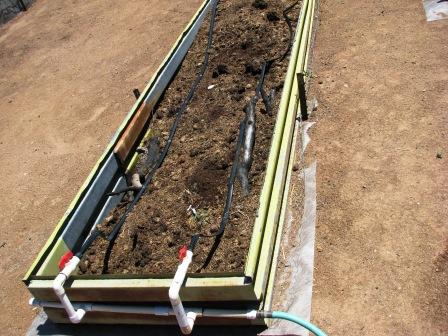 Here is a photo of the worm bed. We haven't put the weed cloth and chips in the walkway yet, but the weed cloth under the bed is visible. This is where we will have lots of worms, in addition to charcoal, coffee grounds, and horse manure compost. The worms love coffee grounds, which also retain a lot of moisture to help jump start the soil building process. The white PVC piping is the drip manifold with the shut off valves and the garden hose that connects each bed to the next. The charcoal is visible under the drip tape. It acts as condos for the micro-organisms that live in healthy soil. The humus-like soil will be used to amend or top-dress the other growing beds in the fall and spring. Once we have enough, we can use the excess humus as another product to sell locally. We will keep you updated on the progress.
This should give a good overview of what we are doing and where we are going. We will give more detailed info in the next few posts, so stay tuned!
Please don't think that this level of gardening is required to be successful, it's not! A lot smaller garden can be just as productive on a smaller scale- all the way down to 2×2 feet… The most important thing is to just get started! We will go over options on sizes in future blogs. As always, if you have questions or comments, please leave them on the comments section, or call us at 888-878-5247!
https://underwoodgardens.com/wp-content/uploads/2009/06/raised-bed-1.jpg
336
448
Stephen Scott
https://underwoodgardens.com/wp-content/uploads/2018/07/TerroirSeedsNEWWebLogo3-300x69.jpg
Stephen Scott
2009-06-04 07:00:51
2016-01-05 01:26:56
Raised Garden Beds at Underwood Gardens