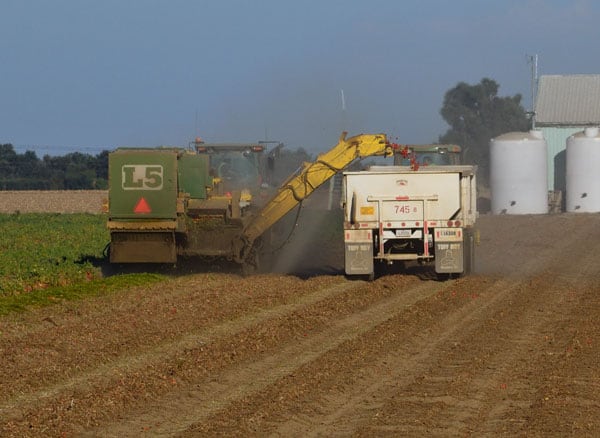 Are We At The Peak of Industrial Agriculture?
What if we are seeing the peak of industrial agriculture, sort of like Peak Oil? What if this is as good as commercial, chemical, industrial and corporate agriculture gets? There are some early signs that this may, in fact, be true. Yes, the USDA shows that all agriculture added around $444 billion to our economy in 2012, but that doesn't mean we are growing more food to feed more people, unlike the mantra of corporate ag of "feeding the world." Industrial, commercial agriculture is growing more commodity crops – like #2 field corn that is not eaten directly, but pulled apart in labs and re-synthesized to make over 600 ingredients in packaged foods – for ethanol, for export or to feed animals in confined feedlots.

Surprisingly, the American Farm Bureau Federation was the one saying to their constituent farmers to get ready for a slowdown, or even a pull-back from the high water mark of today. Several reasons go into this prediction; less demand for corn ethanol in gasoline, less imports of commodity crops of soybeans and corn from China and increasing restrictions on GMO crops of corn, soybeans and cotton in more countries around the world. Bob Young, the American Farm Bureau Federation's top economist told a group at the annual meeting in Billings, MT that,"You'd almost have to view this period as 'This is the best of times.' I'd also tell you that whatever goes up like that, sooner or later, more than likely, one has to expect, one has to think about getting ready for it to go the other way."
I've said many times that we will wind up in a sustainable economy with sustainable agriculture, either by choice or by force. Either we will figure out how to grow enough food to feed ourselves without stripping the soil of its nutrients and wrecking the planet or we will be thrown off that cliff and find ourselves at the bottom, picking ourselves up and trying to figure out how to feed those that remain. The same goes for the economy, we will learn to live within our means or face the consequences.
I, for one, want to be able to choose how we move forward; to learn how to grow enough food to feed ourselves in an intelligent manner, eliminating the horrible 40% of food that is wasted in today's systems.
The bright spot in all of this is that local, sustainable agriculture is taking off like never before, with no signs of slowing down. From younger people with no farming experience getting into growing, returning veterans taking up farming and growing both for food production and to heal themselves, urban agriculture plots and micro-farms forming CSAs or Community Supported Agriculture shares, to ever-increasing numbers of people switching to eating more organic produce and the double digit growth of Farmer's Markets across the country, sustainable agriculture is really beginning to hit its stride.
All of this is the result of independent, de-centralized, non-governement directed, led or supported efforts of people all across the country who are working to make their own lives better and in the process, making those around them better as well. As Richard McCarthy, Executive Director for Slow Food USA says, "We need to celebrate those who are working to make a better food system, wherever they are."
Move Over, Big Ag: Sustainability's Moment Is Here
https://underwoodgardens.com/wp-content/uploads/2013/12/SeedCombine1.jpg
438
600
Stephen Scott
https://underwoodgardens.com/wp-content/uploads/2018/07/TerroirSeedsNEWWebLogo3-300x69.jpg
Stephen Scott
2013-12-03 07:59:52
2015-09-22 17:35:55
Are We At The Peak of Industrial Agriculture?