Chile de Agua – An Unknown Heirloom Chile from Oaxaca
History
The Chile de Agua is a little known heirloom chile from Oaxaca, Mexico, grown in a small valley for at least three centuries and is slowly becoming better known and more popular in the US. It is one of the chile varieties grown in the ancient Milpa system of community gardening with companion planting using corn, beans, squash, amaranth, sunflowers and chile to feed and sustain the people in the community.
It is very much a local chile, until recently only grown in the valley of Oaxaca (wa-HA-ca) just north of the city of Oaxaca, Mexico. It is not grown commercially, so the production is relatively small and rarely makes it out of the surrounding area, explaining why so few people have gotten to know this remarkable chile.
Even though it isn't well known outside of the area, the chile de agua holds a special place among other well-known chiles like the chile de arbol, serrano and jalapeño. Traditionally grown in semi-arid lands, it was planted when the seasonal rains began by transplanting seedlings into cone shaped beds made of adobe-like wet mud filled with leaf-cutter ant manure, then capped with more mud. The cap retained enough moisture in the soil for a few months if the weather didn't cooperate, giving the village of Hidalgo Jaltepec fame for their yearly harvest of the chile de agua and their growing skills.
Chile de Agua roughly translates as "water chile" or "irrigated chile" and is grown almost year round now, selling for a large price premium in the open air markets of Oaxaca. They are sold in groups of six to twelve, fanned out in a circle on a small flat tray or large plate lined with a large green leaf. It isn't uncommon to see the chile de agua selling for twice the price or more of any other chile at the market, selling out very quickly.
Characteristics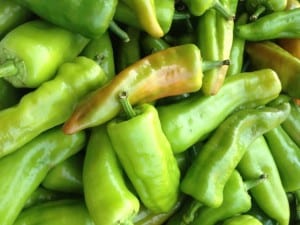 They have a triangular, conical shape about 4 inches long and 1 to 1 1/2 inches wide at the shoulders, tapering to a pointed tip. The skin is shiny, smooth and slightly wavy with a moderately thick flesh. Almost all of the heat is located in the ribs which contain the seeds. The heat is moderated by sweet, almost herbal and slightly sour flavors overlaying the spiciness and giving the characteristic complex flavors. The chiles grow erect or pointing upwards and can be prolific in the right conditions. They have about the same heat as a jalapeño but with much more flavor, most often used fully ripe which is a medium-light green up to orange to moderate red in color.
The plants are bushy and mostly low growing, around 2 to 2 1/2 feet tall. The flowers are the usual white color, with a field of ripening chile de aguas a very colorful sight with the enormous numbers of chiles turning from a light spring green into yellows and oranges, finally finishing in a deep orange-reddish. They don't all ripen at once, as the plant continues to set more flowers as the early season progresses, so the colors come in a palette of hues.
There has been some debate as to what is the "correct" form of the chile de agua, as there are some nurseries and seed companies selling seedlings and seeds with photos showing the chiles hanging down, or pendant. The physical form looks to be correct, but after researching the markets of Oaxaca and reading descriptions in current and historical literature, as well as chefs descriptions we concluded that the erect form is what has been known in Oaxaca for centuries and is the correct one.
Uses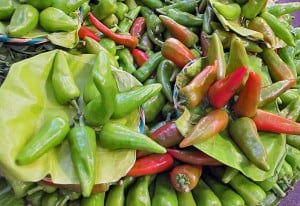 The fresh chiles are often fire-roasted, peeled and stuffed with a shredded meat and cheese filling; or cut into strips, sautéed with onions and epazote, then topped with fresh cheese and wrapped in warm tortillas. They are also commonly used freshly roasted in sauces, as well as being fully vine ripened and dried for a remarkably full-flavored powder, but less and less now as they are more valuable sold fresh in the market. Guajillo chiles have almost completely replaced the chile de agua as the main source of local dried chile powder, as they are more productive and less expensive in the market.
The Seed's Journey
A search by a famous Chicago chef who specializes in authentic Oaxacan cuisine first introduced us to this unique chile. He needed the chile de agua for a special dish and couldn't find the correct plants or seeds anywhere. One of our mentors who specializes on all things chile involved us in the search, as he thought we might be interested in finding an unknown but delicious chile to add to our offerings.
Through much searching and tapping into different networks, we came across a photographer working on a book about the restoration of the ancient milpa system just north of Oaxaca. This system has included the chile de agua for at least 300 years, as shown by Spanish documents, and most likely much longer.
The photographer obtained seeds from the local farmers, after email introductions and several explanations of why we were searching for this particular regional chile. There were initial concerns about our ethics and motives as farmers in the region had experienced theft of their seed sovereignty when corn they had grown and nurtured for centuries was obtained under false pretenses and later patented. After we explained our reasons for introducing the chile to American gardeners and restaurants, we were welcomed.
Evaluation and Grow-Out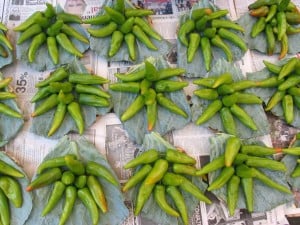 Once seed from Oaxaca was in hand, we sourced seed from four other sources as comparisons in our grow-out trials. A grow-out is an evaluation of a potential new variety to see if it is true to its description and type, as well as if it meets quality standards for growth, vigor, production and flavor before it will be included into our growers rotation for seed production. Sometimes the initial evaluation takes a few years to really determine if the potential variety has the quality and characteristics needed.
After evaluating all four seed sources we found that only the original seed from Oaxaca met all of the standards, so it was rotated into the seed production schedule of one of our most experienced growers. Two years had been spent on the evaluations and another two years were needed to produce enough seed to be able to offer it to our market. The first year, all of the seed from the best plants were saved and replanted with the seed from the second year's crop being offered for sale after seed from the best plants were held back as our foundation seedstock.
The entire process took four years to complete – from obtaining the different seeds for evaluation to having enough seed to offer for sale. This amount of time to introduce a new seed variety isn't unusual in our line of work, as the last thing we want to do is race off to market with a brand new seed that we don't have any experience with or knowledge of.
The true value of our work is shown in the comments of gardeners who rave about the flavors, production and gratefulness in being able to grow a variety which has sustained and nurtured a culture across several centuries. In choosing to grow these ancient and sometimes rare seeds over the more common and easily obtained modern varieties, gardeners continue a tradition started long ago and experience a direct connection to the flavors that could easily have been lost to history.
The beautiful thing for home gardeners today is the ability to easily choose and grow a number of heirloom vegetable varieties with amazing stories, beautiful colors, bountiful production and delicious flavors! Each time someone chooses to grow one of these heirlooms, they keep a particular piece of history alive in a real, tangible way.
Maybe you, too, will choose to grow a delicious bit of history in your garden this year!
This article was first published in Mother Earth News Organic Gardening Blog on January 14, 2016!
https://underwoodgardens.com/wp-content/uploads/2016/01/Chile-de-Agua2Web.jpg
479
850
Stephen Scott
https://underwoodgardens.com/wp-content/uploads/2018/07/TerroirSeedsNEWWebLogo3-300x69.jpg
Stephen Scott
2016-02-02 16:17:38
2016-02-02 16:18:36
Chile de Agua – An Unknown Heirloom Chile from Oaxaca