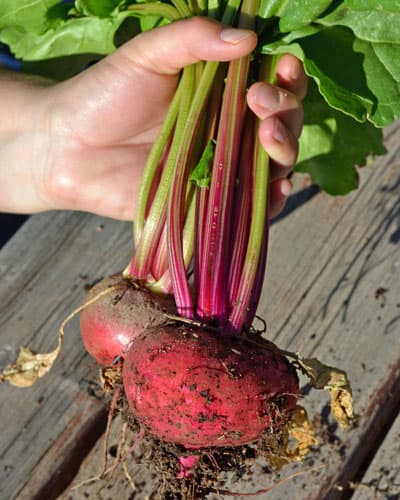 Ellen shares her research on the history of beets today. Did you know that beets weren't always the deep red we are familiar with, but that characteristic was selected for and bred into them in the 1700's? Lighter red existed much earlier than that, but not in the blood-red shades we know today.
Make sure to visit our Beet department and grow your own tasty varieties! Don't forget to try both recipes at the end of today's article.
Beet (Beta vulgaris)

The beet as we know it today is a handsome vegetable. It is rooted in the ground, transferring the earthy taste of good soil through its deep red root. The beet is an old vegetable, ascribed with aphrodesiac and blood strengthening qualities. Its wild ancestor, the sea beet (Beta vulgaris sp. Maratima) is not a sweet vegetable—it is a bunched mass of greens with a slender white-yellow root that grows almost on the tide line of the ocean.

The beet as we know it today has a larger, fleshier, and darker colored root than the seabeet. The seabeet grows wild along the Mediterranean coast, down the coast of the Corsican sea. The sea beet has the heart-shaped leaves, deep glossy green color, and bunching tendencies of garden beets. Today, we almost equivocally think of beetroot, as it is commonly called in Britian, New Zealand, and Australia, as blood-red. In fact, red pigmentation was selected and bred into the beet in the mid 18th century. While white colored beets are not common in the public marketplace, they are the leading beet grown for sugar production.

Another common cultivar of beta vulgaris is Swiss chard, whose name comes from a bastardization of the Sicula—the leafy green that Swiss chard is most likely descended from. Swiss chard is grown for its large leaves, which offer a near year-round source of leafy greens—with white, red, or rainbow colored ribs. Beet greens taste remarkably similar to chard and in fact the beet is the same as Swiss chard, but it has been bred to produce large edible roots, rather than put that energy into leaf production.

Anyone who has tasted a fresh beet can attest to its earthy, mineral taste. For those who find red beets to be too intense, the yellow or lighter fleshed cultivars offer a good substitute. More mellow tasting varieties include Golden Detroit and Chioggia beets. Chard's buttery texture and almost 'healthy' taste is unbeatable, and I almost always feel better for eating it.

The sweetness of beets is well known. The vegetable has been associated in many cultures with love; it is said if a man and a woman eat from the same beet, they will fall in love. Aphrodisiac qualities were well-known in the beet in Ancient Greece and in Roman times. The red beet was hung on the walls of prostitution houses in 740 AD and again in the early 20th century. The beet is an old symbol of love and lust—and wealth. In Delphi, a beet was said to be worth its weight in silver, and was offered to Apollo to ensure wealth.

Today, the beet is well known and loved by gardeners and small growers. Its color and sweet taste are a welcome mix to the bitter greens and other green vegetables that are available in the spring months. Traditionally, there were three kinds of beets in cultivation. The sugar beet is used to produce sugar and was developed in Upper Silesia (now Poland) in the 1740's. The majority of Europe's sugar at the time was coming to the continent via the British colonies in the Caribbean. The sugar beet became better known when Napoleon Bonaparte announced an embargo with the British in 1813 and endorsed the growing and processing of sugar beets.

The process of extracting sugar from beets continues today in America and Europe, with Russia producing 1/6th of the world's sugar beets. They are commercially grown all over the United States, concentrated in the Midwest and into Washington and Colorado States. Today, 20-30% of the world's sugar comes from the sugar beet. As in Napoleons time, the United States sugar beet industry grew immensely after we enforced an embargo with Cuba, which was the major source of sugar for the United States.

The second type of beet is a forage beet, or manglewertzle, which simply means "root beet". They are grown as livestock feed and are either left in the ground for sheep or other animals to uproot or grown, harvested, and fed out during the winter months. These varieties of beet have quickly lost popularity and are the most genetically threatened. One well-known Pennsylvania revival is Deacon Dan's, which William Woys Weaver calls, "the field pumpkins of the beet world…some can weigh as much as 15 pounds but they need good, sandy soil to develop such large size."

The most well known beets are those of the garden. They are typically red, although if you look closely, there are many shades of red, pink, even yellow to be found in garden beets today. They come in a variety of shapes, from perfectly spherical to flattened on the bottom half, to cylindrical. The garden beet is used for pickling, canning, eating fresh, roasted, and really, however you can think to enjoy them!

For some, the beet releases memories of vinegary pickles, or generic canned red vegetable, or the inevitable stained fingers one gets when preparing cooked beets. Beets food uses extend into food coloring, dyes, and even making tomato sauces more red. Nothing beats a fresh beet! Beets are served many ways, from shredded raw into a salad, roasted, or made into a soup. Borscht is a traditional soup from Ukraine—it is said there are as many recipes for borscht as there are villages throughout Eastern Europe. I enjoy this delightfully colored soup all year long, served chilled or hot. If borscht is not your thing, try the roasted beet salad with feta and cilantro.

Here's what could come out of your garden for this recipe – Beets, Onion, Carrots, Cabbage and Dill!

Traditional Borscht

Borscht is a traditional Eastern European soup that is served either hot or cold. There are many different variations, but this is a good starting point.

Ingredients

2

large or 3 medium beets

thoroughly washed

2

large or 3 medium potatoes

sliced into bite-sized pieces

4

Tbsp

of cooking oil

1

medium onion

finely chopped

2

carrots

grated

1/2

head of cabbage

thinly chopped

1

can kidney beans with their juice

2

bay leaves

10

cups

water and 6 cups broth to get 16 cups liquid total

5

Tbsp

ketchup

4

Tbsp

lemon juice

Instructions

Fill a large soup pot with 16 cups of water. Add 2 – 3 beets. Cover and boil for about 1 hour. Once you can smoothly pierce the beets with a butter knife, remove from the water and set aside to cool. Keep the water.

Slice 3 potatoes, add into the same water and boil 15-20 minutes.

Grate both carrots and dice one onion. Add 4 Tbsp of cooking oil to the skillet and sauté vegetables until they are soft (7-10 minutes). Stir in ketchup when they are almost done cooking.

Add thinly shredded cabbage to the pot when potatoes are halfway done.

Peel and slice the beets into match-sticks and add them back to the pot.

Add 6 cups chicken broth, lemon juice, pepper, bay leaves and can of kidney beans (with their juice) to the pot.

Add sautéed carrots and onion to the pot along with chopped dill.

Cook another 5-10 minutes, until the cabbage is done.

Notes

Serve with a dollop of sour cream if serving hot. To serve chilled, simply make a day in advance and refrigerate. Take out about 15 minutes to a half hour before serving so the flavors will be noticeable.
Serves 4 as a meal, or 6 as an introductory course

Here's what could come out of your garden for this recipe – Beets and Cilantro!

Roasted Beet Salad

The richness of the roasted beets are offset and enhanced by the tang of the cheese and hint of apple cider vinegar.

Ingredients

1-2

lbs

beets

red and yellow make a beautiful salad, but one or the other will do

Feta or soft goat cheese

Olive oil

Apple cider vinegar

Salt and pepper

1/2

bunch cilantro

Instructions

Rinse and top the beets (save the greens for eating later!)

Leave beets whole, if you wish, or cut them into quarters.

Roast at 350°F until tender enough for a knife to go through the center.

The easiest way I have found to skin roasted beets is to wait a few minutes for them to cool, and then peel them with my hands, or a small paring knife, under cold running water.

Cut whole beets into quarters, or slices, and add oil, vinegar, salt, pepper, and feta/goat cheese to taste.

Toss everything together with chopped cilantro.

Notes

Serves 4 as a side salad.
https://underwoodgardens.com/wp-content/uploads/2014/10/Chioggia-Beet.jpg
500
400
Stephen Scott
https://underwoodgardens.com/wp-content/uploads/2018/07/TerroirSeedsNEWWebLogo3-300x69.jpg
Stephen Scott
2014-10-16 14:54:39
2018-03-26 14:22:28
History of Beets