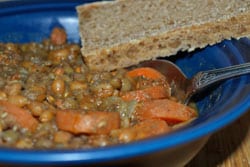 Catanian Wheat and Lentil Soup
Catania is an old city on the south-east coast of Sicily, fronting the Ionian Sea. During the Renaissance, Catania was Sicily's most important cultural, artistic, and political hub due in part to its major seaport. In 1434 the first university in Sicily was founded and today it is one of the main economic centers of the island and an important hub of technology and industry.
Cantine del Cugno Mezzano, located on the Via Museo Biscari is one of the chic restaurants in the old downtown that are reviving the ancient farm cuisines and elevating them to fine dining status. What is notable is that the flavors need no "freshening" or "elevating", only the surroundings and atmosphere is needed to create the fine dining experience. The old recipes and locally sourced farm-grown ingredients are what make the flavors so memorable. The chef drives out to the surrounding countryside every weekend and goes from farm to farm on a well-established routine buying the foundations for the next week's dishes.
This is a substantial and deeply satisfying, yet not heavy winter soup that has sustained farm families and farmhands for many generations. It is eaten during the cooler weather in Sicily on the farms, but is in demand year round in the restaurants. Get the best quality sausage possible, as it is the foundation of the flavors here. The smoked sweet and bittersweet paprika will add an intriguing depth of flavor to the soup, with the oregano backing them up. Another option to broaden the flavor profile is to use a home made beef stock instead of the water in the lentils, or split it in half. This freezes well to provide a delicious backup when time is short or plans change during the week.
Add some thick slices of fresh artisan peasant bread with butter and a good beer for a taste of what our ancestors ate after a long workday in the fields!
Zuppa Di Grano e Lenticchie
1 Cup Wheat berries
1 Cup Lentils
6 Cups water
3 Oz Italian sausage, diced
2 Tbs extra-virgin olive oil
1 medium onion, diced
1 stalk celery, diced
2 medium carrots, sliced thickly
5 Oz Swiss chard or Kale leaves, stems removed, rinsed and coarsly chopped
Sea salt and freshly ground pepper to taste
Optional seasonings- 1/8 Tsp each of smoked sweet and bittersweet paprika, 1/2 Tsp oregano
Dollop of sour cream
In a small heavy bottomed pot cover the wheat berries with plenty of water and bring to a boil over medium-high heat. Once boiling, remove from heat, cover and let sit for 1 hour. Drain and reserve the cooking water.
Using a cast-iron pot or flame proof clay pot, add lentils and cover with 6 cups of water and bring to a boil over medium-high heat. Once boiling, reduce heat so that the lentils are just above a simmer until they just start to turn tender, about 15-20 minutes.
While lentils are simmering, heat the oil in a heavy skillet over medium heat. Add the sausage and onion and sautee for 5-7 minutes, until the onion just turns golden. Lower the heat, add the celery and carrots and cook until the carrots are just tender, about 10 minutes. Add the Swiss chard or Kale, stir in and cook until dark green and just wilted, about 3-5 minutes.
Add wheat berries and sausage and vegetable mixture and stir well. Season with salt, pepper and optional seasonings if using. Add enough wheat berry cooking water to cover slightly and bring back to a boil, immediately reduce heat to a bare simmer and heat soup through, about 3-5 minutes.
Add small dollop of sour cream if desired
Makes 6 servings
https://underwoodgardens.com/wp-content/uploads/2012/02/Wheat-and-Lentil-Soup.jpg
167
250
Stephen Scott
https://underwoodgardens.com/wp-content/uploads/2018/07/TerroirSeedsNEWWebLogo3-300x69.jpg
Stephen Scott
2012-03-05 12:08:37
2017-08-14 18:25:18
Catanian Wheat and Lentil Soup