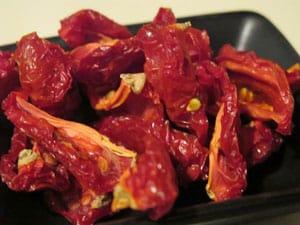 Herbed Marinated Dried Tomatoes
Here's a recipe that will take a little preparation, but you will be thanking me for it later! Make a lot more of these dried tomatoes than you think that you will ever need, as once folks catch on to just how incredibly tasty these little jewels are, you will run out. You might want to hide some just for yourself!
These make beautifully presented, incredibly thoughtful gifts for the chef or serious home cook in your life. You cannot buy the flavor of these herbed tomatoes, anywhere, at any price. These will take a bit of time, but doesn't require much hands-on time to make.
First, the tomatoes. Only heirloom tomatoes can really be considered, as the flavor is what you are after. The beauty of this process is that almost any tomato can be used, as the drying intensifies the flavors already present. Obviously, a paste tomato will give you a more substantial result. Good ones to look for are the plum and pear sizes with meaty walls, few seeds and a ton of flavor. If you don't have these already growing in your garden, plan to plant some next year and look at your local farmer's market. You will need a lot of fresh tomatoes, as they lose a lot of weight during drying. Plan on about 3 times the fresh volume as what you will get dried.
Drying them is the easy part. Wash them, slice and place on cookie sheets to dry. The oven is a great choice, as most gas fired ovens with a pilot light stay at around 90F or so. A consistently warm, sunny location is also good. If drying outside, cover with cheesecloth to prevent flies from snacking on your treats. Let them dry to a leather-like stage, then collect and start the marinating.
There are several different directions you can go with the herbs. A traditional approach is to use basil, oregano and garlic. A French approach would include lavender buds, Herbes de Provence with garlic. The strong punch of Mexican oregano accompanied by some smoked Oaxan Pasilla Bajio chiles, cumin and marjoram would be out of this world as well. Be creative, look at some herb combinations you enjoy and do some experimenting. The results will most likely be quite tasty!
We will start with the most basic recipe and then give you some alternatives to try. Use as you would sun-dried tomatoes – in soups, sauces, stews, bruschetta, pizza, spreads, salads or anywhere else the flavors would work well.
Herb Marinated Dried Tomatoes
If tomatoes are crispy dry, put into 2 cups boiling water for 5 minutes to soften, then drain. If tomatoes are leather dry and still slightly pliable, you don't need to soften them.
Add herbs, salt and vinegar to bowl and mix or toss well. You want to have all of the herbs well mixed before adding the tomatoes.
Pack tomatoes and herb mixture into a 12 ounce to 1 pint jar, being sure to coat the tomatoes well with the herb mixture. Leave a small space at top of jar. Add olive oil to top and cap jar.
Store in a cool, dry, dark place. Once opened and for longer storage, keep in refrigerator.
Use these following recipes as the herb ingredients for the basic recipe above.
Herbes de Provence Marinated Dried Tomatoes
Mexican Herbed Marinated Dried Tomatoes
Italian Herbed Marinated Dried Tomatoes
Recipe Tip! Pickling salt is -simply put- fine, pure granulated salt. Grocery stores label it "canning and pickling salt", health food stores call it "sea salt". It is not table salt, which contains iodine and several other stabilizers and anti-caking agents that can ruin your pickles appearance.
https://underwoodgardens.com/wp-content/uploads/2012/08/Sun-dried-tomatoweb.jpg
225
300
Stephen Scott
https://underwoodgardens.com/wp-content/uploads/2018/07/TerroirSeedsNEWWebLogo3-300x69.jpg
Stephen Scott
2012-08-13 13:58:54
2020-02-12 11:34:11
Herbed Marinated Dried Tomatoes