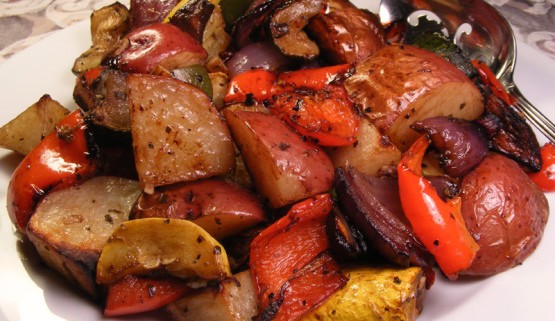 Mediterranean Pan Roasted Vegetables
Today we have a new recipe that will work just about anywhere. I've used it when entertaining at home, at a friend's house when cooking a shared dinner party and even when camping off road in our Land Rover! It lends itself to being cooked outside, which keeps the house cooler, and somehow increases the flavor…
It takes a bit of time, as this is a slow pan roast recipe, but is easy and you can do other prep or cooking while this is roasting. Total cooking time is around 30-45 minutes. Plan extra, as the flavor from the slow roasting is tremendous, and people will go back for more. That's good, as this is real and healthy food! This is a perfect counterpart to barbecued chicken or burgers on a warm Spring evening. If you increase the vegetables and add warm fresh bread, this can be a light and healthy dinner in itself.
The eggplant must be fresh, as it can be bitter otherwise. Fresh means picked that day. If fresh is not available, leave it out. If you want an extra flavor, don't peel the eggplant. This is the perfect showcase for fresh grown, heirloom ingredients, as the flavors will really shine. The ingredients are roasted in this order to bring out their flavors, as well as mingle them with the others. It is worth the time to do it in order!
Mediterranean Pan Roasted Vegetables
Serves 4-6
12 oz potatoes, cut into 1/2 inch cubes with skin on (Red potatoes are preferred)
2 bell peppers- any color, cut into 1/2 inch squares
1 medium red onion, diced into 1/2 inch squares
1 small eggplant, peeled and cut into 1/2 squares (Only use fresh eggplant to avoid bitterness)
3 or 4 cloves garlic, sliced
4 Tbsp extra virgin olive oil
2 Tbsp balsamic vinegar
1/2 tsp dried basil
1/2 tsp dried oregano
1/2 tsp fresh chives
1 tsp fresh rosemary, finely chopped
Salt and freshly ground pepper to taste
A large cast iron pan is best, but a heavy bottomed pan that retains heat well will also work.
Heat pan on medium heat, until thoroughly warm. A pan that is not heated all the way through will cause food to stick. Whisk balsamic vinegar, 2 Tbsp olive oil, basil, oregano, chives and 1/2 tsp rosemary together and set aside.
Add 2 Tbsp olive oil to pan, coat pan well and add potatoes, coating with oil in pan. Roast for 10-15 minutes, turning occasionally until they start to soften. Add onion and bell peppers, along with half of the rosemary and roast for 10 minutes, turning as well. Add eggplant and garlic, roasting for 5 minutes. Drizzle herb/oil/vinegar mixture over vegetables, stir well to coat and continue roasting until potatoes are tender, about 10 minutes more. Serve hot or let cool and store in refrigerator for next day to let the flavors set up and mingle.
https://underwoodgardens.com/wp-content/uploads/2010/06/Mediterranean-Pan-Roasted-Vegetables1.jpg
416
555
Stephen Scott
https://underwoodgardens.com/wp-content/uploads/2018/07/TerroirSeedsNEWWebLogo3-300x69.jpg
Stephen Scott
2010-06-15 18:34:43
2015-09-21 14:58:55
Mediterranean Pan Roasted Vegetables