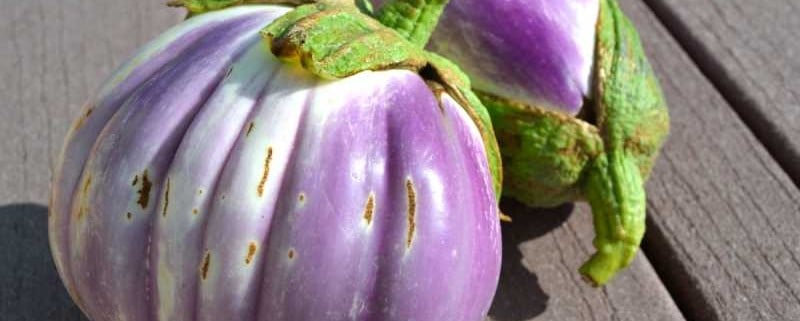 I've never liked eggplant. The taste was bitter but past that, remarkably bland with a similar texture. Not that exciting.
So I decided to grow some this year. This is something I recommend against to my customers- "Grow what you like to eat" is what I advise.
My reasons for growing something that I don't like are simple; I also don't like supermarket tomatoes, yet love the ones that I grow. I wanted to try one eggplant to see if it was different than what I had tasted before. It's the supermarket vs. homegrown argument on a different level. Supermarket tomatoes are merely tasteless, whereas eggplant is unpleasant to me.
The first eggplant of the season was ready yesterday. A medium gorgeously purple beauty, surprisingly light in weight. I pulled the cookbooks out to see what made sense to try that would showcase the flavor of the eggplant and didn't require the oven on for an hour, or at all. Marcella Hazan came to the rescue once again. She is an incredible chef and writer of the lesser known Italian cooking that most of us have never experienced. You get the recipe, and the reasons for the actions taken in the cooking and why to not shortcut the steps. Flavors are described in detail and reasons behind the techniques are given, something I've rarely seen. The stories behind each recipe are compelling as well, something I love from the heirloom seeds.
The recipe I tried is Eggplant Sauce with Bell Pepper, Tomato and Basil. I'll give it to you at the end. The freshly sliced eggplant was not bitter, but had a slightly sweet flavor that compounded the smell of the fresh eggplant. I salted it according to the directions, which made it sweeter. I chose this recipe as it used more fresh ingredients from our garden. I've got some wonderfulGenovese Basil that has an incredible aroma and holds up in cooking. I don't have the bell peppers or tomatoes yet, so will try it again when another eggplant is ripe.
The overall character is complex and slightly spicy with many individual flavors that come through, yet is in harmony as no single flavor overpowers another. Italian flavor at it's finest! The flavors are not overbearing, as most common American Italian cooking has become, but are lively and pleasing. This is a lighter dish, perfect for summer cooking, and can be done outside on a grill if one is experienced at outdoor cooking, not just barbecuing. This is a dish I would prep ahead of time to do trail side at the end of a long day exploring the backcountry of Arizona or the Southwest. It's not hard, but attention and patience are needed to bring the flavors out! The small investment of time is well worth it.
Here's the recipe:
1 1/2 lbs eggplant
Salt
1 ripe bell pepper (yellow is best, but make sure it's ripe)
3 Tbs extra virgin olive oil
3 garlic cloves sliced very thin
1/8 Tsp crushed red pepper or to taste
2 Tbs Italian flat leaf parsley- whole leaves, not chopped
1/3 Cup thinly sliced onion
1 Cup ripe fresh tomatoes, peeled and chopped. Canned Italian tomatoes will work.
1/3 Cup dry white wine
6 small basil leaves or 4 large ones, torn not cut into small pieces
6 green olives in brine, quartered
1 1/2 Tbs capers
1 Lb box dry pasta, penne is good choice
Slice eggplant in half. If seeds are dark, or if there a lot of seeds, scoop seeds out. Cut eggplant into 1 inch squares, put into colander rinse in cold water. Salt and let set for 45 minutes. This brings out the bitter liquid if there is any. Rinse again afterwards.
Split bell pepper in half, scoop out seeds and pith, then peel skin with swivel peeler. This removes the bitterness in the skin once cooked. Cut into thin strips.
Warm 3 Tbs olive oil in 10 inch skillet, then add garlic and chili pepper. Increase heat to medium, no more. Stir often just until garlic scent rises, no more.
Add whole parsley leaves. Careful, they will pop and sputter for a couple of seconds. Stir a couple of times, add onion and turn heat to low. Cook slowly until onion is soft. This increases the flavor by cooking slowly, and the garlic flavor is not entirely lost.
Add pepper strips, some salt and cook until pepper starts to be tender. Stir occasionally. You should have some liquid starting to build in the bottom of the pan.
Add eggplant, tomatoes, wine, basil, olives and capers. Stir several times to mix well. Slowly simmer with lid on for 40 minutes, watching liquid level. It should slowly decrease, and have almost no liquid at the end. Add a small amount if it looks dry. Stir occasionally during the simmer. Crack lid if too much liquid is remaining about 15 minutes before the end, or when you put the pasta water on.
Time cooking the pasta so its done just before the sauce, about 7-10 minutes. Toss pasta with sauce, adding 1 more Tbs olive oil and serve hot. Cheese is really not needed, but you can add a small amount of pecorino if you want. Don't drown the delicate sauce in cheese!
Enjoy and let me know what you think! Please leave a comment!
https://underwoodgardens.com/wp-content/uploads/2009/07/Rosa-Bianca1.jpg
533
800
Stephen Scott
https://underwoodgardens.com/wp-content/uploads/2018/07/TerroirSeedsNEWWebLogo3-300x69.jpg
Stephen Scott
2009-07-09 11:40:42
2016-01-19 11:14:22
About Eggplant…