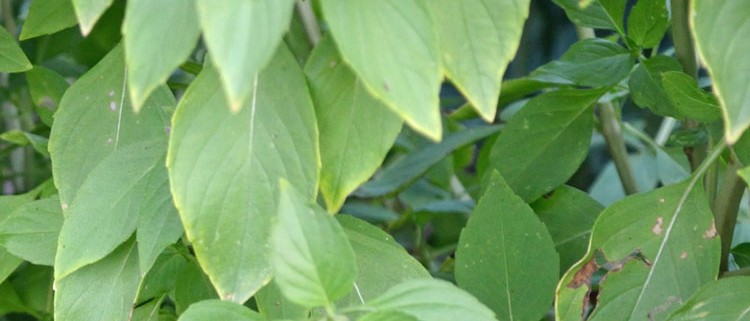 Fresh Heirloom Basil Recipes
Here are a couple of recipes that use fresh herbs- that you should soon have growing in your garden!
The first is the classic Basil Pesto. Make extra, freeze in small amounts for use later. We just finished using the last batch in a dinner that tasted like the height of summer. The second is a basic, classic tomato based pasta sauce that is not only easy to make, but lends itself to endless variations using what is fresh and on hand at the time.
You can easily have a fresh, incredibly tasty dinner on the table in 30 minutes with either of these recipes!
Basil Pesto Sauce

2 Cups fresh basil leaves, washed
3 cloves fresh garlic, mild flavored
2 Tbsp pine nuts or walnuts
1/2 Cup extra virgin olive oil
Salt to taste
1/2 Cup fresh grated aged Parmesan or Pecorino cheese
Makes about 1 cup.
Place all ingredients except grated cheese in food processor and puree until smooth, usually about 1-2 minutes. Add in grated cheese, pulse till mixed well.
Add to soups for a bright and fresh flavor, use as a sandwich spread or add to hot freshly cooked pasta for heavenly pesto pasta.
As basil production increases, make large batches to freeze into small single serving containers for use in the winter when you want a taste of summer. Most people think of pine nuts as the only nut to use, but experiment with other nuts including almonds and sunflower seeds for different flavor combinations. Use different basils as well, for the different flavors that they will bring.
Fresh Tomato Basil Sauce
1 Medium red onion, minced
1/2 Cup dry white wine
Pinch crushed red pepper flakes
3 Medium fresh tomatoes, peeled and chopped
1 Tbsp olive oil
1 Tbsp Balsamic vinegar
1 Tsp sugar
1/2 Tsp salt
1 Tbsp tomato paste
1 Cup fresh basil, chopped
Slow cook onion in wine over low heat in heavy bottomed sauce pan for 10-15 minutes, until liquid is reduced to a few tablespoons.
Add pepper flakes, tomatoes, olive oil, sugar, salt, Balsamic vinegar, and tomato paste. Simmer for 15-20 minutes, stirring occasionally until sauce is thickened.
Add basil, then remove from heat. Let sit for a couple of minutes to infuse basil flavor into sauce, then serve over fresh hot pasta.
Makes about 3 cups. Can be easily frozen for a quick, healthy and tasty dinner.
You can easily add fresh carrot thinly sliced, fresh oregano, different types of basil, fresh fennel sliced thinly, or whatever sounds good at the time. Experiment with different flavor combinations, use what is fresh and available at the time for new and great tastes.
https://underwoodgardens.com/wp-content/uploads/2010/04/Basil.jpg
750
750
Stephen Scott
https://underwoodgardens.com/wp-content/uploads/2018/07/TerroirSeedsNEWWebLogo3-300x69.jpg
Stephen Scott
2010-04-05 09:36:33
2015-09-21 15:01:56
Fresh Heirloom Basil Recipes