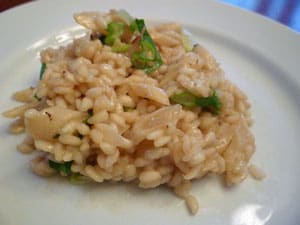 Risotto is a wonderful Italian dish made from rice. Some of the best Italian rice is harvested at the beginning of October around Verona, in the north-east of Italy. One of the most famous areas is Isola della Scala, just south of Verona. Isola della Scala is often called "Città del Riso" (city of rice) because it is surrounded by large rice fields.
It has been a center of rice production in the Veneto region since the 17th century. You can imagine the wealth and history of risotto dishes from this area! Once a year immediately after the rice harvest the Fiera del Riso (Festival of Rice) takes place during the months of September into October. This event features many culinary contests and historical exhibitions that inspire visitors. The rice festival is, of course, not only an event for education and watching but also for tasting – hundreds of thousands of different risotto recipes are served during the event. This past event was the 44th annual festival with just over 500,000 people visiting!
Here is a representative risotto recipe from the region. Many variations can be made from this simple basis; a vegetarian status is achieved by omitting the ham, the flavors of different cheeses will make the dish entirely different and a different selection of herbs will change the direction yet again. Start with the basis to get a feel for what flavors you like and branch out from there. Soon you will have a comfortable "feel" for how to make this, and start to make your own "family recipe".
Risotto Alla Veronese
For the broth:
2 Tbs of extra virgin olive oil
2 celery stems, and a few leaves, coarsely chopped
1 onion, coarsely chopped
1/2 bunch Italian parsley, coarsely chopped
2-3 new carrots (or baby carrots), coarsely chopped
1 kohlrabi or Japanese turnip, sliced – it adds a nice touch of sweetness
1 1/2 quarts of water
10 peppercorns, cracked
1 or 2 bunches of sculpit leaves
Coarse sea salt to taste
Heat the olive oil in a pan and cook the celery, carrots, kohlrabi, onion, and parsley for 2-3 minutes before adding the water.
Add the peppercorns, bring to a boil, cover and then simmer for about 15 minutes.
Add the sculpit and simmer another 15 minutes.
Turn off heat and let sit, but keep warm.
For the rice:
1 onion or small bunch of green onions or 2 – 3 shallots
1 – 2 cloves garlic, minced
2 Tb olive oil or butter
1 small whole sprig of fresh rosemary
3 cups of risotto rice (Vialone nano)
1/2 Cup Soave or other dry white wine
6 cups vegetable broth from above
1 /2 Lb Prosciutto or Parma ham, sliced into thin strips
1 bunch of sculpit leaves, finely chopped
2 handfuls of Grana Padano/Parmigiano Reggiano (or half/half with Pecorino Romano for a more intense flavor)
Knob of well chilled butter
Drizzle of olive oil and freshly ground black pepper
Coarse sea salt to taste
Fresh ground pepper to taste
Heat the olive oil in heavy large pot over low heat. Add rosemary and sauté for 2 minutes, until fragrance is released. Remove rosemary and discard. Increase heat to medium, add the chopped onion, green onions or shallots along with minced garlic and sauté with a pinch of sea salt until just tender, about 4-5 minutes. Onion should just turn glossy.
Add the rice and stir for about 2 minutes. When the rice starts to turn translucent in 5 – 10 minutes add the wine and stir, then put lid on pot until absorbed, about 1 minute.
Stir in 1 cup of the warm broth and simmer until it is absorbed with the lid on, stirring frequently. Cook until the rice is almost tender, adding broth 1/2 – 1 cup at a time and stirring often, allowing each addition to be absorbed before adding the next, about 15 – 25 minutes.
Add the finely chopped sculpit leaves, Prosciutto or Parma ham, stir well for one minute and turn off the heat.
Stir in the Grana Padano/Parmigiano and the butter. Let the risotto rest for five minutes.
Season with salt and fresh ground pepper.
Serves 6-8
Recipe Tip! This can easily be made vegetarian by simply omitting the ham at the end, or reserving a portion without the ham.
https://underwoodgardens.com/wp-content/uploads/2012/11/Risotto-VeroneseWeb.jpg
225
300
Stephen Scott
https://underwoodgardens.com/wp-content/uploads/2018/07/TerroirSeedsNEWWebLogo3-300x69.jpg
Stephen Scott
2012-11-30 13:57:42
2017-08-14 18:15:55
Risotto alla Veronese