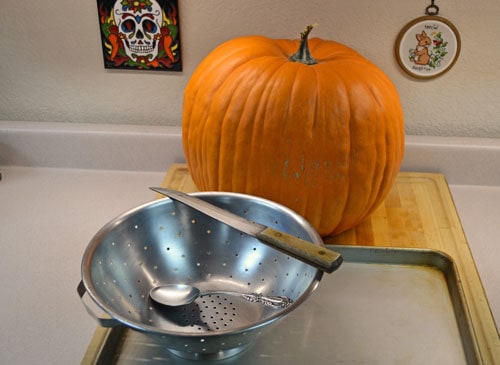 3 Great Heirloom Pumpkin Recipes
Here's 3 great heirloom pumpkin recipes that we have used and enjoyed. Too often people think of pumpkin in a strictly Halloween or pumpkin pie way, when there are so many other unique and wonderfully tasty ways to enjoy it. Pumpkin is not only a fall or winter vegetable, but can be frozen or stored in a cold cellar environment for several months, in addition to the traditional canning. Please try these, enjoy and tell us what you think!
Here's what could come out of your garden for this recipe – Pumpkin, Leeks and Thyme!
Pumpkin Soup with Chipotle Chile
This Southwestern recipe is a favorite of mine, as it is so unexpected yet delicious that everyone comes back for more. Vary the amount of chipotle, as a little gives a seductive smoky flavor and a little more adds some heat. Pie pumpkins will give a sweeter taste, but any heirloom pumpkin will give a rich, deep flavor once it is roasted. Any firm winter squash, such as acorn or butternut can also be used in addition or substitution for the pumpkin. You won't believe how wonderful the flavor of fresh roasted pumpkin is! Do not use canned pumpkin, it will give the soup a canned flavor. Freeze extra soup in small quantities.
Ingredients
3

Lbs

pumpkin

3

Tbs

unsalted butter

3

Leeks

white parts only-finely sliced

2

large shallots

minced

5

scallions

finely sliced

1-2

garlic cloves

minced

2

Tbs

fresh ginger

minced

1

Tbs

pureed chipotle en adobo

8

cups

rich chicken stock- can use 4 cups stock and 4 of water for lighter flavor

3

Tbs

fresh thyme leaves or 1 Tbs dried

1-2

cups

heavy cream

to taste

Salt and fresh ground pepper to taste
Instructions
Cut pumpkin in half, scrape out and save seeds, peel and cut into 1 inch cubes on heavy cookie sheet or roasting pan. Roast in oven at 400F for 20-30 minutes. If skin is very tough, add 1/4 cup of water to pan while roasting.

Saute leeks, shallots and scallions in butter in a large heavy pot for 10 minutes.

Add garlic, ginger and chipotle en adobo, cook for 2 more minutes.

Stir in the pumpkin, stock and thyme.

Slow simmer for 45 minutes, until pumpkin is very soft.

Puree in small batches in blender or food processor and return to pot.

Add cream, taste for seasoning and add salt/pepper as needed.
Here's what could come out of your garden for this recipe – Pumpkin, Onions, Chile, Cumin, Chives!
Warm Pumpkin Salsa
This is served on top of a flan or baked custard dessert, but can be used with many dishes as a counterpoint or accompaniment. Sweet, yet savory and a little spicy, this is another unusual use of pumpkin that wows friends and family. Everyone raves about this warm salsa, the time of year it is served and comes back for more. I even think it's pretty good over some real vanilla bean ice cream! Make a trial batch to see how the flavor evolves, then make extra when preparing for friends and family. It will go quickly!
Ingredients
2/3

cup

small diced fresh pumpkin

1/3

cup

small diced tart apple- Granny Smith

etc.

2

medium red onions

diced small

1 1/3

Tbs

coconut or olive oil

1/3

cup

Marsala wine

1/4

Tsp

fresh ground nutmeg

1/4

Tsp

ground red chile

1/4

Tsp

fresh ground cumin

1/4

cup

orange juice

2-3

Tbs

brown sugar

1

Tbs

apple cider vinegar

2

Tsp

minced red jalapeno chile- can use green jalapeno

1

Tbs

chopped chives

2

Tbs

roasted/salted pumpkin seeds

Salt and pepper to taste
Instructions
Saute the pumpkin, apple and onion in canola oil in a heavy pan over medium heat until onion is slightly browned.

Deglaze the pan with Marsala wine.

Add spices, orange juice and brown sugar, cook over low heat until most of liquid has evaporated.

Add apple cider vinegar, reduce slightly.

Remove from heat, add jalapenos, chives and pumpkin seeds.

Taste for seasoning, add salt and pepper as needed.
Here's what could come out of your garden for this recipe – Pumpkin, Onions and Sage!
Pumpkin Soup with Sage
Simple yet rich in flavor, savory, hearty and deeply satisfying this pumpkin soup will do justice as an introduction to the Christmas meal. With the addition of meat such as turkey or ham, preferably smoked, this becomes a one dish main course that teams wonderfully with hot homemade biscuits.
Ingredients
1

small pumpkin- about 5 lbs.

4

Tsp

extra virgin olive oil

6

Tbs

unsalted butter

2

medium yellow onions finely chopped

2

cloves

garlic minced

4-6

cups

chicken stock

Salt and freshly ground pepper

18

fresh sage leaves and 1 cup vegetable oil for frying

9

shallots halved lengthwise
Instructions
Quarter, seed and peel pumpkin, rub with olive oil and roast on baking sheet in 350F oven for 30 minutes, or until soft. Allow to cool.

In a heavy stock pot, melt 4 Tbs butter, then brown onions and garlic over medium heat for about 15 minutes, or until onions are soft.

Add pumpkin to mixture, continue cooking for 5 minutes. Add chicken stock and slow simmer for 30 minutes.

Puree soup in food processor or blender until just smooth.

Return to pot, thinning with water if too thick. Keep soup warm on lowest flame and heat diffuser if needed.

Heat vegetable oil and fry sage leaves until just crisp and drain on paper towels.

Add to soup and keep warm.

Drain oil, melt remaining 2 Tbs butter over medium heat and cook shallots until soft and golden, about 15 minutes.
Notes
To serve, ladle soup into individual bowls and distribute 3 sage leaves and 3 shallot halves into each bowl.
https://underwoodgardens.com/wp-content/uploads/2009/12/DSC_0147.jpg
365
500
Stephen Scott
https://underwoodgardens.com/wp-content/uploads/2018/07/TerroirSeedsNEWWebLogo3-300x69.jpg
Stephen Scott
2009-12-01 11:42:08
2018-03-09 11:05:10
3 Great Heirloom Pumpkin Recipes