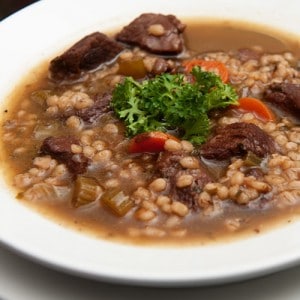 Beef, Barley and Root Vegetable Soup
When Fall arrives, I look forward to thick and hearty soups. Even if the weather isn't cold and blustery quite yet, a hot bowl of broth-based soup is somehow nourishing for both the body and soul. Serve with fresh cornbread, biscuits or home-baked whole wheat bread and butter, and you'll understand how family traditions are started. For this soup, I used a beef broth that I'd made earlier this summer with bones from the butcher. We are fortunate to have a real, old-fashioned butcher in our town that understands when I ask for broth bones. Pan roasted with some root vegetables, then slowly simmered for a day and a half- this is a rich, silky broth that has a depth of flavor just not found outside of the home. Well worth the time to make in large batches and frozen until needed!
Using beef, barley and what root vegetables were on hand was the ancient beginning of this soup. You can use any root vegetable that you have, in any combination that you like, and a little or a lot of beef for flavor. Slow simmering for several hours will give the best, richest flavor. Plan on making extra, as this is very popular once people get a taste of it. Great to make on a weekend to have for lunches at the start of the week. This can be a thick or thinner soup, or stew depending on how much liquid you leave at the end of the cooking. Maintain the liquid level for more soup like consistency, or let the barley soak up the liquid for a stew. Feel free to add onion, green beans, peas, beets, celery or any vegetable that will add a hearty flavor to this soup.
Beef, Barley and Root Vegetable Soup
6-8 oz Beef, cubed- Roast is best for flavor in slow cooking
1 Qt Beef stock
1/2 Tsp Thyme
1/2Tsp Marjoram
1/2 Tsp Savory
1/2 Tsp Rosemary, fresh picked and chopped
1/2 Tsp Black pepper, best if freshly ground
2 Bay leaves
1/4 Tsp Salt (to taste)
4-6 cloves Garlic, diced
1/2 to 1 Lb Carrots, thickly sliced
1/4 Lb Potatoes, reds, purples or any waxy types
16 oz or 1 can crushed Tomatoes
1 1/2 Cups Barley
Add beef, broth and thyme, marjoram, savory, rosemary, black pepper, bay leaves and 1/2 of the salt to a heavy pot or stockpot and bring to a slow simmer. Once beef is tender- about 30-45 min for 8 oz- add garlic, carrots and potatoes and taste. Adjust salt if needed and add water to keep covered. Continue simmering for 1 hr or until carrots are tender. Add tomatoes and barley, check liquid level and add water if needed, simmer for 45 min to 1 hr until barley is tender but not soft or mushy. It will have a slight crunchy, toothy texture to it.
An alternative method is to brown the beef in 2-3 Tbs Olive oil or butter on medium heat until well browned and deglaze with 1/2 cup red wine. Lower the heat, then add the broth and spices and continue from that point. This will add a richness from the brown/deglazing, along with the wine. Experiment and you'll soon learn which is your favorite method and ingredients!
https://underwoodgardens.com/wp-content/uploads/2011/11/Beef-and-Barley-Soup.jpg
300
300
Stephen Scott
https://underwoodgardens.com/wp-content/uploads/2018/07/TerroirSeedsNEWWebLogo3-300x69.jpg
Stephen Scott
2011-11-09 13:13:51
2017-08-14 18:15:55
Beef, Barley and Root Vegetable Soup