Argentine Beef Roast with Fettuccine
Peceto Asado con Tallerines (Argentine Beef Roast with Fettuccine)
Argentina is world-famous for the beef they raise on the open grassland plains of the Pampas. It isn't surprising to see how creative they are with using beef in so many different ways, much like the Italians have finely crafted the myriad uses of pork in their cuisine.
To expand my cuisine beyond the beloved Mexican and Central American dishes that I've grown up with, I wanted to try something a little different but delicious. This beef roast is the first result of our experimentation, and it turned out as succulent and mouthwatering as the photos show. There was a breadth and depth to the flavors that was hard to describe – the roast was tender, juicy and had a number of flavor combinations that kept hitting the tongue, then the tomato sauce balanced the roast out beautifully.
We used a large roast to give us some for an easy, creative dinner or two during the week. Scroll past the recipe for more photos and commentary!
Here's what could come out of your garden for this recipe – Tomato, Onion, Bell Pepper and Rosemary!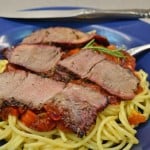 Print Recipe
Peceto Asado con Tallarines (Argentine Beef Roast with Fettuccine)
This unusual but delicious Argentine roasted beef dish is served with "tuco" - a traditional tomato sauce over tallarines, similar to handmade fettuccine. The marinade and mesquite charcoal roasting gives it an unbelievable depth of flavor.
Ingredients
Roast
1

Beef roast

about 4 lbs

1

Head of garlic

peeled and crushed or diced

1/3

Cup

olive oil

1

Tsp

salt

1

Tsp

fresh ground black pepper

2

Tbs

fresh rosemary

finely diced

1/2

Cup

red wine or water

8

Cups

cooked fettuccine

linguine or spaghetti

Juice of 1 freshly squeezed lemon and orange
For the Tuco (Tomato sauce)
1/3

Cup

olive oil

1

Medium onion

chopped

1

Bell pepper - yellow or red preferred

chopped

2

Large tomatoes

chopped or 1 can of chopped tomato puree

1

Cup

well-seasoned beef broth

2

Dried bay leaves

2

Tsp

Mexican oregano

Sea salt to taste
Instructions
Marinating the beef
Trim any excess fat from the roast.

In a mortar, mash the garlic into a paste, then lightly crush the rosemary leaves. Mix with the oil, salt and pepper forming a paste. Rub into the roast; cover with plastic wrap and refrigerate overnight.

2 - 3 hours before roasting, remove plastic wrap, place in bowl and pour lemon and orange juice over roast.
Roasting
It is best to roast over mesquite charcoal for the absolute best flavor, but oven roasting will still be very tasty.

Heat covered charcoal grill to around 325°F and roast over the coals for 10 - 15 minutes each side to sear and seal the juices in. After 30 minutes, place roast in a shallow roasting pan on a pizza stone to finish roasting over an indirect heat. Turn every 20 minutes until tender.

If roasting in oven, start with roast in shallow pan and turn and bast every 20 minutes.

Once roast is tender, remove from heat and let sit for 10 minutes then slice thinly across the grain.
Prepare the Tuco
Heat the oil in a heavy bottomed skillet over medium heat.

Saute the onions until soft, add the bell pepper and saute until just beginning to soften.

Add the tomatoes and cook uncovered until they release their juices, stirring consistently as the juices evaporate a bit.

Add the beef broth, bay leaves, Mexican oregano. Bring to a boil, then reduce heat to a simmer.

Simmer for 10 - 15 minutes until slightly thickened and season to taste with salt.

Set aside to serve with noodles.
Serving
Arrange warm noodles on the plate, ladle a generous helping of tuco on the noodles and layer with 3 or more slices of roast on top.

Garnish with a sprig of rosemary if desired.
Notes
This is a great way to cook a large portion of roast for a scrumptious Sunday dinner to have the basis of several outstanding meals during the week.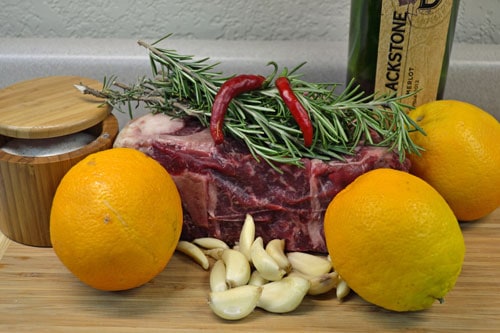 Here is what dinner started with. The beef is locally grown, semi-grassfed from a neighbor. I call it semi-grassfed as we simply don't have enough grass in central Arizona on smaller acreage to completely feed a large animal like a beef cow. We do know exactly how this beef was raised and the processor is local as well. This beef traveled less than 20 miles from hoof to plate!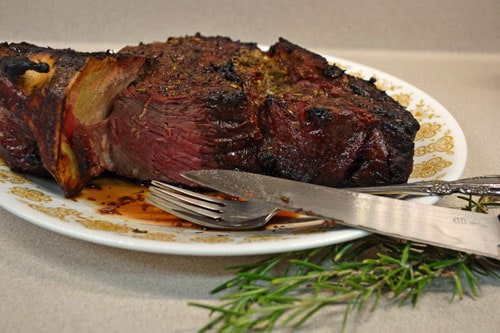 After just over an hour, this is the beauty that emerged from our Kamado, a Japanese charcoal smoker/cooker. The deep red is from the mesquite smoke, and the taste test that I cut off is apparent. Delicious!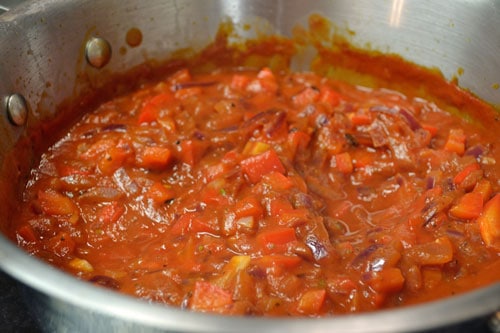 The tuco sauce close-up. It was a different experience making a non-Italian tomato sauce! It was rich, flavorful and a perfect counter to the intense flavors of the roasted beef.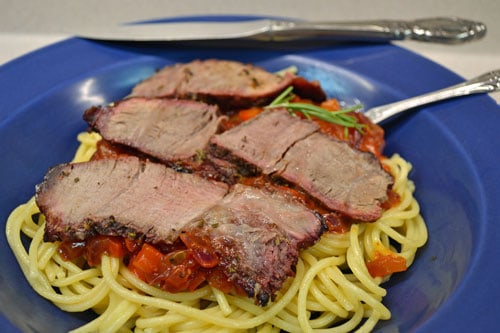 Just after plating, the first glamor shot!
https://underwoodgardens.com/wp-content/uploads/2014/07/DSC_0253_8_01.jpg
333
500
Stephen Scott
https://underwoodgardens.com/wp-content/uploads/2018/07/TerroirSeedsNEWWebLogo3-300x69.jpg
Stephen Scott
2014-07-08 15:44:29
2018-03-26 14:22:03
Argentine Beef Roast with Fettuccine