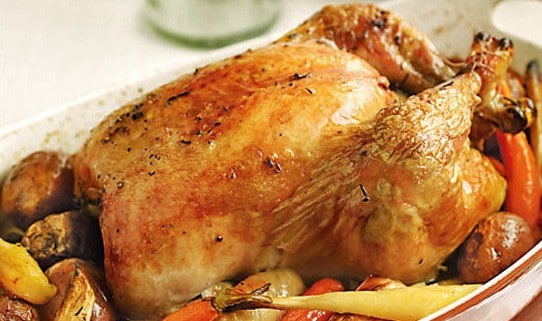 Herb and Vegetable Roasted Chicken with Buttermilk Biscuits
This is a great dinner for family or friends, and it doesn't have to be Sunday. A whole roast chicken makes for an impressive tableside presentation followed by a delicious meal and the tender, tasty leftovers can be used for several other dishes, if there are any left!
For faster, more even roasting, cut the backbone out of the chicken with poultry shears or heavy duty kitchen shears. This allows the bird to lay flat in the roasting pan. Keep the backs in a freezer ziplock until you have several, then make chicken stock with the giblets, diced onions and celery, aromatic herbs such as savory, rosemary, thyme, salt and pepper and a bay leaf in a couple quarts of water. Bring to a boil, then simmer for a minimum of two hours, longer is better.
Pair this with some fresh homemade biscuits and you've got a proven winner! We found a great restaurant in the little town of Boulder, Utah called Hell's Backbone Grill that makes the absolutely best biscuits that we've ever tasted! They are easy and quick to make and are positively addictive. We always make a double batch if we want any for the next couple of days. You can use the hot oven for both roasting the chicken and baking the biscuits.
Make sure to include plenty of vegetables, as they roast up well and balance out the rich roasted chicken flavors.
Herb and Vegetable Roasted Chicken
3-4 Lb chicken
1 lemon, halved
Fresh rosemary
Fresh thyme
8 cloves garlic, peeled and crushed
2 Tbsp butter, softened
Salt and fresh ground black pepper
4 small red onions, halved
8 small potatoes, halved
4-6 medium carrots
4 medium parsnips, peeled
Extra virgin olive oil
Heat oven to 450F. Rinse chicken, pat dry with paper towels. Place chicken in a large roasting pan or skillet. Cast iron is best. Squeeze lemon juice to cover chicken then put lemon halves, rosemary, thyme and 4 cloves of garlic into cavity. Rub chicken with butter, sprinkle with salt and pepper. Arrange remaining vegetables around chicken and brush with olive oil, season lightly with salt and pepper.
When oven is hot, roast for 15-20 minutes, then bast chicken with pan juices. Reduce heat to 375F and continue to roast for about 45 minutes more, basting every 15-20 minutes until skin is crisp and golden. Remove from oven, cover with lid or foil for 10-15 minutes (while biscuits are cooking) and let rest before carving. When removing chicken, reheat oven to 450F. By the time you are ready to bake the biscuits, the oven will be at temperature.
Black Powder Buttermilk Biscuits
This is our all time favorite biscuit recipe! You must have two things to be successful here- a hot oven and cold dough. These are made and bake quickly, so get everything ready before you start.
3 Tbs cornmeal
2 1/2 Cups flour
1 1/2 Tsp salt
1/2 Tsp baking soda
1 Tsp baking powder
1/2 tsp course black pepper
1 Tsp sugar
1 stick (1/4 Lb) butter- cold- cut into 1/2″ chunks
1 Cup buttermilk or substitute 1 cup milk with 2 tsp lemon juice
Adjust rack to middle position of oven, lightly oil cookie sheet or use a nonstick spray. Sprinkle 2 Tbsp over surface.
It's best to use a food processor for the next two steps, then lightly knead the dough by hand or in a stand mixer. It makes for better biscuits!
Add flour, salt, baking soda, baking powder, pepper and sugar in food processor bowl, pulse 5-7 times with cutting blade to mix. Next, add butter chunks and run until mixture resembles coarse crumbs. This can be done with 2 knives and some patience. Transfer to stand mixer bowl.
Using low speed, fold mixture in while slowly pouring buttermilk over top. Mix well until dough is sticky and moistened through, with no dry patches. Turn dough onto lightly floured worktop, using floured hands to prevent dough from sticking. Using knife or bench scraper, cut dough in half and stack one piece on top of the other. Flatten with rolling pin, but don't over do it. Repeat cut, flatten and stack for 3 more times. Add small amounts of flour necessary to keep everything from sticking. Dough will be very moist- as it should be.
Transfer dough to cookie sheet. Roll to about 1 inch thick, then cut into squares about 2×2″. Sprinkle with remaining 1 Tbsp cornmeal. Bake until golden brown, about 12-15 minutes.
Serve with the roasted chicken and enjoy!
https://underwoodgardens.com/wp-content/uploads/2010/03/Herb-Roasted-Chicken1.jpg
324
542
Stephen Scott
https://underwoodgardens.com/wp-content/uploads/2018/07/TerroirSeedsNEWWebLogo3-300x69.jpg
Stephen Scott
2010-03-03 09:22:06
2015-09-21 15:06:25
Herb and Vegetable Roasted Chicken with Buttermilk Biscuits