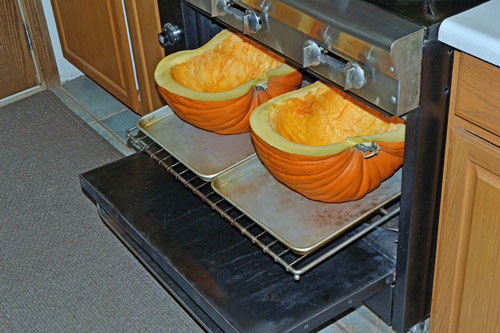 Thanksgiving Turkey and Pumpkin Soup
There are many ways to use the remains of the Thanksgiving turkey. Of course, having a delicious herb-roasted and smoked turkey will leave fewer leftovers, but there are bound to be some no matter what. One of my favorites from childhood is Scrapple, but that is the subject of another post and recipe.
It has been colder here, so soups have been on the menu. Roasted bone and carcass broth based soups are always very satisfying and nutritious this time of the year. I wanted to share a different take on the re purposing of the noble Thanksgiving turkey in the role of a rich, hearty and extremely satisfying soup. This recipe uses pumpkin, as there is usually some left from making the pies, but any hard shell winter squash will work beautifully. The best flavor will be from a pie pumpkin, not a carving or field pumpkin. Taking advantage of the abundance of vegetables used at the Thanksgiving feast, this soup can be as rich and complex or as simple and straightforward as you wish. You can also make a couple of soups, as once the roasting of the carcass is done there are endless routes one could go with this soup. Roasting the turkey carcass after it has been cooked intensifies its flavors and prepares it for creating the rich stock, which is the base for partnering with the creamy smoothness of the roasted pumpkin.
Thanksgiving Turkey and Pumpkin Soup
For the Stock-
1 Turkey carcass- whole with some meat and skin left on it, or with wings
2 Onions– quartered
3-5 Medium carrots
5-6 Lbs. Pumpkin, sliced open and seeds removed
1 Bouquet Garni- 2 Dried Bay leaves, 1 small bunch Flat Leaf Parsley, (preferably fresh, dried is ok), 2 sprigs fresh Thyme (dried is ok)
1- 6 Oz. can of tomato paste
Roast the carcass on a large roasting pan or heavy baking sheet at 450F for 1 hour. It should be medium brown. Add the quartered onions, carrots, potatoes and pumpkin and roast for 1/2 hour. Other root vegetables can be roasted as well for different flavor dimensions. The vegetables should be soft, slightly darkened and well roasted, while the carcass should be nicely browned and almost falling apart. Browning the carcass and vegetables in the oven before simmering them in a pot gives the stock a more pronounced flavor and deeper color. Scoop out pumpkin, use 1 Lb now, reserve the rest. Place everything in a large heavy stock pot. Deglaze the roasting pan by adding 2-3 cups of water to the pan on the stove, bring to a simmer and scrape the browned bits loose with a wooden spoon. A cup of red wine with the water to deglaze will add an incredible depth to the flavor. These bits are very concentrated in flavor, called the "stock foundation" by the French. Add to stock pot, along with Bouquet Garni and tomato paste, which adds color and depth of flavor. Cover carcass completely with water- about 10-12 Qts and slowly simmer very gently for a minimum of 10-12 hours. During the first few hours, fat and proteins will rise to the top. For a clear stock- skim the top, but it is not absolutely necessary, as the fats will collect at the top when cooled, and the proteins will remain in the stock.
Once the stock has simmered, allow to cool. Skim fat from top and strain out bones and Bouquet Garni. Mash up remains of vegetables. Bone the turkey, leaving the soft cartilage and bits of meat. You should have a very thick stock, with no whole vegetables showing.
For the Soup-
Remainder of roasted pumpkin
1-2 Lbs leftover Turkey, shredded
6-8 Cups Turkey stock
4 Tbs Butter, preferably unsalted
2 Medium Onions, chopped
4-6 Garlic cloves, minced
2-3 Medium potatoes, cut into medium cubes
15 Fresh Sage leaves, coarsely chopped
Freshly ground Salt and Black Pepper
Fresh cream if desired
In heavy stock pot, preferably cast iron, melt butter over low heat and slowly cook onions for 15 minutes, then add garlic for 5 minutes. Add remainder of roasted pumpkin and bring to a simmer. For a smoother soup, puree pumpkin, onion and garlic mixture now. Return to pot, add potatoes, Turkey and stock. Slow simmer for 30 minutes. Potatoes should be tender. Add ground Salt and Pepper and chopped sage leaves, reserving some for a garnish. Finish simmering for 10 minutes to blend flavors. Add splash of cream to each bowl and serve hot with fresh bread.
This is always a hit, so I make extra. Enjoy and let us know how yours turns out!
https://underwoodgardens.com/wp-content/uploads/2014/11/DSC_0156.jpg
333
500
Stephen Scott
https://underwoodgardens.com/wp-content/uploads/2018/07/TerroirSeedsNEWWebLogo3-300x69.jpg
Stephen Scott
2010-11-23 18:02:51
2017-08-14 18:13:15
Thanksgiving Turkey and Pumpkin Soup