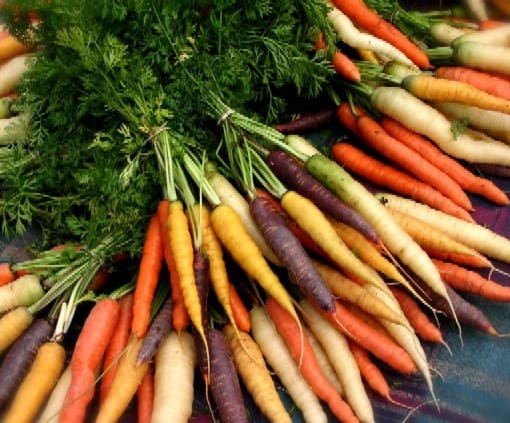 Braised and Marinated Carrot Recipes
Carrots are an ancient standard in the garden, one that is introduced to many of us as kids when we are first playing and learning in the garden. Short season, hardy, fast-growing and delicious just out of the ground, carrots are a hit with everyone, and one of the top sellers for every seed company.
What else to do with fresh carrots than slice them and add to the salad, especially an over abundance from an enthusiastic planting? There is always pickling and canning, but at the height of fresh garden produce, I don't want to think of canning quite yet. Here are a couple of delicious ways to enjoy the sweetness of carrots combined with other flavors that go well with Spring and Summer dinners.
Pan Braised Carrots with Parsley and Rosemary
This unusual but satisfying side dish will be a hit with your dinner guests. Equally at home beside a burger, freshly grilled beef or Salmon steak or roast chicken. This can be done on a stove or outside on the barbeque in a cast iron pan. For extra panache, add grated Parmesan cheese just before serving. Fresh Fennel, sliced in 1 inch chunks can be added for an increased depth of flavor.
1 Cup Beef broth (can use mushroom base or vegetable base instead)
1 Lb Small carrots, sliced into 2 inch pieces
1 Tsp Honey
1 Tbsp Butter
2 Tbsp Fresh parsley, minced
2 Tsp Fresh rosemary, minced
Juice of 1 orange
In heavy saucepan bring broth and honey to a boil, reduce heat to a simmer. Add carrots, butter, rosemary and 1 Tbsp parsley. Cover and simmer for 5 minutes. Remove carrots to a warm covered plate, add orange juice and continue to simmer broth until reduced to about 2-3 Tbsp- should be about 15 minutes. Once reduced, add carrots and remaining parsley, toss to coat and serve immediately. If desired, add grated Parmesan or hard grating cheese to top just prior to serving.
Serves 4
Herb Marinated Carrots
These tangy, savory carrots are addictive! There is a train-wreck of flavors, from the sweet crunchiness of the carrots to the lemon juice, mustard and rosemary coming together into an unexpectedly delicious combination. Best if marinated overnight, but will work well with 6-8 hours in the refrigerator. Use as an appetizer or side dish. Will hold their own with almost any flavors.
1 Lb Full sized carrots, sliced or cut into matchsticks
2 1/2 Tbsp Lemon juice
1/2 Tsp Stone ground mustard
1/4 Cup Olive oil
2 Green onions, chopped
1 Tbsp Fresh parsley, chopped
1 Clove garlic, minced
1 Tbsp Fresh rosemary, finely chopped
Freshly ground Salt and Black Pepper, to taste
Blanch carrots in boiling water for 3-4 minutes or until just barely tender, then drain. Combine lemon juice, mustard, olive oil, onions, parsley, garlic and rosemary in a jar with tight fitting lid. Shake vigorously to mix well. Pour over warm carrots, season with salt and pepper and refrigerate a minimum of 6-8 hours or better yet, overnight.
Makes about 3 cups
https://underwoodgardens.com/wp-content/uploads/2010/04/Organic-Carrots.jpg
423
510
Stephen Scott
https://underwoodgardens.com/wp-content/uploads/2018/07/TerroirSeedsNEWWebLogo3-300x69.jpg
Stephen Scott
2011-06-14 09:59:02
2017-08-14 18:15:54
Braised and Marinated Carrot Recipes