Honey Pickled Jalapeños with Garlic
Pickled jalapeños and garlic have been favorites of ours for a couple of decades. Long enough that we don't remember exactly when we first started liking them, or where we came across them, but we just know we've enjoyed making them for a really long time! Our original recipe was on a well-worn scrap of newspaper clipping and made a lightly sweet Polish brine with garlic and we added the jalapeños after trying the plain garlic.
The Joy of Pickling recently made its way into our lives and we discovered this variation on the theme – using honey instead of sugar for the sweetness and adding an unusual spice mixture to kick things up a notch. We think this is fabulous!
If you are not a pickled garlic lover; or a pickled jalapeño aficionado this might take a little getting used to, but trust us it is delicious and well worth trying. The vast majority of people that we've sampled this to have loved it, even if they aren't all that into chunks of garlic and hot peppers. The pickling mellows the heat and punch from the garlic and jalapeños, while the light sweetness brings some nice counter balance to the boldness. The spices bring traditional pickle background flavors into the mix, leaving most with a look of intrigue on their faces after tasting them.
We love these served on a multi-grain cracker, a whole clove and jalapeño ring side by side. Sometimes a thin slice of aged Irish cheddar cheese mixes things up.
Here's what could come out of your garden for this recipe – Jalapeños, Coriander and Garlic!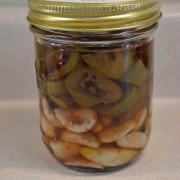 Print Recipe
Honey Pickled Jalapeños with Garlic
This lightly sweet-spicy pickle recipe will have you wanting to grow more jalapeños next year!
Ingredients
Whole black peppercorns

3

lbs

fresh garlic cloves

5

lbs

fresh jalapeños

cut into rings and de-seeded - red, green or a mix of colors

3

quarts

cider vinegar

1/2

cup

honey

2

tbs

pickling salt - kosher salt works well

1/2

cup

Mixed Pickling Spices
For the Pickling Spices
1

four inch cinnamon stick

broken into small pieces

4

whole bay leaves

torn into small pieces

1

tbs

whole yellow mustard seeds

1

tbs

whole allspice berries

2

tsp

whole cloves

2

tsp

whole coriander seeds
Instructions
Add 1/4 tsp whole black peppercorns to each pint jar.

Add 1/2 to 3/4 cup garlic cloves to each jar, depending on how much garlic you want.

Add enough water to water bath canning pot to submerse the pint jars and heat to a boil.

Add the vinegar, honey and salt to a non-reactive saucepan or pot (stainless works well) and bring to a boil.

Tie the Mixed Pickling Spices into a spice bag or square of cheesecloth. Add to the pot with the vinegar, honey and salt to steep.

Once the pickling solution and spices are at a boil, add the jalapeño rings and bring to a simmer. Reduce heat to keep at a simmer for 2 minutes.

Remove spice bag and divide jalapeño rings evenly among pint jars.

Add hot pickling solution to each jar, leaving about 1/2 inch headspace. Close jars with two piece canning rings and new lids.

Process the jars in the boiling hot water bath for 10 minutes, making sure there is space between each jar for hot water to circulate.

After 10 minutes, remove and allow to cool down, listening for the "pop" of the canning lids sealing. Double check once cool to make sure all the lids sealed.

Store the jars in a cool, dry and preferably dark place for 3 weeks for the pickling process to finish. After opening jars, store in refrigerator and use within 2 weeks of opening.
Notes
Once people taste these, they will go fast so don't hesitate to make a large batch!
We start with fresh jalapeños and garlic cloves. If you don't know how to peel lots of garlic very quickly and easily – just watch our short video "Peel Garlic in 10 Seconds" and you'll be set!
Next is to mix up the Mixed Pickling Spices for some great background flavors to round things out.
The whole spices are enclosed in a spice bag…
…and added to the pickling solution that is heating up to a boil.
Once the solution is at a boil, the jalapeños are added…
…and brought back to a simmer for a couple of minutes.
The hot peppers are poured over the waiting garlic in the pint jars.
The jars are waiting to be topped up with hot brine.
Ready for the hot water bath canning!
After canning, the jars need to pickle for about 3 – 4 weeks for the magic to happen, then it's time to enjoy!
https://underwoodgardens.com/wp-content/uploads/2015/05/Honey-Pickled-Jalapenos-with-Garlic.jpg
567
850
Stephen Scott
https://underwoodgardens.com/wp-content/uploads/2018/07/TerroirSeedsNEWWebLogo3-300x69.jpg
Stephen Scott
2015-05-13 12:33:08
2018-03-09 10:55:16
Honey Pickled Jalapeños with Garlic