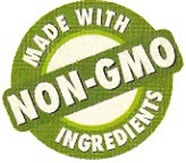 Non- GMO Labeling is a Hit with Consumers
This is an interesting report from the Nielsen company- the same company doing the familiar Nielsen Ratings.
The consumer interest in Non-GMO labeled foods is skyrocketing. In 2009, this micro market segment was worth $60.2 Million and grew at 67% over 2008, making it the #1 healthy eating trend in store brands for 2009. Store brands are like Topco Full Circle and Safeway "O" Organics. Store brands like these now make up almost 40% of products with no preservative claims, 25% of all organic product sales, and nearly one-fifth of all products with "natural" claims in food/drug/mass merchandise retailers. Whole Foods Market, one of the largest U.S. natural foods retailers, have started the process to certify that all of their store brands are GMO free.
What is even more interesting is the early adoption of the Non-GMO labeling by store brands, which are taking the lead in offering healthy products instead of trailing the major brands as they used to do. Consumer sentiment against genetically modified foods (GM or GMO) is growing- despite all of the marketing and press support by genetic engineering companies like Monsanto- and market brands are reflecting that. With GMOs being linked to organ damage, crop failures, increased water usage, soil contamination and worse, consumers are becoming aware of the dangers of these products. Another major winner is the "No high fructose corns syrup" label worth $13 Million and growing at 28% over 2008. That gives it a #10 rank.
These dollar amounts are big numbers to most of us consumers, but are small potatoes to the large national brands, such as Lays and Kraft. What makes them take notice is the growth percentage. They will be watching the growth in several of these segments to see if there is consistent, sustained growth that makes it financially feasible or even necessary for them to switch suppliers from conventional to non-GMO. If there is enough movement in the market towards GMO free products, they will switch, as they will not stand by and watch a large market share evaporate.
This happened in the recent past with RBGH or RBST, the bovine growth hormone developed, not suprisingly, by Monsanto to increase the milk output from cows. It created many other problems, such as increased infections in the milk and disease in the cows. The FDA stated RBGH did not alter the milk, and sued several dairies that labeled their milk RBGH free. Enough consumers found out the truth and started requesting RBGH free milk. Not long afterwards, the major players saw the movement in the market and made the switch to RBGH free suppliers. Surprisingly, this didn't take a majority of consumers, only 5-7% of Americans, as they represent several hundred millions of dollars to the major national brands. This is money they will not lose when they can make a switch in suppliers and keep their customers happy.
Monsanto is worried, of course. When, not if, the major national brands make the switch, Monsanto will find itself with many highly expensive bio-engineered products that no one wants. They are already in trouble in Europe, as they have lost several recent lawsuits they filed to force their way into European markets and agriculture. The nations of the European Union and more importantly- it's people- have rejected genetic engineering of food almost out of hand.
What this means for you and I is great news. Safe, wholesome and sustainable food is at the core of our needs, next to clean air and water. With people starting to actively request GMO free labeling on their foods, safer foods are closer and easier to get for everyone.
https://underwoodgardens.com/wp-content/uploads/2012/08/non_gmo.jpg
163
186
Stephen Scott
https://underwoodgardens.com/wp-content/uploads/2018/07/TerroirSeedsNEWWebLogo3-300x69.jpg
Stephen Scott
2010-03-30 17:26:49
2015-09-28 11:18:29
Non- GMO Labeling is a Hit with Consumers