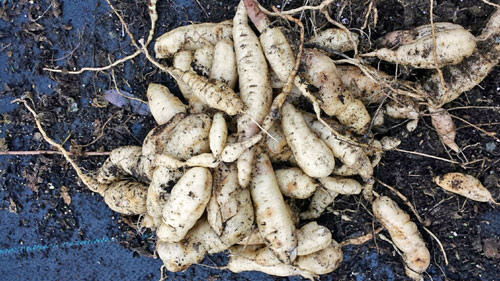 Cucamelons can act as a perennial if you are lucky enough to live in a climate where they can produce tubers, or radish-like roots. The first year they will produce as normal by starting to fruit around July until the first frost stops them. As they start to slow down, search around in the soil by gently exposing some of their roots to see if they have produced tubers. They will be a white to off white color and look something like radishes. If you see them, you can store them in a protected area over the winter and replant them next spring for extra early and larger harvests of cucamelons!
To store them, gently lift them out of the soil and stored in very slightly moist compost or potting soil in a cool but frost-free area. Next spring, wake them up by transplanting into pots early to mid-April in moist compost or potting soil and place them in a well-lit, sunny room. Plant in the garden into warm soil after the last frost date. These second year plants will take off sooner, producing flowers and fruit much earlier, giving you a longer season and greatly increased harvest.
If you live in an area that doesn't get much frost, then you can overwinter the roots in place by insulating with 6 – 8 inches of straw mulch and lightly moistening it. They will be able to survive temperatures down to freezing with this approach. To ensure that the roots are less likely to rot in the cool moist soil, make sure that there is plenty of sand in the soil to allow the excess moisture to drain away.
If desired, the roots can be gently uncovered and transplanted much like above after overwintering in place to increase your yearly harvest.
https://underwoodgardens.com/wp-content/uploads/2015/05/Cucamelon-tubers1.jpg
281
500
Stephen Scott
https://underwoodgardens.com/wp-content/uploads/2018/07/TerroirSeedsNEWWebLogo3-300x69.jpg
Stephen Scott
2015-02-05 17:34:35
2016-01-03 14:28:01
Overwintering Cucamelons