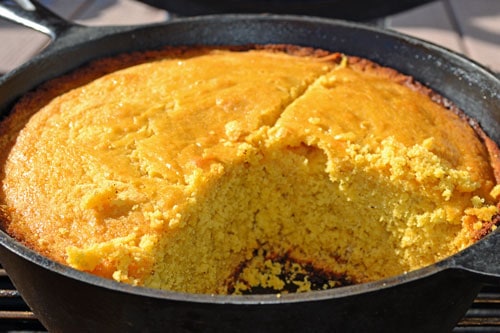 When we were looking for a classic sweet cornbread recipe to make in our Kamado, or ceramic charcoal-fired barbeque, we came across this one that is perfect for homegrown heirloom corn and White Sonora wheat and uses honey for the sweetener, instead of sugar.
This recipe comes from Alice Berner, who farms wheat in northern Montana without chemical fertilizers or pesticides. Alice developed this recipe using their local honey and the wheat that they farm. Even without white flour, this cornbread is light, moist and very flavorful with a sweetness that is warm and inviting. It is great with a roasted chicken like our Herb and Vegetable Roasted Chicken!
The Farmhouse Cookbook by Susan Herrmann Loomis supplies this recipe and is a treasure of simple, honest, delicious and yet surprisingly sophisticated recipes from farms all across America.
Recipe notes: We adapted this to our cast-iron cooking by preheating a round cast-iron deep frying pan in the oven before starting the recipe. Let the batter sit for a few minutes to thicken and mix a final time before pouring into the hot cast iron. You will get a wonderful crispy crust that just isn't possible with standard baking pans.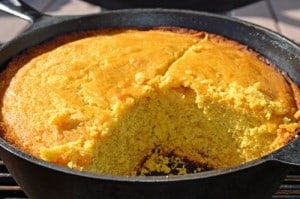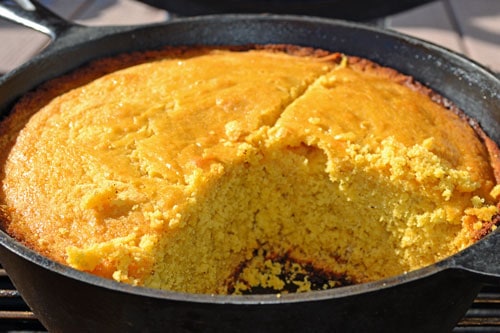 Alice Berner's Cornbread
Ingredients
1 1/2 cups yellow cornmeal (heirloom cornmeal is best)
2 cups whole-wheat flour (White Sonora wheat works very well here)
4 tsp. baking powder
1 1/4 tsp salt
4 large eggs
3/4 cup honey
1/4 cup mild oil, such as safflower
1 1/3 cup milk
Directions
Preheat oven to 425F and oil a 9 x 13 inch baking pan.
Combine the dry ingredients and mix well.
In a small bowl, mix eggs, honey, oil and milk until thoroughly combined.
If using a Kitchen Aid or similar mixer, slowly add the liquid ingredients to the dry and mix well. If mixing by hand, make a well in the center of the dry ingredients and gradually stir in the liquid, working quickly and gently.
Pour batter into baking pan, or cast iron as per our recipe notes above and bake until the cornbread is golden and springs back when lightly touched, about 20 – 30 minutes. Check at the 15 minute mark to see how it is progressing. It will cook from the outside in, so watch the middle to see when it is finished baking.
Makes 8 – 10 servings.
https://underwoodgardens.com/wp-content/uploads/2013/09/Cornbread.jpg
333
500
Stephen Scott
https://underwoodgardens.com/wp-content/uploads/2018/07/TerroirSeedsNEWWebLogo3-300x69.jpg
Stephen Scott
2013-09-18 17:45:11
2016-01-05 00:37:42
Alice Berner's Cornbread