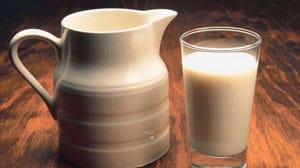 "Can raw milk make grass grow? More specifically, can one application of three gallons of raw milk on an acre of land produce a large amount of grass?"
David Wetzel is the person possibly most responsible for bringing the ancient practice of applying milk to soil in order to improve the health, disease resistance and productivity of the soil. As part of a 10 year study in collaboration with the University of Nebraska soil specialists and weed specialists as well as insect specialists have proven the effectiveness of milk as a soil improver.
It started with David having excess skim milk that he didn't want to waste, so he started applying it to a pasture on his farm and noticed several oddities about that particular pasture. When his dairy herd was turned out on it, the butterfat content of the milk increased 3-4% within 2-3 days of being in that pasture, every time. Not only that, but the herd needed fewer vet visits, maintained their weight better and the pasture recovered faster and produced more hay than other pastures. David contacted his next door neighbor, Terry Gompert, an extension agent for the University of Nebraska about the phenomenon, and a multiple year study was born. One of the additional benefits of spraying the milk has been a drastic reduction in grasshopper populations in the pastures, as the milk sugars are toxic to soft bodied insects. One theory is that grasshoppers will leave healthy plants alone, as the milk feeds the plant as well as the soil.
The linked article is from Ralph Voss, a student of David's methods, followed by David's own observations on what is working on his farm.
Finally, An article featuring the attributes/observations on applying raw milk to the soil.
https://underwoodgardens.com/wp-content/uploads/2012/07/Milk.jpg
168
300
Stephen Scott
https://underwoodgardens.com/wp-content/uploads/2018/07/TerroirSeedsNEWWebLogo3-300x69.jpg
Stephen Scott
2012-07-15 09:54:21
2020-02-12 11:33:45
How Milk Improves Soil Health