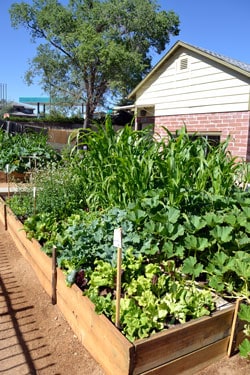 Urban Farming Examined Part I
Can Urban Farming Really Work?
Today we are going to look at a couple of opposing viewpoints on urban farming- that being the practice of growing food in an urban environment, more of a food producer than a hobby gardener with a windowsill box of daisies. Urban farming has become hip, cool and somewhat radical in mainstream America over the past few years, with Patti Moreno showcasing the Garden Girl TV that helped lead the way for growing food in the city to become acceptable. Long before that, Will Allen started Growing Power in Milwaukee, WI growing food in an urban landscape and teaching others how to do the same.
Our first article comes via AG Professional, an industrial farming magazine. The author – Maurice Hladik – is from a farming background with a degree in ag economics and was an ag diplomat to several countries. He says that he is a gardener and really enjoys it, but that urban farming in no way can make any measurable positive impact on our food supply, or feed any significant number of people in cities. He uses national land use figures and statistics to prove that the urban landscape is entirely unsuited to growing food. Um, really? What gave you that idea? He cites the fact that his house is built on a rocky outcropping and had to have many truckloads of soil brought in to create the lawn and gardening spaces.
The desire and skillsets of urban dwellers is brought into question next, with the comment of "hype and encouragement" for city folks to get out and grow a garden, with little visible results "given the lack of enthusiastic and capable gardeners" according to him. He challenges the sustainability of urban farming with the lack of suitable soil for growing that has to be trucked in. That soil was once farmland that has been removed from productivity, he states. Apparently he has never heard of the French intensive growing method that fed 90% of the city of Paris with 6 – 7% of the land inside the city limits. For over 350 years.
Water availability is addressed next, saying that rooftop gardens are water guzzlers in a water distribution system that has little excess capacity for irrigation. No mention of drip systems, gray water useage, rainwater collections, mulching or any of the other myriad approaches to reducing the amount of water needed. Urban farming on rooftops is a "thin layer of soil on a cement surface" that needs much more water than a conventional garden. Again, really? He cites a city of Toronto bylaw that states any buildings with flat roofs over 2,000 square feet are required to have some sort of garden. He goes on to say that because of the water issue, food production is out of the question and drought tolerant sedums are used almost exclusively there.
The two most disturbing and concerning points that he makes are at the end of the article. The first is that gardeners should enjoy their hobby and not worry their pretty little heads about feeding the world. Leave that burden to those who can. How @$#!* condescending! The second is that "someone" has a responsibility to feed the world. That "someone", obviously, is industrial agrobusiness and not anyone else. Why does there have to be one entity that acts as the world's supermarket? Is there really that need, or is this mantra another construct that has been promoted and pushed for so long that many now believe it? What about improving the capacity of each community and nation to feed itself and get away from the extractive export model? Look at Cuba and Russia as examples of how small, human scale agriculture can, in a real world situation, feed itself.
The article is worth reading, especially the reader comments!
Urban farming is an urban myth
Here is a great rebuttal written by Devon G. Peña, a professor of agroecology, ethnoecology, and the anthropology of food in Seattle.
https://underwoodgardens.com/wp-content/uploads/2012/08/Urban-Garden.jpg
375
250
Stephen Scott
https://underwoodgardens.com/wp-content/uploads/2018/07/TerroirSeedsNEWWebLogo3-300x69.jpg
Stephen Scott
2012-08-15 09:01:25
2020-02-12 11:36:10
Urban Farming Examined Part I