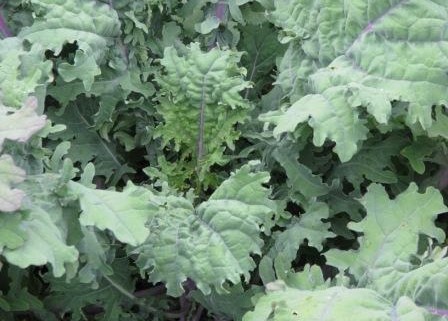 Heirloom Red Russian Kale Recipes
Restaurant-Style Zuppa Toscana
Based on a popular restaurant starter soup.
INGREDIENTS
1 (16 ounce) package smoked sausage
2 potatoes, cut into 1/4-inch slices
3/4 cup chopped onion
6 slices bacon
1 1/2 teaspoons minced garlic
2 cups kale – washed, dried, and shredded
2 tablespoons chicken soup base
1 quart water
1/3 cup heavy whipping cream
DIRECTIONS
Preheat oven to 300 degrees F (150 degrees C).
Place sausage links onto a sheet pan and bake for 25 minutes, or until
done. Cut links in half lengthwise, then cut at an angle into 1/2-inch
slices.
Place onions and bacon slices in a large saucepan and cook over medium
heat until onions are almost clear. Remove bacon and crumble. Set
aside. Note- You can saute the kale at this step for extra richness in its flavor!
Add garlic to the onions and cook an additional 1 minute. Add chicken
soup base, water, and potatoes, simmer 15 minutes. Note- This is where I prefer to add my kale! Russian kale will take the simmer without losing its texture and flavor.
Add crumbled bacon, sausage, kale, and cream. Simmer 4 minutes and serve.
Good for an unusual side dish. Can be used for a light fall lunch or dinner starter.
INGREDIENTS
1/8 cup extra virgin olive oil
7 cloves garlic, sliced
1 chile pepper, chopped (optional)
1 head fresh broccoli, chopped
1 bunch kale, stems removed and chopped
1/4 cup sun-dried tomatoes, cut in thin strips
juice of 2 limes
salt
DIRECTIONS
Heat olive oil in a large wok or skillet over high heat. Stir in garlic and chile pepper; cook for 2 minutes, stirring frequently. Stir in broccoli; cook 1 minute. Add kale, and cook 2 minutes, stirring frequently. Stir in sun-dried tomatoes. Pour in lime juice, and season with salt to taste. Toss well.
Amazing showcase of pork and kale. For extra flavor, marinate the tenderloin for a couple of hours, up to overnight.
INGREDIENTS
2 limes, juiced
1 cup olive oil
2 teaspoons dried cilantro
1 teaspoon cracked peppercorns
1 teaspoon garlic salt
1 (1 1/2 pound) pork tenderloin
1 pound kale, stems removed and leaves coarsely chopped
DIRECTIONS
Preheat oven to 350 degrees F (175 degrees C). In a small bowl , whisk olive oil with lime juice. Season with cilantro, garlic salt, and peppercorns.
Brush the pork tenderloin with three tablespoons of the lime dressing. Wrap in aluminum foil, and place on in a large baking dish. Roast in preheated oven for 30 to 45 minutes, or until a meat thermometer reads 170 degrees. Note- can be slow grilled on indirect heat on a BBQ if the weather is too hot or you want a smoky flavor!
While the tenderloin is cooking, place kale in a steamer. Cook for 20 minutes, or until tender. You can saute the kale now for a more intense flavor.
Slice the pork tenderloin into 1 1/2 inch thick slices. Serve on top of the kale. Whisk the remaining dressing, and drizzle over pork and kale. Make sure to serve the kale under and on the side of the pork, don't just use it as a garnish! It adds a depth of flavor to the pork.
There is some starters for what to do with kale. There are a lot of great bean/sausage/kale recipes that will keep you warm this fall and winter. Please let me know what you think, and share your experiences.
Happy eating!
https://underwoodgardens.com/wp-content/uploads/2009/07/Russian-Kale1.jpg
336
448
Stephen Scott
https://underwoodgardens.com/wp-content/uploads/2018/07/TerroirSeedsNEWWebLogo3-300x69.jpg
Stephen Scott
2009-07-01 13:47:16
2015-09-21 15:22:35
Heirloom Red Russian Kale Recipes