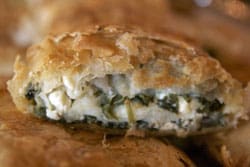 Hortopita or Greek Spring Greens Quiche
Hortopita is a savory pie that is stuffed with horta, or edible wild greens such as dandelions, chard, kale, and lamb's quarters- commonly called spring greens. Horta directly translates as "grass" in Greek, but refers to about 80 different greens growing all over the country. It's delicious alone (sauteed with lemon and olive oil) but obviously much more savory when feta and filo pastry sheets are used. Hortopita is a cousin of Spanakopita—layers of crispy filo dough stuffed with cheesy, leafy spinach greens.
Here are two separate, distinct recipes for you to try. The first one comes directly from Greece, just outside of Athens and is a modern take on a traditional family recipe used for many years. The second one is from FarmPlate, a wonderful website that connects folks looking for great, locally produced food with those folks that make just such foods. They are "a revolutionary online community that connects farmers, fishermen, foragers, food artisans, restaurants, markets, distributors and foodies everywhere. Our searchable directory of 40,000+ business listings across the country, networking tools and reviews make it fun and easy to find and enjoy real foods near you."
These are large recipes, as they are usually made daily at the local bakery in large sheets, to be sectioned out for individual portions. Make a large batch, as it will be gone in a couple of days!
Traditional Greek Hortopita
2-3 spring onions, chopped
1/2 Cup extra virgin olive oil
2 lb of various wild or spring greens, chopped (spinach, kale, arugula, sorrel, Swiss chard, fennel, leeks – only the white part – and any other spring green you like)
1 package country style filo dough
2-3 eggs whisked together
4 oz feta cheese
Salt and ground pepper
Preheat oven to 350 F.
In a big pan heat olive oil and saute the onions till they are tender.
Add the greens stirring continuously till they are wilted, about 4-6 minutes.
Remove from the heat, add the egg, feta cheese and ground pepper. Careful with the salt since feta cheese is already salty!
Evenly spread 1 Tbs olive oil in a baking pan, then set the filo dough and spread the mixture on it. Cover with the other filo, carefully close the edges and score the surface slightly (the steam from the cooking of the mixture needs to escape).
Spread water and some olive oil on the surface and bake for 1-1/2 hour in the lower position of the oven till the filo takes on a golden color. Remove and let set up for about 15 minutes before slicing and serving.
Makes 3 to 4 servings
Hortopita from FarmPlate
1/2 cup uncooked white rice
4 tablespoons extra virgin olive oil
4 small or 2 large leeks, rinsed well and thinly sliced
2 tablespoons currants
1 teaspoon ouzo, or 1 tablespoon balsamic vinegar or white wine
2 tablespoons chopped fresh parsley
1/4 teaspoon dried oregano
1/4 teaspoon dried thyme
1/4 teaspoon salt
Very generous grinding of black pepper
3 pounds assorted tender greens, such as baby spinach, arugula, beet greens or Swiss chard, stemmed and washed
1 teaspoon grated lemon zest
3 tablespoons butter
1 package filo dough, thawed
8 ounces feta cheese
Pinch of grated nutmeg
Preheat oven to 400 F.
Cook rice by adding rice to small pot and covering with 1 cup water. Turn heat on high and bring water to gentle boil. Stir rice well, turn heat down to medium-low. When water level drops to top of rice, stir once more, cover with lid and reduce heat to very low. Rice will be done in 5-7 minutes.
While the rice is cooking, heat 2 tablespoons of the olive oil in a large skillet over medium heat. Add the leeks and fennel, sauteing until they begin to soften, about 5 minutes.
Stir in the currants then add the ouzo, vinegar or wine and cook for a few seconds to evaporate.
Stir in the parsley, oregano, thyme, salt and a generous grinding of pepper. Transfer the leek/fennel mixture to a bowl and set aside.
Return the skillet to the heat. Add two big handfuls of greens and cook, stirring, until they wilt. Transfer to a colander. Wilt the remaining greens in the same manner. Squeeze the excess liquid from the greens then coarsely chop. Sprinkle with the lemon zest and some pepper.
Melt the butter and stir in the remaining 2 tablespoons olive oil. Lightly brush the inside of a 12-inch tart pan with a little of the oil/butter mixture.
Unfold the filo dough and cover loosely with a kitchen towel to prevent it from drying out.
Place 1 sheet of dough in the pan, pushing it into the corners. There will be about 3 inches of overhang. Brush the dough lightly with butter/oil. Add another filo sheet, placing it at a 45º angle to the first sheet. Brush that one as well. Continue stacking (at an angle) and brushing the sheets until you have used 8 sheets to line the pan.
Spread the rice in the pie bottom. Top with the leek mixture followed by the greens. Crumble the feta and sprinkle oil on top. Season with black pepper and a grating of nutmeg.
Top with 8 of the remaining filo sheets, stacking and brushing them as you did the bottom layer. Trim the overhang to 2 inches beyond the rim of the tart pan.
Roll the edges inward, tucking them under. Brush the top with more butter/oil. Score the top into serving pieces using a very sharp knife.
Bake for 15 minutes. Lower the heat to 350ºF and bake for 45 minutes longer. Let rest about 15 minutes before slicing and serving.
Makes 6 to 10 servings
Recipe Tip! The feta cheese is naturally salty, so be careful how much salt you add during preparation.
https://underwoodgardens.com/wp-content/uploads/2012/05/Hortopita1.jpg
167
250
Stephen Scott
https://underwoodgardens.com/wp-content/uploads/2018/07/TerroirSeedsNEWWebLogo3-300x69.jpg
Stephen Scott
2012-05-02 12:07:55
2017-08-14 18:26:53
Hortopita or Greek Spring Greens Quiche